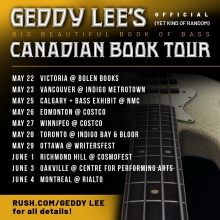 In less than 2 weeks from now, Geddy Lee will embark on a Canadian book signing tour where he'll be mingling with fans and signing copies of his Big Beautiful Book of Bass at ten different locations all across the Great White North from May 22nd through June 4th. The tour will include stops in Victoria, Vancouver, Edmonton, Winnipeg, Ottawa, Toronto, Montreal and one special stop in Calgary on Saturday, May 25th where he will open Geddy Lee's Big Beautiful Bass Exhibition at Studio Bell at The National Music Centre (NMC), highlighting a selection of his rare and iconic bass guitars - the same collection that was featured at the Rock and Roll Hall of Fame in Cleveland earlier this year (photo here). You can get all the details and purchase tickets for the various events here.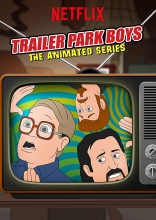 Alex Lifeson has a long history of involvement with the Canadian comedic team The Trailer Park Boys, having appeared on their TV shows, in their movies and at their live shows. So it's no surprise to learn that Alex is also involved with the Boys' latest offering - a new Netflix animated series that premiered back on March 31st. Alex is a guest voice actor in 2 episodes of the 10-episode season. In episode 7 (Satan's Bastards) Alex plays the part of Big Chunk, and in episode 10 (Trailerstock) he plays the voice of the manager of Queens of the Stone Age. You can watch the show on Netflix at this location, and check out the trailer on YouTube.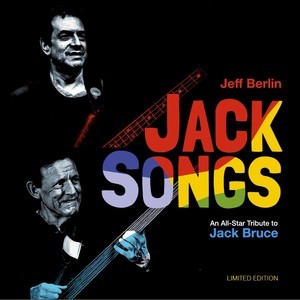 Speaking of Alex, bass legend Jeff Berlin began recording his long-awaited, all-star Jack Bruce tribute album Jack Songs earlier this year, which will feature a guest appearance from Lifeson. The project is being funded via Pledge Music and has been in the works for over 3 years. In addition to Lifeson, it will include guest appearances from Steve Vai, David Sancious, Paul Shaffer and many others. Lifeson recently wrapped up recording a Cream Medley track for the album as described in this Facebook post, which includes a recent photo of Al in the studio. You can secure a copy of the album for $20 via the project's Pledge Music page.
Musician/producer/teacher Rick Beato has a popular (800K subscribers) YouTube channel that includes a regular series called What Makes This Song Great? where he picks a song and breaks it down in painstaking detail. In his latest episode (#63), he explores Rush's Limelight as seen in this video, and at around the 15:30 mark, he uncovers what sounds like a buried vocal harmony on the second verse (thanks Deslock). The harmony track has a British accent, and he speculates that it might be Rush producer Terry Brown. Interesting stuff. Beato also covered Rush's Closer to the Heart back in Episode #19 of the series.
The Cleveland Plain Dealer posted their list of the 80 greatest albums of the 1980s by Rock and Roll Hall of Famers this past week, and Rush's Moving Pictures made the cut at #32:
The holy grail of Rush albums, "Moving Pictures" features only seven tracks. But each them is stunning. Few acts in music history pushed the boundaries of hard rock in such a creative way. "Moving Pictures" is progressive rock at its most progressive, moving from something accessible like "Tom Sawyer" to the ultimate instrumental journey "YYZ."
Classic Rock Magazine released their latest 100 Greatest Rock Albums special edition back in February, and 2 Rush albums made the cut. Moving Pictures came in at #33 and 2112 at #19 (thanks RushFanForever).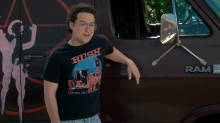 Actor Sean Marquette portrays the recurring character Johnny Atkins on the ABC '80s throwback comedy series The Goldbergs. The character was first introduced early in Season 3 of the show and is known for being a huge Rush fan and always wearing a Rush concert t-shirt in every episode he appears in. The show even aired an entire episode centered around Rush and featuring Marquette's character back in Season 3 (Season 3, Episode 21 - Rush) as described in this post. In one episode earlier this year (Season 6, Episode 16 - There Can Be Only One Highlander Club), the Johnny Atkins character was featured wearing multiple Rush t-shirts throughout the episode. Johnny Atkins was once again featured in the show's Season 6 finale (Breakin') this past Wednesday night. After failing to graduate, Johnny Atkins embarks on a summer trip to Canada to follow Rush on tour in his black, Rush 2112 Starman van as seen in the preview clip below and this screenshot. You can catch the show online at the ABC website here (or on Hulu).
That's all for this week. Have a great weekend! And a BIG happy Mother's Day to all the Rush fan moms out there, and the Rush moms themselves; Mary Weinrib, Melanija Zivojinovich and Betty Peart.