UPDATE - 3/15@1:27PM: Note: a few excerpts from the Planet Rock Alex Lifeson interview mentioned below are now online, including this one:
Asked if he has since come to terms with Rush being over, Alex said: "Yes, I think so. I don't want to be in a band and tour any more. I don't feel the need to carry on with what I did for almost half a century. I'm fine with it now. And I'm as busy as I would ever want to be."
----- snip -----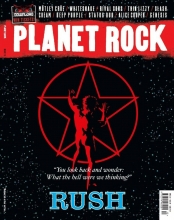 The March 2019 issue (issue #13) of the UK's Planet Rock magazine includes a Rush cover feature and new interview with Alex Lifeson:
We welcome the world's biggest cult band, prog rock royalty RUSH to the cover of issue 13 of Planet Rock Magazine, with a rare and exclusive interview with guitarist Alex Lifeson, and an in-depth look at the making of the band's biggest album, Moving Pictures.
You can get more details and order a copy at this link.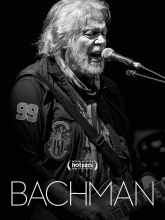 Bachman - the 2018 documentary on Canadian singer-songwriter and founding member of Bachman-Turner Overdrive, Randy Bachman, is slated for release on video and streaming services on March 26th and can now be pre-ordered at this location. The film showcases Bachman's life as an iconic Canadian musician from his early days, to his time with The Guess Who and Bachman-Turner Overdrive up to the present day. It features archival footage and new interviews with friends, family and fans including Rush's Alex Lifeson, along with Neil Young, Chris Jericho, Peter Frampton, Buffy Saint-Marie, Tal Bachman, Fred Turner, Paul Shaffer and others.
The official trailer for the documentary can be seen at this location and features Alex Lifeson at about the 1-minute mark. The documentary initially premiered at the Hot Docs Film Festival in Toronto last year. For more information visit the Farpoint Films website here, and the film's Facebook page here.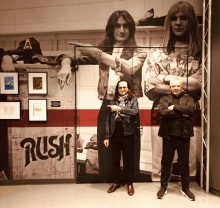 The Rock and Roll Hall of Fame in Cleveland will be hosting a Cover Your Basses Weekend April 5th celebrating the Rock Hall's Canadian inductees, with a particular focus on 2013 inductees Rush. As the name implies, the event will also celebrate both baseball and bass guitars; it will be the last chance for fans to view the Geddy Lee bass exhibit, and will coincide with a weekend baseball series between the Cleveland Indians and Geddy Lee's hometown team - the Toronto Blue Jays. From the event's description:
Fans headed to the Cleveland Indians vs Toronto Blue Jays series are invited to cover their basses as the Rock Hall shines a light on its Canadian inductees. Guests will have one last chance to view the bass collection of Rush's Geddy Lee, as the exhibit showcasing some of Lee's globe-spanning bass guitars enters its final weekend. The Rock Hall will also open its vaults with rebroadcasts of Rush's 2013 Hall of Fame uncut Induction, the January 2019 Hall of Fame Series interview with Geddy Lee and Alex Lifeson, as well as a highlight reel celebrating several of the Rock Hall's Canadian inductees.
Back in January the Rock Hall hosted a Rush Fan Day where Geddy Lee and Alex Lifeson made an appearance as part of Geddy's book signing tour for his Big Beautiful Book of Bass, and debuted the above-mentioned exhibit of several of Geddy Lee's bass guitars (photo here). For all the Cover Your Basses Weekend details, visit the Facebook event page and rockhall.com.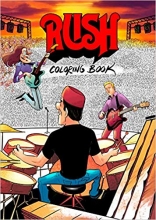 The folks at FANTOONS will be releasing an updated version of their officially-licensed Rush coloring book that was first made available back in 2016. The updated edition with its 20 new pages of content comes in at a whopping 72 pages. It's currently slated for release on July 23rd and is now available for pre-order at this location. To learn more about FANTOONS and to check out all of their officially-licensed Rush merchandise, visit their Etsy store at this location, and follow them on Facebook and Twitter.
Legendary Hall of Fame session drummer Hal Blaine passed away earlier this week at the age of 90. Blaine was one of Neil Peart's early drum influences as demonstrated in this 2011 interview with Peart:
... When I was growing up, I played along to the radio, so I played along to Simon & Garfunkel, The Beach Boys, The Association and The Byrds, and I was really playing along to Hal Blaine. He played on all of those records and so many more. There was another drummer who said that he was shattered to find out that his six favorite drummers were all Hal Blaine! ...
Blaine also relayed the following story about Peart in this 2005 Modern Drummer interview:
MD: You've influenced so many drummers growing up at that time, myself included, before we even knew it was you on all those recordings.

Hal: I got a very nice letter and an autographed copy of Neil Peart's book, Ghost Rider. He's a beautiful writer. In his letter he said the same thing you just said. He said he knew every one of those records and that he learned from the records that I played on.
Thanks to RushFanForever for the heads up.
New Zealand Post-Journal music writer Michael Zabrodsky posted an article this past week celebrating the power trio and had the following praise for Rush:
Arguably Rush is the best power trio. Period. Rush surrounded intelligent lyrics with great music. If you ever had the chance of attending a Rush concert, then you know exactly what I am talking about. From the early 1970s until 2018, bassist Geddy Lee, drummer Neil Peart, and guitarist Alex Lifeson, composed some of the greatest progressive rock songs ever, and to hear them play live, you may think you were listening to a compact disc. Some bands sound better in a studio setting because they have the tools to make them sound better. In a live situation, those bands may falter a bit because they don't have the same tools as in the studio. Not so for Rush. Because they were true musicians, they sounded just as good, if not better, live than their recorded songs. This is one of those bands that when you saw them, you wanted to take a break from being a musician. You either aspired to play at a level comparable to the three members or resign yourself to just being an awestruck fan. Either way was OK. It's too band that Peart retired from drumming. The men from Canada really can play.
Stereogum posted their list of 17 Essential Songs In 7/4 this past week and Rush's Tom Sawyer made the cut at #11:
Probably the best pop tune from a gaggle of chops wanks, laying a workable formula for bands like Primus, Extreme, and King's X. The song's Oberheim space-noise intro appears over Neil Peart's wild funky 4/4, so naturally it's beloved by turntablists like DJ QBert and Mix Master Mike. The song shifts into 7/4 about 90 seconds in for a growling instrumental and most of the ripping guitar solo.
Rush producer Nick Raskulinecz was recently interviewed by Premier Guitar magazine for their Rig Rundown series. He shows off some of his gear including a signature Lerxst amp that was a gift from Alex Lifeson (thanks RushFanForever).
The Dan Patrick show is running a Meat Friday Madness Bracket contest and Rush's Tom Sawyer is in the mix. You can cast your vote online here (thanks MostEndangeredSpecies).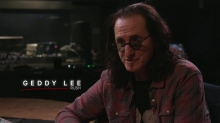 London, Ontario is the host city for the this weekend's 2019 Juno Awards, and as part of its Junos coverage, CBC Music will be airing a TV special titled London Calling which tells the story of London's music scene. Rush's Geddy Lee was interviewed for the documentary, and is seen discussing the late musician-turned-producer Jack Richardson in this clip from the show. Richardson produced Max Webster's Universal Juveniles album on which Rush made a guest appearance performing on the track Battle Scar. You can watch the full episode of London Calling on Sunday, March 17, via CBC-TV at 5PM EST or on-demand via CBC Gem as of yesterday. Also related to the Junos celebration in London, Museum London is running several special events and exhibits this week including Art is Art - an exhibition of works by musicians including Rush's Alex Lifeson.
That's it for this week. Have a great weekend and Happy St. Patrick's Day everyone!