UPDATE - 1/14@10:58AM: This morning's public ticket sale for Rush Fan Day is also now SOLD OUT:
Event tickets are now sold out for Rush Fan Day. Visitors can buy a General Admission ticket to the museum but will not be able to join the book signing or designated interview viewing area.
----- snip -----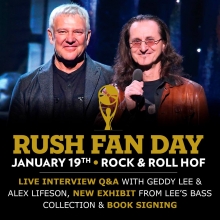 The Rock and Roll Hall of Fame in Cleveland announced earlier this week that they will be hosting a Rush Fan Day at the Rock Hall next Saturday, January 19th, which will include a new exhibit of Geddy Lee's basses, a Hall of Fame Series interview with Lee hosted by bandmate Alex Lifeson, a book signing with Lee where he'll sign copies of his Big Beautiful Book of Bass, and a rebroadcast of Rush's 2013 Hall of Fame Induction. Tickets to the event were made available to Rock Hall members earlier this morning in a special presale and quickly sold out. There will be a public sale this coming Monday morning at 10AM EST as well. Each ticket includes a copy of Geddy's new book, access to the Hall of Fame interview and book signing, a commemorative credential, and access to the Rock Hall's exhibits, including the new Geddy Lee bass guitar exhibit. The festivities will kick off at Noon with an interview with Geddy hosted by bandmate Alex Lifeson on the Klipsch Audio main stage, followed by a Q&A session. The interview will also be live streamed on the Rock Hall's Facebook page where fans can submit questions directly during the Q&A. Fans will also be able to hear the complete interview on several SiriusXM channels throughout January including Classic Rewind, Rock and Roll Hall of Fame Radio and Volume, and anytime on SiriusXM On Demand. After the interview, ticket holders will have the opportunity to get their book (included with ticket price) signed by Geddy Lee himself. Part of Geddy's bass collection will also be on display in the Rock Hall's Shine a Light exhibit, and footage from Rush's 2013 induction will be shown throughout the day in the Museum's Forest City Theater. Here's the full schedule of events with all the details. Geddy is currently on Holiday in the UK, but took some time out Wednesday afternoon to chat with Eddie Trunk about the event and what fans can expect from it. In an interview with Trunk from last month Geddy stated that Peart had retired from drumming altogether, causing quite a stir in the online music press. Trunk brought this up in Wednesday's interview and here was Geddy's response:
... "I notice that people seem to glom on to certain phrases that come out of our mouths and make a lot of it," ... "But I thought that was understood from the day that Neil left the band. He wasn't leaving the band to pursue other musical instruments; he was retiring because the rigors of the job were too much for him. And now he's not playing at the moment and he's spending more time teaching his daughter how to play than anything. So, yeah, it really wasn't a big clarification to me, and I think people have sort of over-exaggerated the reaction to that, 'cause that's sort of how it's been." ... [Peart's daughter Olivia has] "taken to the instrument" ... "God forbid there'll be another drummer in that family."...
The Plain Dealer's Chuck Yarborough also spoke with Geddy on Wednesday about his new book and what fans can expect from Rush Fan Day. That interview is now available online here.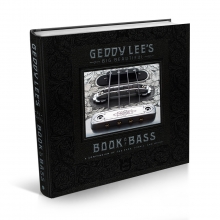 Geddy Lee was a guest on Q104.3's Out of the Box with Jonathan Clarke this past Sunday night to chat about the book and the entire 20-minute interview has been made available online at this location. This was Geddy's first interview since his media blitz surrounding the book's release last month and leading up to Christmas. You can get a complete rundown of all of Geddy's many interviews from last month in this post.
As mentioned above, Geddy spent the Holidays in the UK. While across the pond, he took some time out this past weekend to go see comedian Bill Bailey at his West End Theatre Residency. Geddy visited Bailey backstage after the show and Bailey posted this Twitter photo of the pair.
Who's this visiting me backstage after my West End show #larksintransit ? It's only Geddy Lee of Rush! An excellent gent and a keen birder to boot. pic.twitter.com/oN0CHxqprX

- Bill Bailey (@BillBailey) January 5, 2019
As part of his media blitz for his new book, Geddy made an appearance as the guest DJ on Sirius XM's 80s on 8 program yesterday afternoon where he played the following hits from the 80s (thanks Tempestarcade):
U2- With Or Without You
Eddy Grant- Electric Avenue
The Police - Every Breath You Take
Talking Heads - Once In A Lifetime
Stevie Nicks- If Anyone Falls In Love
John Lennon - Watching The Wheels
Rolling Stones - Start Me Up
Michael Jackson- Billie Jean
Mr. Mister - Broken Wings
Men Without Hats - The Safety Dance
Dire Straits- Money For Nothing
Metallica- One
Belinda Carlisle- I Get Weak
Prince - Raspberry Beret
The show will re-air today at 12PM EST and tomorrow at 10AM and 4PM EST.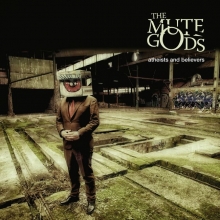 British prog-rock supergroup The Mute Gods announced earlier this week that they will be releasing their third studio album Atheists And Believers via Inside Out Music on March 22nd. In addition to the core lineup of Nick Beggs, Roger King and Marco Minnemann, the album will feature guest appearances from Alex Lifeson, Craig Blundell, Rob Townsend and Beggs' daughter Lula on vocals. According to the band's website, Lifeson appears on the album's 2nd track - One Day. Back in the summer of 2017 Lifeson made a guest appearance on Minnemann's album BORREGO, playing on 3 tracks, including one which he co-wrote with Minnemann - On That Note. Minnemann has been teasing a follow-up collaboration with Lifeson for a while now, but it's not clear if that was in relation to this project, or some other solo project. You can learn more about the album and The Mute Gods via their website or on Facebbok and Twitter.
Darius Rucker (Hootie & the Blowfish) recently posted a photo to his Twitter/Facebook of his Farewell to Kings 8-track, which completely confused his 17-year-old daughter who didn't know what it was. :)
Here's Geddy Lee talking about his Big Beautiful Book of Bass from his interview for Q104.3's Out of the Box this past Sunday:
That's all for this week. Have a great weekend!!