UPDATE - 10/23@4:26PM: Rolling Stone's Andy Greene used Geddy's interview comments regarding the future of Rush as a jumping off point for an article he posted today where he asks the question Could There Be Life for Rush Without Neil Peart?. The particular comments from Geddy's interview that inspired the post where these:
... I would say there's no chance of seeing Rush on tour again as Alex, Geddy, Neil. But would you see one of us or two of us or three of us? That's possible ...
Greene examines three possibilities; carry on as Rush but with a new drummer, change the name and continue with a new drummer, or Geddy just carry on as a solo act. I'd say option 1 is off the table, but the other 2 options are a possibility. You can check out Greene's analysis of these 3 options here (WARNING: this article contains reckless speculation).
----- snip -----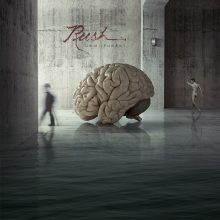 Rush's 1978 prog-rock masterpiece Hemispheres turns 40 years old this month and in celebration of the occasion, the band is releasing a Hemispheres 40th anniversary box set. Geddy Lee recently sat down with Rolling Stone magazine to discuss the making of the album and its milestone anniversary, along with some interesting stories regarding the 1979 Pinkpop Festival performance that's included in the box set, such as this one:
... I don't know where they dug up all that material. I'd totally forgotten about any of that stuff being recorded. But I do remember the festival quite well for a number of reasons. This was one of our first and more expansive European tours, and I think something like four or five days before this show, Alex was involved in some sort of bedroom accident, and he hurt his finger. He hurt it so severely that he had this major blood blister under one of his nails and had to go have it treated, and he couldn't put any pressure on his guitar neck for a few days, so we had to cancel a couple of shows in Germany. ... No one really knows what happened. He went into his bedroom with his wife one night, and he came out the next day with a fucked-up finger. ... [Laughs] Pinkpop was the first gig we'd done since he hurt himself, so the gig is very fresh in my mind. There were three stages. In fact, we played on the same stage as the Police, and that was just when they'd had a big hit with "Roxanne." They were the darlings of the festival. Peter Tosh was on that show. It was kind of a cool event, and the Dutch are great rock fans. We didn't do many festivals like that. ...
Geddy was also asked about the possibility of him recording another solo album:
I go down to my studio on and off, and whenever I pick up an instrument, something comes out spontaneously, and I try to at least grab a moment of it and stick it on tape and forget about it. I've been so busy the past three years with this book project [Geddy Lee's Big Beautiful Book of Bass, out December 4th], which consumed my entire being - which is fairly typical to my personality - that I haven't been thinking about another music project at this point. I say that, and at the same time, another part of my brain is always thinking about another music project. But when you've spent 42 years working closely with the same people and formed the kind of bond and friendship that the three of us have had - and maintained, to this day - it's a big decision and a big question what you want to do next. Or if you want to do something next. ... I think once the dust settles from this project, I'll probably find myself bored and wandering down to the studio to try to enliven my own life, and if something of a positive nature happens down there, I'll take it to the next step. But beyond that, I could only guess. ... I have bits and bobs [of ideas], but I don't have any finished material in the can, so to speak. If I pick up a bass, I just start playing something, and sooner or later I start writing a riff or this or that. So for my own peace of mind, I stash it somewhere. Chances are I'll come back to it, and it's crap, so I just trash it. But at least it makes me feel good for the moment [laughs].
And finally, he touches on the subject of the future (or lack thereof) of Rush:
... Well, I'd say I can't really tell you much other than that there are zero plans to tour again. As I said earlier, we're very close and talk all the time, but we don't talk about work. We're friends, and we talk about life as friends. I can't really tell you more than that, I'm afraid. I would say there's no chance of seeing Rush on tour again as Alex, Geddy, Neil. But would you see one of us or two of us or three of us? That's possible. ...
You can read the entire interview online at this location. The Hemispheres box set is slated for release on November 16th and will be made available as a 2 CD or 3 LP set along with a Super Deluxe edition that includes both the 2CDs and 3LPs along with a bonus Blu-ray disc. The set uses the Abbey Road Studios 2015 remastered edition of the album, along with a newly restored bonus recording of the band's June 1979 Pinkpop Festival performance in the Netherlands (with the 2112 performance replaced with one from a Tucson show in November 1978). The Super Deluxe edition also includes a 5.1 Blu-ray mix of the album and 4 bonus videos. Although the press release doesn't mention it, an Ole representative informed me that Rush engineer Rich Chycki is responsible for the 5.1 mix. The Super Deluxe edition also includes several exclusive items, including a 40-page hardcover book with unreleased photos and new artwork by original album designer Hugh Syme. The Rush Backstage Club is also offering various merchandise bundles which you can check out here. There's also a promotion where if you pre-save the set on Spotify, you can enter for your chance to win a Super Deluxe Edition of the box set. For all the details and to enter, to to this location. You can pre-order the box set now via Amazon (2 CD, 3 LP, Super Deluxe edition), and also check out this unboxing video.