The 11th annual Scott Medlock-Robby Krieger Golf Classic and All-Star Concert to benefit St. Jude Children's Research Hospital will take place later this month on October 27-29 at the Saddlerock Ranch in Malibu, CA, and Rush's Alex Lifeson is one of the many guests scheduled to participate. The event is hosted by sports artist Scott Medlock and legendary Doors guitarist Robby Krieger and will kick off with a 20-mile Rock 'n' Ride on Saturday, Oct. 27, followed by the All-Star Concert at 4PM on Sunday, Oct. 28, at Saddlerock Ranch and the Rock & Roll Golf Classic with a shotgun start at 11AM on Monday, Oct. 29. Lifeson has taken part in the event in the past, most recently at the 9th annual event 2 years ago as detailed in this post. The 2016 All-Star concert included performances of Rush's The Spirit of Radio, Limelight and Freewill from an all-star band that included Richie Sambora, Orianthi, Robby Krieger, Jerry Cantrell, Mike Inez, Danny Seraphine, Phil Chen and others. Alex also sat in on a number of other songs including a performance of the Alice in Chains song Would. For more information and to register for the event, check out the official press release.
The aforementioned Medlock-Krieger golf outing won't be the only charity event Alex Lifeson participates in this month; Lifeson along with his buddy/bandmate Geddy Lee will be hosting their Grapes Under Pressure 4: Geddy and Alex's Excellent Harvest Adventure charity outing to the Niagara Wine Region tomorrow to benefit Grapes for Humanity. The event has long since sold out, but you can get all the details at this location, and check out photos from the last outing back in 2014 here. Grapes for Humanity is an organization that helps to raise funds to benefit humanitarian causes around the world with the assistance of the international wine community, and Geddy Lee is a member of the board of directors.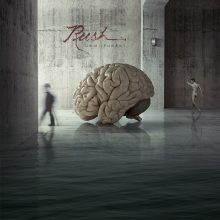 Rush announced last week that they will be releasing a Hemispheres box set to commemorate the 40th anniversary of the album's 1978 release. The set is slated for release on November 16th and will be made available as a 2 CD or 3 LP set along with a Super Deluxe edition that includes both the 2CDs and 3LPs along with a bonus Blu-ray disc. The set uses the Abbey Road Studios 2015 remastered edition of the album, along with a newly restored bonus recording of the band's June 1979 Pinkpop Festival performance in the Netherlands (with the 2112 performance replaced with one from a Tucson show in November 1978). The Super Deluxe edition also includes a 5.1 Blu-ray mix of the album and 4 bonus videos. Although the press release doesn't mention it, an Ole representative informed me that Rush engineer Rich Chycki is responsible for the 5.1 mix. The Super Deluxe edition also includes several exclusive items, including a 40-page hardcover book with unreleased photos and new artwork by original album designer Hugh Syme. The Rush Backstage Club is also offering various merchandise bundles which you can check out here. You can pre-order the box set now via Amazon (2 CD, 3 LP, Super Deluxe edition), and also check out this unboxing video.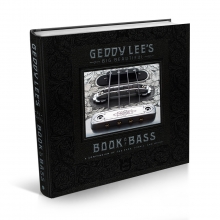 Geddy Lee's Big Beautiful Book of Bass is slated for release this coming December 4th via Harper Collins, and the Rush Backstage Club is offering both an Ultra and Luxe Limited Edition version of the book, both of which became available for pre-order last week. Both Limited Editions are leather-bound, 408-page hardcover books, hand numbered and signed by Geddy Lee. Each comes in a customized slipcase, which is exclusive to the limited editions, and enclosed in a custom silver tolex briefcase, reminiscent of certain guitar cases. The Ultra edition costs $950, is limited to 250 copies and also comes with these additional items:
- Silver Tolex Case with secret compartment
- Behind-the-scenes Mini Booklet
- Two custom Geddy Lee guitar picks from Dunlop
- Glossy photograph, signed by Geddy Lee (8' x 9.5")
- Printed Setlist from R40 Tour, with Geddy's basses for each song
- Immaculately reproduced Vintage Fender Hang Tag
- Full set of Rotosound Swing Bass Strings (same gauge and scale as Geddy uses) in custom vintage style box
- Guitar polishing cloth with BBBofB Skull logo
- Free bonus BBBofB Standard Edition
The Luxe Limited Edition costs $450, is limited to 900 copies and includes these items:
- Custom BBBofB fabric book bag
- Behind the scenes mini-booklet
- Two custom Geddy Lee guitar picks from Dunlop
For all the details and to pre-order your copy of either of the Limited Editions or the Standard Edition for $59.99, visit this location. They are also offering a Big Beautiful Book of Bass t-shirt and mug for sale. You can pre-order Geddy's Big Beautiful Book of Bass via Amazon at a more reasonable price at this location.
Blogger Wesley Stuer wrote an article for his Outsiders and Misfits site this past week titled Rush: A rock band for introverts (Part One: Limelight) - the first of a 2-part series. You can check it out online here.
This Atlanta Journal-Constitution article on how vinyl has fueled the resurgence of indie record stores includes a photo of Rush fan Zach Kell holding a 1981 master pressing of Moving Pictures that he purchased for $40 from the Wright Stuff Records & Collectibles in Woodstock last week on October 4th.
Here's a video interview with Lifeson from the 2016 Scott Medlock-Robby Krieger Golf Classic and All-Star Concert:
That's all for this week. Have a great weekend!