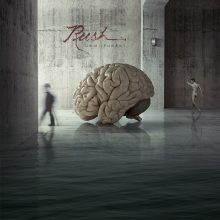 As expected, Rush announced this morning that they will be releasing a Hemispheres box set to commemorate the 40th anniversary of the album's 1978 release. The set is slated for release on November 16th and will be made available as a 2 CD or 3 LP set along with a Super Deluxe edition that includes both the 2CDs and 3LPs along with a bonus Blu-ray disc. From the Super Deluxe edition description at the Rush Backstage Club:
The Super Deluxe Edition includes two CDs, one exclusive Blu-ray disc, and three high-quality 180-gram black vinyl LPs. The set encompasses the Abbey Road Studios 2015 remastered edition of the album for the first time on CD, along with previously unreleased and newly restored bonus content consisting of the band's masterful June 1979 Pinkpop Festival performance in the Netherlands. Unfortunately, the Pinkpop recording engineer failed to capture the first several minutes of "2112," so an amazing, unreleased performance of the song during the Hemispheres tour from Tucson, Arizona in November 1978 appears here in its place. The third bonus disc contains audio from the album newly mixed from the original multitracks in 5.1 surround sound on a Blu-ray disc, along with four bonus videos: three shot in 1978 as promo videos, and one of "La Villa Strangiato," originally shot at Pinkpop with newly restored stereo audio.The Super Deluxe Edition of Hemispheres-40th Anniversary will also include several exclusive items, including a 40-page hardcover book with unreleased photos and new artwork by original album designer Hugh Syme; an extensive, 11,000+-word essay by Rob Bowman; The Words & The Pictures, a replica of the band's rare 1979 UK tour program; a 24x24-inch wall poster of the newly created Syme art; a Pinkpop Festival replica ticket; a Pinkpop Festival replica cloth VIP sticky pass; and a replica 1978 "Rush" Hemispheres iron-on patch. "Hemispheres was one of our most challenging and demanding records to make," says Alex Lifeson. "From its inception in a Wales farmhouse where it was written over a 4 week span," Lifeson continues, "to the very difficult mixing sessions in two London recording studios, it stands as a key transitional album in Rush's long recording history."
The Rush Backstage Club is also offering various merchandise bundles which you can check out here. You can pre-order the box set now via Amazon (2 CD, 3 LP, Super Deluxe edition), and check out an unboxing video below. This is the third year in a row that Rush has released a 40th anniversary box set; in 2016 they released a 2112 box set, and last year it was A Farewell to Kings' turn. Both of these sets included a CD of covers of a few of the respective album's notable tracks, although there is no such CD included on the upcoming Hemispheres set. One of the covers on the A Farewell to Kings set was a Dream Theater cover of Xanadu. The Ole TV YouTube channel posted a video interview earlier this week where they chat with Dream Theater's James LaBrie and producer Rich Chycki about the cover. You can check out the interview on YouTube (thanks RushFanForever).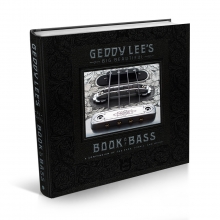 Geddy Lee's Big Beautiful Book of Bass is slated for release this coming December 4th via Harper Collins, and the Rush Backstage Club is offering both an Ultra and Luxe Limited Edition version of the book, both of which became available for pre-order earlier this week. Both Limited Editions are leather-bound, 408-page hardcover books, hand numbered and signed by Geddy Lee. Each comes in a customized slipcase, which is exclusive to the limited editions, and enclosed in a custom silver tolex briefcase, reminiscent of certain guitar cases. The Ultra edition costs $950, is limited to 250 copies and also comes with these additional items:
- Silver Tolex Case with secret compartment
- Behind-the-scenes Mini Booklet
- Two custom Geddy Lee guitar picks from Dunlop
- Glossy photograph, signed by Geddy Lee (8' x 9.5")
- Printed Setlist from R40 Tour, with Geddy's basses for each song
- Immaculately reproduced Vintage Fender Hang Tag
- Full set of Rotosound Swing Bass Strings (same gauge and scale as Geddy uses) in custom vintage style box
- Guitar polishing cloth with BBBofB Skull logo
- Free bonus BBBofB Standard Edition
The Luxe Limited Edition costs $450, is limited to 900 copies and includes these items:
- Custom BBBofB fabric book bag
- Behind the scenes mini-booklet
- Two custom Geddy Lee guitar picks from Dunlop
For all the details and to pre-order your copy of either of the Limited Editions or the Standard Edition for $59.99, visit this location. They are also offering a Big Beautiful Book of Bass t-shirt and mug for sale. You can pre-order Geddy's Big Beautiful Book of Bass via Amazon at a more reasonable price at this location.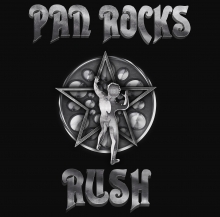 Steel drum orchestra Pan Rocks announced this week that they will be returning to the studio this Fall to record a Rush tribute album featuring Mike Portnoy. From the announcement:
... "I am excited to take part in this unique musical experience unlike anything I have done in my career...and it is always an honor to pay tribute to one of my biggest inspirations, my hero and friend, Neil Peart", adds Portnoy. Bass and guitar will be announced in the coming weeks.

Pan Rocks is a 50 piece steel drum orchestra founded by drummer Tracy Thornton. The RUSH recording is a follow-up to 2017's Pan Rocks Project LA which featured the music of Led Zeppelin, KISS and Jane's Addiction performed by 30 steel pan drummers and a band consisting of Billy Sheehan (Mr. Big, Sons Of Apollo), Stephen Perkins (Jane's Addiction, Porno For Pyros), Tracii Guns (LA Guns) and Bruce Kulick (KISS, Grand Funk Railroad).

​Tracy Thornton has once again has called on Matt Starr (Mr. Big, Ace Frehley) to produce the follow up release. "I'm grateful to have the opportunity to help Tracy to realize his vision for this amazing project." says Starr. "Hearing 50 steel pan drummers play RUSH is just mind blowing. I can't wait for everyone else experience it ." ...
You can learn more about Pan Rocks via their website at PanRocks.com or follow them on Facebook or Twitter.

Hearts Beat Loud is a film released back in June about a father and daughter who form an unlikely songwriting duo in the summer before she leaves for college. It was written and directed by Brett Haley and stars Nick Offerman, Kiersey Clemons and Blythe Danner. Eagle-eyed reader Bill J noticed a subtle rush reference in the opening scene, where the man shown in this screenshot is in a record store with his hand on a Rush Grace Under Pressure LP.

Neil Peart made this past Sunday's New York Times crossword puzzle as seen here. The clue for 42 Down was, "Rock star known for his 360-degree drum set". Thanks to Steve M for the heads up.
This past week Business Insider came up with their list of the 100 most popular rock bands of all time based on measures such as record sales, Billboard performance, Wikipedia page views, and popularity on the online streaming platform Spotify. Rush ended up making the cut at #44:
Formed in: Toronto, Canada in 1968
All time US album sales: 25.0 million
Most popular album: Moving Pictures
Annual Wikipedia page views: 2,261,595
Former Barenaked Ladies singer Steven Page is currently touring in support of his recently released album Discipline: Heal Thyself, Pt. II, and took some time out to chat with Matt Wardlaw for Cleveland Scene magazine in the lead-up to his show at Cleveland's Music Box Supper Club next Thursday. He spoke at length about BNL's recent induction into the Canadian Music Hall of Fame by Rush's Geddy Lee:
... "It's amazing. I mean, I didn't grow up as a Rush fan, which is a sacrilege in Canada. I'm not a hockey guy; I'm not a Rush guy. It's like, maybe that's why I'm a man without a country right now. But I do have, I remember this one summer being at my friend's cottage for a big chunk of the summer, and we just listened to [the Rush album] Moving Pictures every day all of the time," he says. "Then Signals came out, and we listened to that all of the time. By that point, I discovered punk rock. So I kind of moved on. But you know, they are absolutely iconic. I've had the opportunity to meet all of those guys several times. I got to actually play on a Rheostatics record with [Rush drummer] Neil Peart at one point when we were really young, like before we made Gordon. [Rush guitarist] Alex [Lifeson] and Geddy [Lee] - I've done a bunch of different events with them and so on. But now that they're not really doing Rush anymore, it's kind of hard to nail those guys down. I know for [BNL's] Ed [Robertson] especially since Ed was such a Rush fanatic. That's how I knew him when we were in elementary school together. He was the grade below me, so I wasn't friendly with him."

Robertson, as Page recalls, was "the guy who played guitar and had the Rush T-shirt," even going as far as to perform [the Rush song] "Fly By Night" in the school play. They immortalized those early school days in the song "Grade 9" on the Gordon album, and humorously, they later heard from the members of Rush as they were on their own path of musical success as a band.

"I remember when we played Massey Hall in Toronto the first time. Rush used to play three night stands at Massey Hall, that's when they did the All the World's a Stage live album from there. We did four sold-out nights there, so they sent us some flowers with a card that just said, 'I thought it was supposed to be three nights,'" he laughs. "So when they gave us the award, I so badly wanted to be able to say, 'Thank you, Geddy, for presenting us with the award' and then he could say, 'Ten bucks is ten bucks!,' which is his line from the Bob and Doug McKenzie album. He didn't do it, but it was still great." ...
Ultimate Guitar posted their list of the 30 Bassists With Best Tone this past Friday and Rush's Geddy Lee came in at #4:
Geddy Lee is a master of those high notes that he reaches with his voice, as well as those deep thundering frequencies that come out of his bass guitar. He's the main reason why Rush could work as a trio but sounded like a damn orchestra. And his bass tone is as incredible as it is unique - strong attack
In the lead up to World Guitar Day this past Saturday September 29th, LouderSound.com ran an online poll to determine the 50 greatest guitarists of all time. They released the results of the poll earlier this week and Rush's Alex Lifeson made the top 10, coming in at #8:
Dr Stuart Clark (Astronomer): "Deep Purple gave me colour, excitement, classical influences and long songs that were improvisational. But I wanted longer songs, to go big. Then I found Rush, through Exit... Stage Left. This was rock, but not like I'd ever heard it. "Alex Lifeson is a god - I remember watching this on video and thinking: 'One day I'm going have a guitar like that and I'm going to know how to play it.' I never knew rock music could uplift, astound and move you in that way. It took me to Planet Rush. The addiction started, and I've now seen them over 50 times."I never knew rock music could astound in this way. I went to Planet Rush."
Lifeson also made their list of the 100 greatest guitar solos in rock with his Limelight solo, which made the cut at #41. Thanks to RushFanForever for the heads up.
As promised, Eddie Trunk revealed his top 20 Rush songs on his Sirius XM Volume show yesterday. Trunk is known for not being a fan of most of Rush's post-Moving Pictures material, so not surprisingly, nothing after Moving Pictures made the top 10, and only 3 post-1981 songs made the cut at all (Distant Early Warning at 16, Stick it Out at 15 and Caravan at 20). You can check out the full list in this tweet.
German hard rockers Kingdom Come have been reunited by drummer James Kottak for a planned 30th anniversary tour. Kottak recently spoke with NJArts.net about the band and the tour, and mentions Rush and Neil Peart at one point:
... "I love Dave Grohl and his band The Foo Fighters are one of my very, very, very favorite bands. But times change, the rules change, and here we are. You have to evolve. 'Conform or be cast out, sub-divisions,'" he said with a laugh, quoting another one of his favorite bands, Rush. "I love Rush. I've seen them seven times since 1975. Wow, what a great band, and what a great time. Have you read that Neil Peart book? It's heart-wrenching, he has such a way with words that I read it and read it again." ...
Hugo Award-winning author and music journalist Jason Heller released a book back in June which explores the "weird and wild story of when rock 'n' roll met the sci-fi world of the 1970s". The book is titled Strange Stars: David Bowie, Pop Music, and the Decade Sci-Fi Exploded and includes at least one Rush-related story as outlined in this Weekly Standard review of the book:
... Also amusing is the tale about drummer Neil Peart on the tour bus pounding out the science fiction stories behind the band Rush's concept album 2112 on a typewriter he bought at a pawn shop in Arkansas. ...
Here's the Hemispheres 40th anniversary box set unboxing video:
That's all for this week. Have a great weekend!