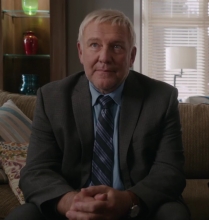 Alex Lifeson has a small role in Trailer Park Boys creator Mike Clattenburg's new CBC comedy-drama Crawford, which premiered on the CBC in Canada earlier this summer. Lifeson has appeared in episodes 5, 9 and 10, and also made an appearance in last night's season 1 finale (Season 1, Episode 12 - Can You Hear Me?). A video preview clip featuring a scene with Lifeson's character was posted online earlier this week and you can check it out below or on Facebook or Twitter. Actress Jill Hennessy, who plays the lead role of Cynthia in the show, spoke to the Toronto Star earlier this year about the series and working with Alex Lifeson:
... "He's phenomenal," says Hennessy, a RUSH fan. (Hennessy herself has released two albums: her last, I Do, in 2015.) Given the musical connections, the Star says it's surprising that Clattenburg hasn't got Lifeson and Hennessy busking in a Toronto subway in a giant ironic wink to the audience. "That would so work!" says Hennessy. "My character didn't finish high school, she was in a band. And one of her future fans was her boss (Lifeson) at the cereal company. So yes, I think somebody should talk to Mike about that scene. Could you maybe put in a word for me?"
Hennessy's character Cynthia is the matriarch of a dysfunctional family who is an "award-winning cereal executive" for a product called Sugar Maple Pops, Cynthia's husband Owen is a former police chief played by American actor John Carroll Lynch who is unable to use his voice and communicates with his smartphone, and Don is a struggling musician played by Kyle Mac who has been dropped by his label and is a "raccoon whisperer". Lifeson plays the part of Taylor, who is Hennessy's boss at the cereal company. Lifeson spoke about the role in his Globe and Mail interview earlier this year:
... It's fun to put yourself in an uncomfortable situation. If you have a little bit of confidence and you just get out of your own way, these things can happen. The same thing happened when I got asked to do a small role in a TV show, Crawford, a new comedy on CBC from Mike Clattenburg, who created Trailer Park Boys. I thought I couldn't do it - that it was something for real actors. But I ended up doing a few episodes. It definitely was not in my comfort zone. But if you throw a challenge at yourself and dive into it, it can be really gratifying.
You can learn more about the show and how to watch it via the CBC website.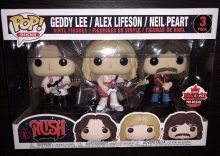 Canada's largest comics, sci-fi, horror, anime, and gaming event - Fan Expo Canada - is currently taking place at the Metro Toronto Convention Centre and will run through the Holiday weekend. Earlier this month Funko revealed their list of Fan Expo exclusive items, which includes a set of limited edition Funko Pop! Rocks Rush vinyl figurines. The 3-piece set is available as a 2018 Fan Expo Limited Edition collectible. The FunkoFinderz social media channel is at the convention and learned that the 3-pack appears to be a pre-release, which means it could have more widespread availability in the future (thanks Mark R). For those not familiar with Funko, their Pop! Vinyl line are figures modeled in a style similar to the Japanese Chibi style, typically depicting licensed characters from franchises and other pop culture entities. You can find out more about Funko and their Pop! vinyl figures at funko.com. To find out more about Fan Expo Canada and how you can get your hands on one of these sets, visit the website here.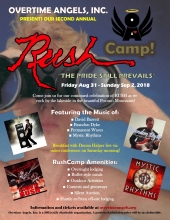 Back in 2014 a few diehard Rush fans who were inspired by Rush's many charitable donations over the years, put together the 501(c)3 charitable organization Overtime Angels with the goal of helping individuals in need that might not be able to receive help from large charitable organizations. The organization is hosting their second annual RushCamp! event/fundraiser this weekend at Independent Lake Camp in the northern tip of the Pocono Mountains near Scranton, PA. The camp kicked off yesterday and will run through the Holiday weekend, and features music from Brandon Dyke, David Barrett, and Rush tribute bands Permanent Waves and Mystic Rhythms; an appearance via Skype by Donna Halper; and much more. The online portion of their silent auction is currently running and includes four rare SIGNED live photographs of the band by photographer Craig M. Renwick. The online auction will end tomorrow afternoon, so place your bids soon. Overtime Angels' Jim Brunke explains the story of how they obtained these photos and the band's signatures, along with all the auction details in this video. Overtime Angels are also currently running a fundraising charity raffle to complement the event, with "glittering prizes" including a Tama Superstar Drum Set, a signed David Barrett album or a special US $100 bill. For all the details and to purchase your raffle tickets visit this location. Details and ticket information for RushCamp! 2018 is available at overtimeangels.org.
UFO bassist Pete Way released his memoir A Fast Ride Out of Here: Confessions of Rock's Most Dangerous Man back in March, and reader Lynne K let me know that Geddy Lee was interviewed for the book and a quote from him even appears on the back cover:
Pete Way was a force of nature. Most people actually need to be sober at some point in the day, but he didn't seem to require that. At one gig we were backstage listening to UFO play and the bass just disappeared - of course he'd fallen off the stage
Redditor petdance posted an extended excerpt from the book earlier this year where Pete talks about touring with Rush, and Geddy adds his own memories of touring with UFO. Here's a sampling from Geddy's comments:
... Whenever Pete's name comes up between the three of us today we all smile. He was a lot of fun to be around, but also very sweet. He truly was a wouldn't-hurt-a-fly kind of guy and dedicated to his music. And he was very rock and roll. I was on our tour bus one time and listening to the new Bill Bruford solo album, which had just then come out. There was a great bass player on that record named named Jeff Berlin, and it was pretty complex sort of jazz-rock. Pete came stumbling around the bus and was just appalled at the sound of it. He sat down beside me and said, as if in profound pain, "Glee", which he used to call me, "don't listen to this, it isn't rock and roll." You know, Pete's a rocker at heart and he's remained true to that from the music that he's played to the way he's lived his life. ...
Lander University broadcast specialist and XLR Radio general manager Paul Crutcher wrote an article this past week where he pays tribute to a few important Rush fans in his life. It's titled Ode to the Rush fan (probably a dude) and you can check it out online at this location.
Weird Al Yankovic received a star on the Hollywood Walk of Fame this past week, and Tom Lennon mentioned Rush during his induction speech as seen in this video at about the 25-minute mark (thanks Heath B).
Louder posted their list of the 20 best albums of 1981 earlier this week, and Rush's Moving Pictures made the cut :
A number-three album on both sides of the Atlantic, Moving Pictures bristles with hyper-commercial, left-field songwriting expertise, characterised by opening track Tom Sawyer. Some fans bemoaned Rush's over-reliance on keyboards for the record, but the band were on irresistible form - and anyway, the 80s was a time when the boundaries between music and technology were blurring. Rush embraced both aspects in impeccable style.
Motoring Junction posted their list of the Top 42 Motorcycling Quotes a few weeks ago, and one Neil Peart quote made the cut:
21) "When I'm riding my motorcycle, I'm glad to be alive. When I stop riding my motorcycle, I'm glad to be alive."- Neil Peart
Here's a scene featuring Alex Lifeson from last night's season finale of the CBC's Crawford:
Have a great Labor Day weekend everyone!