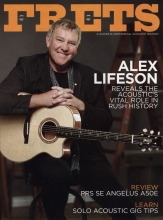 Alex Lifeson sat down with Guitar Player's Frets magazine for an interview which appears in the September, 2018 issue. Lifeson talks about acoustic guitars and their place in Rush's music and writing process. He also touches on his many side projects contributing tracks remotely to artists like Don Felder, John Mayall, Marco Minnemann, and Fu Manchu. When asked about whether he and Geddy would ever consider performing stripped-down acoustic versions of their material here's what he had to say:
... Ged and I are best buds and we talk every few days, but we've never talked about that. He's been so focused on writing a big coffee-table book about basses, but it's almost done. I have a feeling that once he's past this and had a bit of a break, we'll do something for sure. I haven't stopped writing music. I know he's missing that. Whether we'll do something acoustically together, I don't know. I can't imagine we would go back on the road with anything, although it would be kind of nice to do some small theaters. ...
John at Cygnus-X1.net has transcribed the entire article and made it available online at this location.
Former Clockwork Angels String Ensemble violinist Jonathan Dinklage is profiled for an article in the latest edition of New Jersey Monthly, where he talks about his current gig as the lead violinist of Broadway's Hamilton. The article also mentions his work with Rush and quotes Geddy Lee, who was interviewed via email:
... Going on tour with the rock band Rush in 2013 and 2015 was, says Dinklage, "the highlight of all." The Rush tours gave him the opportunity to play solos onstage with the band. They also resulted in lasting friendships with Rush co-founders Geddy Lee and Alex Lifeson. In an e-mail interview, Lee describes his admiration for Dinklage-the player and the person. "Jonny has the ability to seamlessly blend in to a string section or stand out as a virtuoso soloist," writes Lee. "There is a lot of power in his playing, so he can be as delicate as the part requires and yet crank it up when need be." He calls Dinklage "a great team player," adding, "Jonny is a fantastic and hilarious guy.... He was a pleasure to have along with us."...
Dinklage also played violin on the majority of Rush's live performances of Losing It on the R40 Live tour as seen in this video. You can read the entire article online at this location.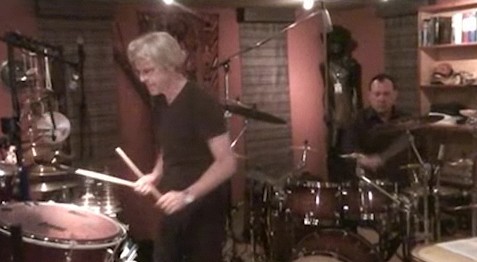 Police drummer Stewart Copeland hosted Classic Rock Week on HDNET Movies last week, where he shared stories in between airings of documentaries, such as Rush: The Rise of Kings, which was last Friday night's featured documentary. In the lead-up to Friday's show, Ultimate Classic Rock released a video clip teaser from the program where Copeland shared a story about how The Police threw bombs at Rush back when they were an up-and-coming punk band.
They're Canadian. They are the best guys on the planet. I don't know if being Canadian has anything to do with it, but Rush are one of the best hangs in show business. Back when my band, the Police, was a struggling punk rock [band], just trying to make noise and cause attention and throwing bombs wherever we could. Rush? That's some place where we threw bombs. ... And years later, it turns out Rush -- [the] guys in the band -- Neil Peart, is so Canadian that he didn't even mind. And we became really great friends in spite of the fact that we used to criticize his band when we were just trying to get attention. I think he's old and wise and Canadian enough to understand all that. They couldn't be nicer if they were New Zealanders, also a nation that only produces good people.
Copeland has spoken in the past about his friendship with Peart and his involvement with Copeland's Sacred Grove jam sessions.

Dave Bidini's West End Phoenix monthly community newspaper for Toronto's West End launched this past October and Rush's Alex Lifeson contributes a "storytelling comic" titled The Meaning of Lifeson to the publication, which is illustrated by artist Casey McGlynn. Issue 4 of the newspaper (February/March 2018) was dubbed the Death Issue and includes Alex Lifeson's stories of some of his near-death experiences. The West End Phoenix is selling a limited number of copies of the Death Issue signed by Alex Lifeson which you can purchase online at this location. To learn more about the West End Phoenix and how you can get a subscription, visit their website at WestEndPhoenix.com.
Neil Peart's R40 drum kit will be on display at the Percussive Arts Society's Rhythm Discovery Center in Indianapolis starting next month according to this tweet from former Neil Peart drum tech Lorne Wheaton (thanks Eric at Power Windows):
Yesterday I set up R40 to be displayed soon at Percussive Arts Society in Indianapolis, IN. It will be there for the next 2 years. Drop by and check it out. #rhythmdiscoverycenter - at Rhythm! Discovery Center

Lorne clarifies in a later tweet that the kit will be on display starting August 6th. On a related note, Neil Peart and the R40 drum kit are featured in the Edge Factor documentary Masters of Resonance. The film had its first pre-release theater screening as part of the Rush Family Reunion event at the Fox Theatre in Toronto last month, and the documentary's official world premiere will take place at the GRAMMY Museum at LA Live on August 8th, with tickets now available at this location. The premiere will include a post-screening conversation with storyteller and founder of Edge Factor, Jeremy Bout, DW's John Good, and drummer Paul Wertico, moderated by GRAMMY Museum Artistic Director Scott Goldman. The film will then hit the festival circuit this fall and be released to video-on-demand streaming channels, beginning with iTunes, later this year. For more information about the film and to keep up on the latest news, visit the website at mastersofresonance.com, and follow them on Facebook and Twitter. You can watch the trailer on YouTube at this location.

Last month a new short film directed by Ted Kamp and written by W. Earl Brown titled Dad Band was released online right around Father's Day. The 10-minute film features a group of middle-aged dads getting together to jam in a garage. It stars Brown and Camp along with Eric Stromer, Suzanne Friedline, and Jerry Cantrell of Alice in Chains. Stromer plays the band's drummer, Kamp's character (Abe) plays keyboards, Cantrell is a plumber (Terry) who plays bass, and Brown's character (Jimbo) is a Rush fan who wears a 2112 shirt in the film. The rest of the guys in the band want to play cover songs, but Jimbo insists on doing originals. They attempt to play an original that he wrote, but without much luck, and the rest of the guys get frustrated. Rush gets heavily referenced during a somewhat vulgar exchange at about the 5-minute mark as Jimbo attempts to explain to the guys how to play his song. For a complete transcript and to watch the full video, check out this post.
Cleveland's iconic Agora concert club just underwent a $3 million dollar renovation and reopened this past week. In celebration, the Cleveland Plain Dealer posted a list of 35 legendary Cleveland Agora concerts, one of which was Rush's August 26, 1974 show:
Rush's 1974 show at the Agora, aka "The First American Broadcast," was part of a successful run early on in Cleveland, which helped Rush gain popularity in the States. You can still find the performance on 180-gram vinyl.

Back in 2014 a few diehard Rush fans who were inspired by Rush's many charitable donations over the years, put together the 501(c)3 charitable organization Overtime Angels with the goal of helping individuals in need that might not be able to receive help from large charitable organizations. The organization will be hosting their second annual RushCamp event/fundraiser this coming Labor Day weekend at Independent Lake Camp in the northern tip of the Pocono Mountains near Scranton, PA. The camp will run over Labor Day weekend from Aug 30 to Sep 2, 2018, and feature music from Brandon Dyke, David Barrett, and Rush tribute bands Permanent Waves and Mystic Rhythms; an appearance via Skype by Donna Halper; and much more. Details and ticket information is available at overtimeangels.org. They are also running a fundraising charity raffle to complement the event, with "glittering prizes" including a Tama Superstar Drum Set, a signed David Barrett album or a special US $100 bill. For all the details and to purchase your raffle tickets visit this location.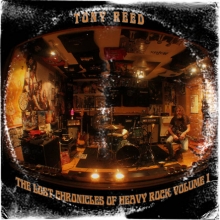 Back in 2015 Mos Generator's Tony Reed released a free online album of cover songs titled The Lost Chronicles of Heavy Rock, Vol.1. One of the songs he covers is the unreleased 1974 Rush track Garden Road - a song that his band Mos Generator also covered for the 2007 compilation Sucking the 70s: Back in the Saddle Again. This past week a vinyl/CD edition of The Lost Chronicles of Heavy Rock was released via Listenable Records which you can purchase online here (thanks RushFanForever). Here's what Reed had to say about Garden Road:
This one's just a rocker. Mos Generator covered it on a Small Stone records compilation back in 2007 and I redid it for this just because I really like the song. Of course my vocals aren't as high, so I went for a more raspy kind of thing. If I didn't do this one, I might have gone with Anthem or Bastille Day. The interesting thing is that the only version of this song that exists is from a live recording from Cleveland in 1974. There's no studio version. They're doing it as an encore, and they had obviously never played it before because Neil stops twice during the song because he thinks a change is coming, so he fucks up a couple times.
Rush played a few bars of the Garden Road riff to close out their R40 Live tour back in 2015. You can listen to the track on BandCamp at this location.
Toronto-based bass player, sound engineer, and event manager Ken Morris recently passed away in Toronto after a three-year battle with cancer at age 67. Morris had many ties with Rush as outlined in this FYI Music News obituary, including being the person responsible for introducing Neil Peart to the band (thanks RushFanForever):
... The well known and much loved music man came to Canada in 1970 as a teenage musician from Dublin looking for opportunities. He was a bass player and shortly after arriving formed a band called The British Are Here who were booked by Ray Danniels and Vic Wilson and played all the Toronto and Ontario clubs existing at the time. After the band broke up, Terry Brown hired him as an assistant engineer at Toronto Sound Studios where he assisted on many of Brown's celebrated sessions with artists such as Max Webster, Rush, Klaatu, Moe Koffman, and Dr. Music. ... Worth noting is that he was the guy that found and introduced Neil Peart, a St.Catharines area musician who played the same bar circuit as his band, to Rush and Ray Danniels in the early seventies. ...

Coincidentally, this coming Sunday, July 29th is the 44th anniversary of Neil Peart ultimately joining Rush, which also happens to be Geddy Lee's birthday. Ged will officially hit retirement age on Sunday, and turn 65 years young. Geddy has been spending much of his summer watching his hometown Toronto Blue Jays from his season seats behind home plate. This past weekend he treated his brother Allan and friend (and sometimes musical collaborator) Ben Mink to a game, where they saw the Jays come from behind to beat the Baltimore Orioles. The trio can be spotted at several points in this game recap video (thanks RushFanForever).
That's all for this week. Have a great weekend!!