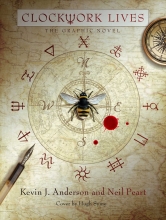 The graphic novel representation of Kevin J. Anderson and Neil Peart's 2015 novel Clockwork Lives - the follow-up to Clockwork Angels - officially released earlier this week via Insight Comics. Author Kevin J. Anderson recently sat down for an interview to talk about the graphic novel, and described what it was like to collaborate with Neil Peart:
I've known Neil for about 28 years now, so this has been a long time coming. He is an incredible perfectionist, and I was a little worried when we started, but he was terrific to work with. We climbed a mountain together in Colorado and brainstormed the initial backbone of the first novel, and we sent countless emails back and forth developing the characters and storyline. For Clockwork Lives, I would send him the rough draft of each story as I wrote it, plus the frame story chapters. It was exhilarating for both of us.
Sneak peeks of several panels from the graphic novel are available online, including a pdf download of several panels from the book here, a preview of the first 12 pages here, and several other panels available via the Amazon listing. Geekdad's Skip Owens recently reviewed the graphic novel and had this to say:
... being a Rush fan is another reason to read Clockwork Lives. Not only are there lyrics and themes from various Rush songs throughout the book but there is even a cameo appearance from the band! But even if you aren't a fan of Rush or the original Clockwork Angels book the quality of the stories alone in this book should be enough for you to want to read it. ...
The 176-page, full-color, hardcover book is beautifully-illustrated with a cover design from Hugh Syme, and can be ordered via Amazon at this location.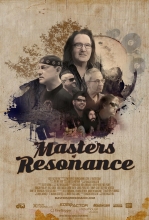 Earlier this year, Edge Factor completed production of their long-awaited documentary Masters of Resonance, featuring Neil Peart and the R40 drum kit. The film had its first pre-release theater screening as part of the Rush Family Reunion event at the Fox Theatre in Toronto last Friday. The filmmakers were in attendance at the event and gave away a drumhead signed by Neil Peart himself to one lucky fan as seen here and in this Facebook photo gallery. Next up for the documentary is its official world premiere at the GRAMMY Museum at LA Live on August 8th before it hits the film festival circuit and gets released to video-on-demand streaming channels, beginning with iTunes, later this year. Specific screenings and pre-sale information will be posted to mastersofresonance.com as it becomes available. Here's a synopsis of the film as provided by the filmmakers:
When was the last time an object spoke to you, and you listened?

Storyteller and Founder of Edge Factor, Jeremy Bout once believed that a drum was a glorified pail with a lid on it. All drum kits sound the same if you hit them with a keen sense of rhythm, right? Then he met John Good, Co-Founder of DW Drums and realized, "Boy, was I wrong." The innovation, craftsmanship, and sheer brilliance behind the science of drum making inspired Jeremy and the filmmakers at Edge Factor to share the legacy of John and the DW team, in the music documentary film Masters of Resonance.

This film takes you on a journey from the forest to the stage and pulls back the curtain on drum making. It begins with sustainably harvesting the wood in the forests of Michigan, then shows the design, manufacturing, and painting operations in the DW Drums factory. The finished product is revealed, as completed drum kits are played by many of the biggest names in the music industry. These processes are perfectly demonstrated as the DW Drums team creates the iconic Rush R40 tour drum kit, using 1500 year old Romanian bog oak. Along the way, you will witness the unique relationship that these drum makers share with musicians, as Jeremy interviews world class drummers from the DW Drums roster.

Rush drummer Neil Peart, beautifully captures the message of the film when he asks, "What could be more transcendent than a musical instrument?" It's the team's unending pursuit of excellence, willingness to embrace failure to find solutions, and the dedication of each team member that empowers DW Drums to create objects that live forever in the music they create.
For more information about the film and to keep up on the latest news, visit the website at mastersofresonance.com, and follow them on Facebook and Twitter. You can watch the trailer on YouTube at this location.
Last July Jacob Moon and David Barrett, along with drummer Rob 'Beatdown' Brown, performed a free concert of Rush and Rush-inspired music at the Lee Lifeson Art Park in Toronto's Willowdale neighborhood. The crowdfunded event was such a success that they are aiming to perform another such concert, tentatively scheduled for Wednesday, July 25th, also funded through crowdsourcing in order to make the concert free for the whole community. As part of last year's crowdfunding campaign, they also recorded and released a cover of Rush's Time Stand Still produced by Terry Brown. This year the goal is to reach $2112, and use some of those funds to record a cover of Rush's New World Man. To learn more about the crowdfunding campaign along with all the related perks, and to make your contribution, go to this location.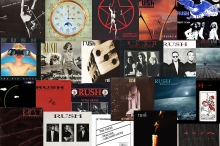 Yesterday Ultimate Classic Rock posted a controversial article (among Rush fans at least) where they performed the extremely subjective exercise of ranking every single Rush song from worst to best. You can check out the complete rankings at this location.
Fresh off their reviews of Rush's Grace Under Pressure and the Grace Under Pressure Tour live release last month, the TimeOnMyBrain.com blog continues on chronologically with a posthumous review of the band's 1986 album Power Windows. You can check it out online at this location, and also read their review of Signals here.
TV Overmind posted their list of The 20 Best Rock Bassists of All-Time this past week, and Rush's Geddy Lee made the cut at #4:
Born as Gary Lee Weinrib, Geddy Lee is a musician, singer, and songwriter. He was born in Ontario, Canada, on July 29, 1953. He is best-known as the lead vocalist, keyboardist, and bassist of 'Rush', a Canadian rock group. He joined 'Rush' right at the beginning of his career on the request of Alex Lifeson, his childhood friend. They needed to replace their original bassist, Jeff Jones. In addition to being a member of 'Rush', Geddy Lee has also enjoyed a solo career. His debut single was 'My Favorite Headache', which was released in 2000. Lee's talents have long been recognized and this award-winning musician is known for his individual style and techniques. He is an inspiration for many current bass players. In 1996, he was made an Officer of the Order of Canada along with his bandmates Alex Lifeson and Neil Peart. Lee has been married to Nancy Young since 1976. They have a daughter, Kyla, and a son, Julian.
Back in March of 2016, Geddy Lee and Alex Lifeson presented teacher Don Bosse of Fredericton High School (FHS) in Fredericton, NB with the 2016 MusiCounts Teacher of the Year Award in Toronto. Rush partnered with the Canadian music education charity to co-sponsor the Award which recognizes teachers with outstanding dedication to inspiring and nurturing the musical growth of Canadian youth. Bosse is retiring this year and was the subject of this CBC article earlier this week, which also mentions Bosse's MusiCounts award (thanks RushFanForever).
Pantera drummer and founding member Vinnie Paul passed away earlier this week at the age of 54. Paul was a huge fan of Rush and Neil Peart and sang the praises of both in VH1's 100 Greatest Artists of Hard Rock special several years ago, describing Peart as "God on drums", as seen here.
Today is the 14th anniversary of the release of Rush's one and only covers album - 2004's Feedback. In celebration of the anniversary, the Rush Backstage Club is offering a sale on the Feedback Vinyl which also includes a 12x12 promotional record flat print. The sale is open from now until July 2nd or while quantities last, and you can get yours at this location.
That's all for this week. Happy 4th of July to all my fellow American readers, and Happy Canada Day to Geddy, Alex, Neil and all the other canucks out there. Have a great weekend!