UPDATE - 3/31@10:39AM: Here's the Rheostatics full set with Alex Lifeson from Thursday night's West End Phoenix fundraiser:
----- snip -----
Dave Bidini's West End Phoenix monthly community newspaper for Toronto's West End launched this past October and Rush's Alex Lifeson contributes a "storytelling comic" titled The Meaning of Lifeson to the publication, which is illustrated by artist Casey McGlynn. The newspaper held a Phoenix Rising concert fundraiser last night at The Great Hall on Queen Street in Toronto, and Alex Lifeson was on hand to perform with the Rheostatics. The event was hosted by Tom Wilson (Lee Harvey Osmond) and other participants included Whitehorse, Nasim Asgari, Kevin Hearn of the Barenaked Ladies and more. Photos and video from the event can be seen in this post including this video of the Rheostatics with Alex performing Claire.
Rush's Geddy Lee had the honor of inducting iconic Canadian band The Barenaked Ladies along with their former bandmate Steven Page into the Canadian Music Hall of Fame this past weekend at the Juno Awards in Vancouver. Geddy introduced the band with a short, 2-minute speech wherein he describes how he was first introduced to them and their music, and went on to drop accolades on the band and describe their importance to Canadian music. He then presented them with the award, hugging each member of the band. You can watch Geddy's introduction and the band's acceptance speeches on YouTube in this video, and get complete coverage from the night's festivities in this post.


The long-awaited film adaptation of Ernest Cline's critically-acclaimed, 2011 sci-fi book Ready Player One was released in theaters yesterday. The book makes several references to '80s pop culture, with particular attention to cult films, classic arcade video games and music. It also contains several references to Rush including a particularly significant plot point involving the band's 2112 album, so Rush fans were hoping the film would include at least some of these references. Things looked promising after the first trailer for the film prominently featured Rush's Tom Sawyer, and a subsequent set of still images from the film included a shot of Lena Waithe's character wearing a Rush 2112 t-shirt, and a Rush 2112 poster in another image. Unfortunatley the t-shirt and poster are all we get. From GeekDad's review of the film:
Sadly, [Rush's] presence is just above zero. There is a poster on a wall and Aech's 2112 shirt, both already shown in stills from the movie. But there's nothing else - no music on the soundtrack, no reference to the band or their music in the dialogue, no visit to the planet Syrinx and the city of Megadon. Bummer.
The film's soundtrack doesn't include any Rush either. The good news is that most of the film's review so far are pretty good, and despite the lack of Rush, it looks like it's worth seeing. You can watch the latest trailer for the film at this location, and learn more about it at the official website or on Facebook/Twitter.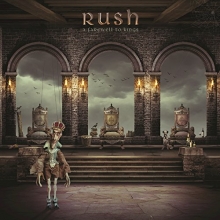 Rush's 1977 classic A Farewell to Kings album celebrated the 40th anniversary of its 1977 release this past year and the band released a special anniversary box set edition of the album back in December to mark the occasion. Fans can purchase either a 3-CD set, a 4-LP set or the Super Deluxe set. Earlier this week Rush posted an official lyric video for the album's title track to YouTube. The video features artwork from the 40th anniversary edition interspersed with photos of the band and some natural scenery, and you can watch it on YouTube at this location. The box set includes the Abbey Road Mastering Studios 2015 remastered edition of the album, a complete Rush concert recorded in February 1978 at London's Hammersmith Odeon newly mixed by Terry Brown, and four newly-recorded cover versions of songs from the original album by Dream Theater, Big Wreck, The Trews and Alain Johannes which you can listen to in this post. Rush has also made streaming audio versions of the previously unreleased 1978 live versions of Closer to the Heart, Lakeside Park, 2112, and Neil Peart's drum solo included in the box set available on YouTube and other streaming channels. The set also contains a Cygnus X1 sound effects outtake titled Cygnus X2 Eh which you can listen to here. Additionally, there's a 1.5-minute promotional, unboxing video highlighting the contents of the set which you can watch here. The Super Deluxe edition includes both the 3 CDs and 4 LPs along with an additional Blu-ray Audio disc containing a new 5.1 surround mix of the album by Steven Wilson, along with three original 1977 promo videos from a newly found 2-inch quad video master. The set is available to order at Amazon (3-CD set, 4-LP set, Super Deluxe set) and other retailers, or in stores.
Speaking of A Farewell to Kings, Musician/producer/teacher Rick Beato has a popular (300K subscribers) YouTube channel that includes a regular series called What Makes This Song Great? where he picks a song and breaks it down in painstaking detail. In his latest episode he explores Rush's Closer to the Heart as seen here (thanks RushFanForever).
Issue 247 of Classic Rock Magazine features an extensive look at the 100 Best Albums Of The 90s, and Rush's Roll the Bones made the cut at #53:
Everybody knew that Rush could piss the lengthy and complex. Roll The Bones showed that there was a flip-side to these masters of the sprawling epic and that they had a place in the modern musical landscape. Less progtastic, more in tune with the times, particularly impressive is the strength of the more direct songwriting and the balls to explore beyond their comfort zone.
There's also an online feature where they take a look at the 50 Best Songs of the 90s, and the album's title track came in at #35 (thanks RushFanForever):
Remember the time John Cleese almost appeared on a Rush song? Roll The Bones is that moment. Released in 1991, it featured the kind of synth blasts that had been a fixture since Signals and a surprisingly funky chorus, but it was something else that caught peoples' attention: Neil Peart had written a lengthy section of the song's lyric as a rap. "Get busy with the facts," it went. "No zodiacs or almanacs/No maniacs in polyester slacks/Just the facts/ Gonna kick some Gluteus max/It's a parallax, you dig?" MF Doom would be proud.

The band were thinking about who might suit the role, and Cleese was an early favourite, but in the end the band decided against a cameo. "Geddy asked me to do it," said producer Rupert Hine, "but after some experimentation we managed to effect his own voice to achieve a similar apparent depth."

On the Roll The Bones Radio Special, Neil Peart explained his thinking: "I was hearing some of the better rap writers, among whom I would include like LL Cool J or Public Enemy, musicality apart, just as writers, it was really interesting. And it struck me that it must be a lot of fun to do that; all those internal rhymes and all that wordplay and everything. That's meat and potatoes for a lyricist; it's stuff you love to do and can seldom get away with being so cute in a rock song."

By the time the R40 tour rolled around, the song came accompanied by a video in which a number of celebrities lip-synced the part, including Rage Against The Machine's Tom Morello, Red Hot Chili Peppers' drummer Chad Smith, and Alex Lifeson's favourite dope-smoking comedy trio The Trailer Park Boys.
Rhythm X, Inc. is a non-profit music education organization that operates a competitive indoor marching percussion ensemble and wind ensemble, as well as an online school for marching music called The X Academy. They were recently featured in this flomarching.com video where they perform a routine centered around Rush's YYZ (thanks Danny L).
On March 27, 1981, Rush visited Montreal on the Moving Pictures Tour, where they recorded a short set for the King Biscuit Flower Hour. On A few days ago on the 37th anniversary of that concert, Paste Magazine posted an article featuring the audio of a few tracks from the show (thanks RushFanForever).
Lost in Vegas is a popular YouTube channel (nearly 350K subscribers) where the 2 hosts George and Ryan play a song that they are unfamiliar with, and react to it in real time, occasionally pausing to expand on their thoughts. While generally covering hip-hop and R&B songs, over the past year they've expanded into rock and metal, and even some progressive rock. A few months ago they checked out Rush's YYZ for the first time and absolutely LOVED it. The video garnered a lot of attention, so the guys decided to do another Rush song last month, choosing Working Man, and loved that one too. Just yesterday they made it 3 for 3 by tackling The Spirit of Radio as seen here. They even got the attention of Rush's management, who sent them a care package of Rush swag that they show off in the video, and are giving away to their listeners (watch the vid for details). I think they are officially fans now! :)
The 2018 Major League Baseball season kicked off yesterday, and Geddy Lee was on hand at the Blue Jays home opener in his regular spot behind home plate as seen in this video (thanks RushFanForever).
Here's video of the Rheostatics with Alex Lifeson performing Claire from last night's West End Phoenix fundraiser, along with Geddy Lee inducting the Barenaked Ladies into the Canadian Music Hall of Fame Sunday night:
That's all for this week. Happy Easter everyone!