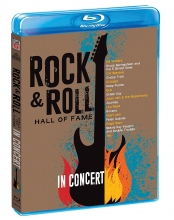 The Rock and Roll Hall of Fame announced earlier this week that they will be releasing a DVD/Blu-ray of the last four Rock Hall induction ceremonies this coming April 24th (full press release here). The video will only include the ceremonies from 2014-2017, which means that Rush's 2013 induction will unfortunately not be included. However, last year's induction of YES by Geddy Lee and Alex Lifeson, along with YES' performance of Roundabout featuring Geddy Lee is included, as is the all-star jam which both Geddy and Alex participated in. The video will be available as 2 Blu-ray discs or on 4 DVDs and is already available for pre-order (Blu-ray, DVD). You can watch a trailer for the set below or on the Amazon listing at this location. Coinciding with the video release, the Rock Hall will also be releasing five digital albums consisting of induction ceremony highlights respectively spanning the ceremonies from 2010-11, 2012-13, 2014, 2015 and 2016-7 (each priced at $9.99). So highlights from Rush's 2013 induction ceremony should be included on one of those releases. The press release also indicates that the digital release will include bonus performances from Rush and several other artists. This year's Rock Hall induction takes place April 14th in Cleveland, and honors Bon Jovi, the Cars, Dire Straits, the Moody Blues, Nina Simone and Sister Rosetta Tharpe.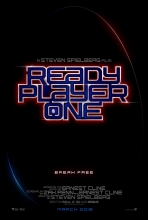 The long-awaited film adaptation of Ernest Cline's critically-acclaimed, 2011 sci-fi book Ready Player One premiered at SXSW this past weekend. The book makes several references to '80s pop culture, with particular attention to cult films, classic arcade video games and music. It also contains several references to Rush including a particularly significant plot point involving the band's 2112 album, so Rush fans were hoping the film would include at least some of these references. Things looked promising after the first trailer for the film prominently featured Rush's Tom Sawyer, and a subsequent trailer showed one of the characters wearing a Rush 2112 t-shirt. Unfortunately it looks like the 2112 t-shirt is all we'll get according to at least one early review of the film from the Hollywood Reporter:
A rollicking adventure through worlds both bleak and fantastic, Steven Spielberg's Ready Player One makes big changes to the specifics and structure of Ernest Cline's best-selling novel but keeps the spirit and level-up thrills intact. With Cline as a screenwriter alongside Zak Penn, it's not surprising that while some of the book's dorkier elements are excised - sorry, Rush fans! - their replacements display similar pop-culture obsessiveness while lending themselves more to the cinematic gifts of the man Cline surely dreamed would adapt the book. ...


The good news is that most of the film's review so far are pretty good, and despite the disappointing removal of the Rush references, it looks like it's worth seeing. The movie goes into wide release later this month on March 29th. You can watch the latest trailer (just released yesterday) for the film at this location, and learn more about it at the official website or on Facebook/Twitter.
Rush's A Farewell to Kings 40th anniversary box set released this past December and included a disc of cover songs from the album by artists such as Dream Theater, The Trews and Big Wreck, who performed a cover of Closer to the Heart (listen to it here). Big Wreck's Ian Thornley was interviewed by Music Life Magazine back in January to discuss the cover along with Big Wreck's current projects, and had the following to say (thanks RushFanForever):
... "I got a call initially about doing a different song, although I can't remember which one. I thought it might be interesting but I was sort of lukewarm to the idea because it was one of the more intricate songs on the album and I really wouldn't know what to do with it. Maybe a few weeks had passed and they said that nobody had grabbed Closer to the Heart yet. And I was shocked. I know that one pretty well and as far as song format goes for a band like Rush, it's a lot simpler. I thought I could really visualize a Big Wreck take on the tune, certainly much more than the proggier stuff," said Big Wreck co-founder/guitarist/vocalist/songwriter Ian Thornley. "It's always flattering to be asked to do something like this, but having said that, if I am going to do something of this nature I want it to be cool. I want it to be something that's worthy of the project. Basically, I wouldn't want it to suck, and I wouldn't want to just redo what Rush had already done. Even though we kept our version pretty close to the script I think we took it in a bit of a different direction sonically. It may be a little more aggressive sounding, although that's not really for me to say. It was important to me that it be of high quality and something that I would be proud to put on one of my own records." ...

The February-March 2018 issue of Rock Candy magazine includes a feature on Rush's Hemispheres album where they "dissect the Canadian power trio's seminal 1978 'Hemispheres' sleeve" (thanks Will C). You can get more details and learn about how to get a copy of the magazine at this location.
Brad Birzer of Progarchy.com posted an analysis of Rush's 1982 album Signals earlier this week, and explores the album's "cyclical" nature:
... The album as a whole revolves around a song cycle. In 1982, immediately after the release of the album, an insightful interviewer said: "Signals has a cyclical framework. It opens in suburbia, on the edge of 'the far unlit unknown,' contemplates escape in The Analog Kid, explores universal imponderables - the essence of our humanity, sex, religion, old age - and ends with actual escape to the stars in Countdown." Peart responded, presumably with a bit of surprise: "You noticed that. We were hoping no one would. It's so unfashionable these days to construct grand concepts. Were being closed mouth about it. Some people, and I don't expect there will be many, will be insightful enough to catch it." ...
David Barrett of Toronto-based instrumental band the David Barrett Trio has launched a GoFundMe campaign with the goal of releasing the band's Alex Lifeson-produced 2013 debut album on vinyl. There are several donation levels offered, including a Working Man level which includes a copy of the album signed by Alex Lifeson. For all the details and to secure your copy, visit the GoFundMe page at this location.
Toronto Star entertainment columnist Vinay Menon posted a tongue-in-cheek article this past week on the "lyrical" tone of some recent emails from Doug Ford to his supporters in the lead-up to him being elected as the new leader of the Ontario Progressive Conservatives (thanks RushFanForever). Menon then offers up some lyrics of his own from a playlist he created, which includes Rush's Subdivisions:
This song made me weep in grade school. But ignore the warning of crushing conformity and focus on the 905. With the "future pre-decided" and "opinions all provided," howl like Geddy Lee about social-justice curriculums in public schools and how a carbon tax will destroy "the restless dreams of youth." Fine. Cry if it helps.
One of the Rush fans featured in the Rush: Time Stand Still documentary was Ray Wawrzyniak, who has one of the most epic and complete collections of Rush memorabilia in existence. Ray was recently interviewed for the Rock N Roll Archaeology podcast as part of their Deeper Digs in Rock interview series, where they discuss the band, music in general and what it's like being an ultimate super-fan. You can check it out online here.
Here's the promotional trailer for the upcoming Rock and Roll Hall of Fame: In Concert Blu-ray/DVD release. Highlights of Rush's 2017 induction of YES can be seen around the 1:15 mark.
One quick announcement - the new Rush Swag Store section of rushisaband.com is now open for business. The store is just an indexed listing of Rush merchandise that's available for purchase through Amazon. If you purchase items via these links, a small percentage goes to support the website. Go check it out if/when you have a chance. That's all for this week. Have a safe and happy St. Patrick's Day weekend everybody!