UPDATE - 3/15@12:18PM: Here's the full press release (thanks RushFanForever). It sounds like the bonus performance is in reference to the 4 digital albums that are going to be released, but it's still not completely clear since no specific track listings have been revealed yet.
UPDATE - 3/14@10:26PM: This Cleveland Scene magazine article says that a Rush performance(s) will be included as a bonus performance but they don't provide any more details (thanks RushFanForever). Hopefully we'll get clarification as the release date gets closer.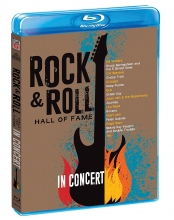 The Rock and Roll Hall of Fame has announced that they will be releasing a DVD/Blu-ray of the last four Rock Hall induction ceremonies this coming April 24th (thanks RushFanForever). The video will only include the ceremonies from 2014-2017, which means that Rush's 2013 induction will unfortunately not be included. However, last year's induction of YES by Geddy Lee and Alex Lifeson, along with YES' performance of Roundabout featuring Geddy Lee is included, as is the all-star jam which both Geddy and Alex participated in. The video will be available as 2 Blu-ray discs or on 4 DVDs and is already available for pre-order (Blu-ray, DVD). You can watch a trailer for the set below or on the Amazon listing at this location. Coinciding with the video release, the Rock Hall will also be releasing five digital albums consisting of induction ceremony highlights from 2010-17, with each release covering two years. So highlights from Rush's 2013 induction ceremony should be included on one of those releases. This year's Rock Hall induction takes place April 14th in Cleveland, and honors Bon Jovi, the Cars, Dire Straits, the Moody Blues, Nina Simone and Sister Rosetta Tharpe.