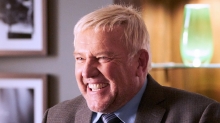 Alex Lifeson has a small role in Trailer Park Boys creator Mike Clattenburg's new CBC comedy-drama Crawford, which just became available for streaming in Canada today at cbc.ca and on the CBC TV app. Actress Jill Hennessy, who plays the lead role of Cynthia in the show, spoke to the Toronto Star earlier this week about the series and working with Alex Lifeson:
... "He's phenomenal," says Hennessy, a RUSH fan. (Hennessy herself has released two albums: her last, I Do, in 2015.) Given the musical connections, the Star says it's surprising that Clattenburg hasn't got Lifeson and Hennessy busking in a Toronto subway in a giant ironic wink to the audience. "That would so work!" says Hennessy. "My character didn't finish high school, she was in a band. And one of her future fans was her boss (Lifeson) at the cereal company. So yes, I think somebody should talk to Mike about that scene. Could you maybe put in a word for me?"
Hennessy's character Cynthia is the matriarch of a dysfunctional family who is an "award-winning cereal executive" for a product called Sugar Maple Pops, Cynthia's husband Owen is a former police chief played by American actor John Carroll Lynch who is unable to use his voice and communicates with his smartphone, and Don is a struggling musician played by Kyle Mac who has been dropped by his label and is a "raccoon whisperer". Lifeson plays the part of Taylor, who is Hennessy's boss at the cereal company. Lifeson spoke about the role in his recent Globe and Mail interview:
... It's fun to put yourself in an uncomfortable situation. If you have a little bit of confidence and you just get out of your own way, these things can happen. The same thing happened when I got asked to do a small role in a TV show, Crawford, a new comedy on CBC from Mike Clattenburg, who created Trailer Park Boys. I thought I couldn't do it - that it was something for real actors. But I ended up doing a few episodes. It definitely was not in my comfort zone. But if you throw a challenge at yourself and dive into it, it can be really gratifying.
You can learn more about the show via the CBC website and catch the trailer at this location (Lifeson does not appear in the trailer). If there are any Canadian readers who get a chance to watch the show, let us know about Lifeson's role and what you think of it.
Speaking of Alex Lifeson, Canadian rock band Big Sugar performed at the Danforth Music Hall in Toronto back on November 24th, and Lerxst sat in with the band for a couple of songs including the Big Sugar classic Ride Like Hell and a cover of Led Zeppelin's Good Times Bad Times. ThatEricHalper.com posted a great photo gallery from the show yesterday, including several live and backstage shots of Alex with the band.
Back in October of last year, Neil Peart, Michael Mosbach (Neil's riding partner and Rush security man) and SABIAN Cymbals' Chris Stankee paid a visit to San Clemente Island, one of the eight islands that make up the California Channel Islands, thereby becoming members of the All Eight Club - a select group of people who have set foot on all eight of the islands. Each of these islands requires very special visitation arrangements so it's not an easy accomplishment, and Neil and company needed to be escorted by the Navy SEALs in order to visit. The trio are now included in the list of 200-plus members on the Santa Cruz Island website's Channel Islands All 8 Club page. Michael posted a photo of Neil on the island to the West Side Beemer Boyz Instagram page back in October, and I'd featured it in a Friday Rush updates post back at the time, without knowing the full significance of the event.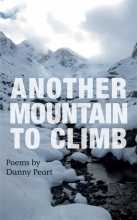 In addition to visiting the California Channel Islands, Neil has been hanging out with his younger brother Danny, who recently released a new book of poetry titled Another Mountain to Climb. Danny has released several other books over the past decade, including his 2016 book Stark Naked in a Laundromat - 10 stories and 10 poems about growing up in Port Dalhousie, Ontario - which includes an introduction by his brother Neil. You can check out all of Danny's writings on his website at DannyPeart.net. Neil Peart's longtime friend, riding partner and curator of Bubba's Bar n Grill Brutus posted a photo to Twitter yesterday of Danny Peart with some of the West Side Beemer Boyz (including Neil) which you can check out at this location. It's great to see Neil out and about, looking healthy, and enjoying his retirement. Hopefully he'll get back to writing about all of his adventures and sharing them with his fans on NeilPeart.net in the near future. Neil's last post to his website was way back in May of 2016!

There was a 2112 sighting on this past week's episode of the CBS sitcom Kevin Can Wait (Season 2, Episode 15 - Fight or Flight). Kevin and Vanessa are at the airport and Vanessa goes up to the counter to ask about upgrading to first class. In the background is a sign with the flight information for Flight 2112 from New York to Orlando as seen in this screenshot.
The 2016 documentary Rush: Time Stand Still has been nominated for a 2018 Canadian Screen Award in the Best Biography or Arts Documentary Program or Series category (thanks RushFanForever). It originally debuted in theaters back in late 2016, but is eligible for the award due to its 2017 release on HBO Canada. Winners will be announced at the ceremony, which airs on the CBC on Sunday, March 11 at 8PM.
The Cleveland Plain Dealer posted a list of the 60 best debut albums by Rock & Roll Hall of Fame Inductees earlier this week, and Rush's eponymous debut album made the cut at #59:
Rush's raw debut album shows the influence acts like Cream or Led Zeppelin had on them. "Rush" isn't nearly as polished as the music that would come. But you can get a sense of where Rush was going on expansive tracks like "Here Again" and Working Man."
The work of artist Steve Moya - known for his bold, bright, acrylic paintings of iconic rockers - is currently on display at the Arlington Museum of Art in Arlington, Texas. One of his paintings depicts Rush's Neil Peart as seen here. The show runs through February 25th and you can get all the details at this location. Thanks to Amber B for the heads up.
The University of Southampton's entertainment magazine The Edge featured Rush's Tom Sawyer for their Friday Rewind series last week as seen here (thanks RushFanForever).
Psst... In case you hadn't seen it yet, Geddy Lee's complete interview with Dan Rather for AXS Tv's The Big Interview has found its way to YouTube (at least until it gets taken down):
UPDATE: it's been taken down ... :(
That's all for this week. Have a great weekend!