Geddy Lee has been keeping himself busy this past year working on a bass guitar book project titled Geddy Lee's Big Beautiful Book of Bass. Several details regarding the book - including a planned release for the Fall of 2018 - were recently revealed via the Cooke Agency website:
Rock 'n' Roll Hall of Fame and RUSH bassist Geddy Lee's Geddy Lee's Big Beautiful Book of Bass is a gorgeous, fully illustrated love letter to rock 'n' roll's rumbly bottom end, complete with a guided tour of Lee's extensive vintage bass collection, personal anecdotes, observations and history, from one of the world's most revered and beloved masters of the instrument.

This lavishly illustrated book presents one facet of Lee's own personal journey. The bass guitar has been his passport, his vehicle, his fuel; this book will be his account of a life lived on the stage and a view of the world he's seen on the road.

With contributions from arts journalist Daniel Richler and Lee's trusted bass tech, John "Skully" McIntosh, with photography by Richard Sibbald, Geddy Lee's Big Beautiful Book of Bass will have something for every reader, from RUSH fans who want to know the inside story of Lee's relationship with the instrument that has given him so much in his life, to the most knowledgeable musicians and collectors. This will be the definitive book on the bass, from one of the most respected players in history.

Aside from the HarperDesign trade edition, there will be limited run of signed and numbered deluxe editions available as well. ...
Geddy will be a guest on AXS TV's The Big Interview with Dan Rather a week from this coming Tuesday on October 24th and will likely be discussing the book in more detail.
Speaking of Geddy, Primus bassist/frontman Les Claypool recently spent some time with Geddy and posted several photos to his Claypool Cellars Instagram and Facebook pages last week. One shows Les and Geddy with basses in hand and a caption reading, Getting schooled by the master. The pair also had some dinner at the French Laundry where they ran into Dave Matthews as seen in this Facebook post. Claypool has been friends with Rush and Geddy Lee in particular since back in the '90s when Primus supported Rush on tour. The pair of bass masters have a well-documented mutual respect and admiration for each other as musicians. Claypool also helped to induct Rush into the Canadian Songwriters Hall of Fame back in 2012 where he performed a cover of The Spirit of Radio as seen here. In addition to hanging out with Les Claypool in California, Geddy has been spending some time in Bath, UK as seen in this Instagram photo (thanks Ria).
Dave Bidini's West End Phoenix monthly community newspaper for Toronto's West End releases its debut issue this weekend and an official launch party took place yesterday evening at the Gladstone Hotel Ballroom. Alex Lifeson contributes a "storytelling comic" to the publication, and was in attendance at last night's launch party as seen in this tweet. Here are some more details regarding the publication from a recent press release:
After a successful subscription drive resulting in more than 1200 subscribers and hundreds of patrons, the West End Phoenix, Toronto's newest non-profit, ad-free community newspaper, will be home delivered (and mailed across the country and around the world) on Saturday October 14, 2017. Publisher Dave Bidini will officially celebrate the birth of the West End Phoenix on October 12, 2017 at the Gladstone Hotel Ballroom, the paper's home for the past five months. The public is invited to attend the event after 8pm, which will feature words by Bidini, Michael Winter and others; a silent auction including works by Jim Lahey and Jeff Lemire; and performances by the Woodshed Orchestra and Oldies 990. Subscribers who sign on before October 5, 2017 will still be in time to get the inaugural issue home-delivered or mailed out around the date of publication. The 20-page broadsheet West End Phoenix includes work by Jeff Lemire, Alicia Elliott,Vicky Mochama, Katrina Onstad, Alex Lifeson, Claudia Dey, Jeff Harris, Phoebe Wang and dozens of others. Go to westendphoenix.com for more information. The West End Phoenix will be devoted to telling the stories of a diverse, compelling and quickly evolving catchment, from the Junction Triangle to Parkdale, Christie Pits to Baby Point.

Drum Workshop has released a new digital book titled the DW Book of Plies. The book is billed as the "definitive guide to DW shell making", and includes a foreword by Neil Peart. You can view/read the entire book online at this location and check out Neil's foreword in this screenshot. Speaking of Neil, a (recent?) photo of Pratt from a visit to San Clemente Island with friend/riding partner Michael was posted to the West Side Beemer Boyz Instagram this past week as seen here.

This year's Rush Eucon European Rush fan convention takes place this weekend at The Box in Crewe starting today. The 2-day event will feature Rush tribute bands La Villa Strangiato from Italy and Clockwork Angels from Scotland along with special guest former Rush producer Terry Brown. Other highlights for the weekend include Rush Fans Got Talent, the legendary Rush Quiz and the famous Eucon raffle and auction. Proceeds from the event will go to support Jessie's Fund. For all the details and to purchase tickets visit the Rush Eucon Facebook page and also follow them on Twitter.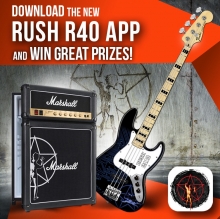 Earlier this week Rush made available a new R40 iPhone app that features Rush-themed games, news, historical tour dates and events in Rush history and more. They have also launched a contest where those who download the app could win a Custom 2112 Fender Signature Model Geddy Lee Jazz Bass Guitar or a Limited Edition Rush Starman Marshall Fridge. To enter the contest just follow these instructions:
* Download the new R40 app from the Apple App store
* Scroll through the App pages to the Camera Eye Section and snap your best "Rush Themed Photo"
* Save your Rush Themed Photo to your camera roll and then upload your photo to Instagram by October 31st and use the hashtag #RUSHPHOTOBOOTH

All valid entries will be entered into a draw to win one of the above prizes. The winners will be notified by Instagram direct message in early November. (See contest rules & regs).
So far the app hasn't been very well received by fans. The lack of an Android version, its confusing user interface, general bugginess, and limited functionality are cited as the biggest issues. Here's a very informative YouTube video app walkthrough that demonstrates many of its flaws.
That's all for this week. Have a great weekend everyone!