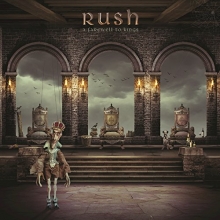 Rush's A Farewell to Kings 40th anniversary box set released last month and is available as a 3-CD set, a 4-LP set or you can get the Super Deluxe edition. Each set includes the Abbey Road Mastering Studios 2015 remastered edition of the album, a complete Rush concert recorded in February 1978 at London's Hammersmith Odeon newly mixed by Terry Brown, and four newly-recorded cover versions of songs from the original album by Dream Theater, Big Wreck, The Trews and Alain Johannes which you can listen to in this post. Rush has also made streaming audio versions of the previously unreleased 1978 live versions of Closer to the Heart, Lakeside Park, 2112, and Neil Peart's drum solo included in the box set available on YouTube and other streaming channels. The set also contains a Cygnus X1 sound effects outtake titled Cygnus X2 Eh which you can listen to here. Additionally, there's a 1.5-minute promotional, unboxing video highlighting the contents of the set which you can watch here. The Super Deluxe edition includes both the 3 CDs and 4 LPs along with an additional Blu-ray Audio disc containing a new 5.1 surround mix of the album by Steven Wilson, along with three original 1977 promo videos from a newly found 2-inch quad video master. The Steven Wilson mix currently ranks number one on Quadraphonicquad.com's Hi-Rez 5.1 SACD, DVD-Audio and Blu-ray Audio-only Surround Discs Chart as seen in this tweet. John at Cygnus-X1.net has transcribed the liner notes (including Rob Bowman's essay) and made them available online here, along with scans of all the artwork here. The set is available to order at Amazon (3-CD set, 4-LP set, Super Deluxe set) and other retailers, and is also available in stores.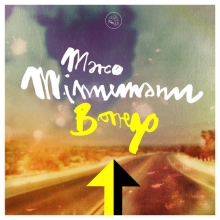 German drummer, composer and multi-instrumentalist Marco Minnemann's new album BORREGO released this past summer and Alex Lifeson is one of the guest musicians on the album, appearing on 3 of the album's 24 tracks. You can watch a video preview of the album on YouTube, and order it via Amazon.com, lazybones.com, or at Pledge Music. Minnemann and Lifeson's musical collaboration seems to be continuing into the new year according to this recent Facebook post from Minnenmann:
Sunset view from my music studio, while working on a new song together with ALEX LIFESON.
This production also features MOHINI DEY on bass and ADI ARGELAZI on vocals.
More about this adventure in a little while. We're working on it..... and it's coming together quite nicely I think.
- MM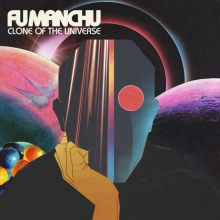 Speaking of Alex Lifeson collaborations,
SoCal rockers Fu Manchu will be releasing their 12th studio album Clone Of The Universe this coming February 9th via their personal label At The Dojo Records, and Lifeson makes a guest appearance on the album, playing on the 18-minute, side-long album centerpiece Il Mostro Atomico. Drummer Scott Reeder recently posted a story to his blog explaining how Alex's guest appearance came to be. The band will be hitting the road in support of the album next month. For more information visit the Fu Manchu website at fu-manchu.com, and you can pre-order Clone of the Universe at this location.
Iconic Toronto music store Sam the Record Man closed its doors back in 2007 due to sagging sales, and store founder Sam Sniderman passed away in 2012 at the age of 92. Sniderman was instrumental in the promotion of the Canadian music industry, helping several Canadian acts such as The Guess Who, Joni Mitchell, Gordon Lightfoot and Rush get their careers off the ground. Sam began selling records out of his family's College Street radio store in 1937. After Sam's business began to thrive, his family changed the name of the store to Sam the Record Man in the 1950s, and in 1961 Sam moved the store to its iconic Yonge Street location with its huge flashing red neon record sign. Ryerson University bought the store's old location and along with it the iconic sign back in 2008, and committed to remount the sign at some future time, but later reevaluated the commitment, saying the costs were too high to reinstall the sign. This prompted a public outcry and letter-writing campaign back in 2013 led by several prominent Torontonians, including Geddy Lee, who wrote this letter to the Toronto city council. The council and Mayor Rob Ford then decided later that year that the sign should be preserved and put on display near its original location, finally deciding to have the sign reassembled on the roof of 277 Victoria Street, a city-owned building on the east side of Yonge-Dundas Square. Three years later, the sign was finally installed and switched back on during an official relighting ceremony this past Wednesday as described in this Inside Toronto article:
... The sign was a piece of Toronto history, with its two large neon records spinning continuously just north of Dundas Street. Now, thanks to the work of staff at Sunset Neon, Ryerson University has reinstalled the signs atop a Toronto Public Health building at 277 Victoria Street, a short distance from their original home.

At a relighting ceremony on Wednesday, Jan. 10, Bobby Sniderman, son of the late Sam "the Record Man" Sniderman, recounted the history of Sam the Record Man. His grandparents opened the store's predecessor, Sniderman's Music Hall, on College Street more than a century ago.

"It was one of the first stores in the city to sell radios, appliances and records," he said. "And like many of the family businesses who are the life force and character of our community, the only expectation my grandparents had was that the business would provide for their children (and) for the staff and their families.

"Little could they imagine that they would be remembered today." ...
Phil Simon recently sat down with Marillion's Ian Mosley for an interview to discuss the band's 2017 show at the iconic Royal Albert Hall, its upcoming US tour, their plans to record another album, and playing Misplaced Childhood opening for Rush back in 1986. You can listen to the interview online here with the Rush portion coming in at around the 6:30 mark.

Canadian musician and longtime RIAB reader Skarni just released his second record Across The Great Divide And Back, which was produced by Feedback engineer Michael Jack. One of the tracks on the new record is titled One to Another, which makes reference to Rush's Caress of Steel album in the lyrics (by permission from the band's record company Ole). The song is about a young busker trying to break out, and Skarni does most of the tracks on the song including the drums, having once been the drummer in a Rush tribute band. You can preview the entire record on CBC Music, and purchase a copy on CDBaby.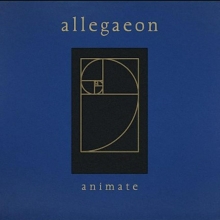 Colorado-based melodic death metal band Allegaeon released their fourth full-length album Proponent for Sentience back in September of 2016. The album included a heavy cover version of Rush's Subdivisions which you can listen to online here. During the Proponent For Sentience sessions the band also recorded a cover of Rush's Animate and made the track available online via YouTube and several other streaming platforms earlier this week. You can listen to the track on YouTube, and learn more about Allegaeon via their Facebook page.
Speaking of Rush covers, Canadian instrumental prog metal band Earth's Yellow Sun released the video for their cover of Rush's 2112 Overture/Temples of Syrinx yesterday. The Toronto-based band's innovative and unique style of prog includes a trio of saxophones, and Rody Walker of Canadian prog rock band Protest the Hero sings the vocals on Temples of Syrinx. You can check out the video on YouTube here, and learn more about the band via their Facebook page.
George Maida, longtime host of The Electric Croude and Classical Evenings on NPR's 88.9 WCVE in Virginia, passed away unexpectedly in late December. The station aired an episode of Virginia Currents this past week where they spoke to listeners and collaborators about his life and legacy. The episode describes an interview Maida conducted with Alex Lifeson during Guitar Month a few years back:
... The owner of nearly 40 guitars, each one named, George always did something special for International Guitar Month. He was thrilled when a mutual friend connected him to someone he deeply admired.

(George Maida, Electric Croude Archival Material) If I had one electric guitarist, I'd love to interview, if I was stuck at the North Pole or whatever it would be [cricket chirps] yes, Alex Lifeson. And we began by recounting my first concert memory of Rush.

(Interview) Like this morning, I couldn't find my watch, but I remember the first time I saw Rush. I grew up in New York, and I saw you guys at the Palladium in New York City back in November of 77.

Alex Lifeson: Oh wow.

George and his sister Patti grew up in Queens. (Courtesy the Carpenter Family)
They talked about the distinct sounds of the Les Paul and "Tele." If there was new music in the future and what it was like touring now. Their conversation shifted from music to paella to Lifeson's inventions.

(George Maida, Alex Lifeson interview) There's so much more to you, I tell friends man, this guy is a renaissance man. He's a licensed pilot, although you never hear about unlicensed pilots, so I don't know what that means (laughter). And you're an inventor, you would invented the Omega stand for guitar right? ...
Astronaut John Young passed away last Friday at the age of 87 from complications of pneumonia. Young started his long career as an astronaut in 1962 when he was selected to join NASA's second astronaut class, known as the New Nine. He walked on the Moon during the Apollo 16 mission and was the commander of the first space shuttle mission in 1981. Rush's 1982 song Countdown from their Signals album was written about this first shuttle mission, which the band had the honor of watching in person from a VIP area called Red Sector A (later used for a song title on the Grace Under Pressure album). In the Signals liner notes, Countdown was "Dedicated with thanks to the astronauts Young & Crippen and all the people of NASA for their inspiration and cooperation". The song incorporates audio from voice communications between the astronauts (John Young and Robert Crippen) and ground control along with commentary from the Kennedy Space Center Public Affairs Officer leading up to the launch. Young's name gets dropped at about the 5:20 mark of the song where mission control states, "Young and Crippen really moving out now. Velocity now reading 6200 feet/sec ..." RIP John Young.
That's all for this week. Have a great weekend!