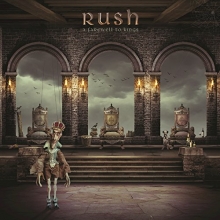 I hope that everyone who celebrates the holiday had a merry Christmas/Rushmas this past Monday, and that Santa left you all a bunch of cool Rush swag under the Christmas tree Sunday night. My guess is that many lucky Rush fans received the A Farewell to Kings 40th anniversary box set (I did!) that released earlier this month. So what did Santa bring you? Let us know in the comments. Speaking of the box set, in case you were naughty this year and didn't get the set from Santa, you can still purchase one for yourself; it's available as a 3-CD set, a 4-LP set or you can get the Super Deluxe edition. Each set includes the Abbey Road Mastering Studios 2015 remastered edition of the album, a complete Rush concert recorded in February 1978 at London's Hammersmith Odeon newly mixed by Terry Brown, and four newly-recorded cover versions of songs from the original album by Dream Theater, Big Wreck, The Trews and Alain Johannes. Rush has released streaming audio versions of all 4 covers, including Dream Theater's cover of Xanada here, Big Wreck's version of Closer to the Heart here, The Trews Cinderella Man here, and multi-instrumentalist Alain Johannes' cover of Madrigal here. The Trews guitarist John-Angus MacDonald spoke about the Rush cover in a recent BEATROUTE interview and had the following to say:
... "I think we started to appreciate Rush more once we got in a band and just sort of came to appreciate how unique they really are, like how truly themselves they've always been," ... "That's sort of rare, you know? I feel like Rush is one of those bands that's always marched to the beat of their own drummer and they've never really compromised what they do. And then, of course, a few of their jams are sick, so they're a lot of fun to play." ... "We got a nice note from Alex (Lifeson, guitar) and from Geddy (Lee, vocals) saying how much they appreciate it and they thought we did a great job, which was nice to see." ...
Rush has also made streaming audio versions of the previously unreleased 1978 live versions of Closer to the Heart, Lakeside Park, 2112, and Neil Peart's drum solo included in the box set available on YouTube and other streaming channels. You can listen to Closer to the Heart here, Lakeside Park here, 2112 here, and the drum solo here. The set also contains a Cygnus X1 sound effects outtake titled Cygnus X2 Eh which you can listen to here. Additionally, there's a 1.5-minute promotional, unboxing video highlighting the contents of the set which you can watch here, and this really cool 360-degree rendering of the album cover from FANTOONS. The Super Deluxe edition includes both the 3 CDs and 4 LPs along with an additional Blu-ray Audio disc containing a new 5.1 surround mix of the album by Steven Wilson, along with three original 1977 promo videos from a newly found 2-inch quad video master. John at Cygnus-X1.net has transcribed the liner notes (including Rob Bowman's essay) and made them available online here, along with scans of all the artwork here. The set is available to order at Amazon (3-CD set, 4-LP set, Super Deluxe set) and other retailers, and is also available in stores.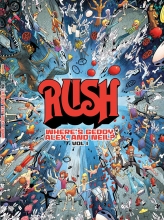 FANTOONS' new officially-licensed Rush book Where's Geddy, Alex & Neil? released earlier this month via the FANTOONS Etsy store, and is now also available via Amazon Prime. From the book description:
This hardcover RUSH book is a LOT of FUN. We've crafted scenarios inspired by ALL Rush albums (studio & live) between the Rush (1st LP) until Hold Your Fire, packed with references and different levels of difficult, for everyone to have fun finding the greatest power trio on earth (whether they are Rush fans or not, everyone can play) The book is 12.5 x 9.5 inches! 38 pages and 14 Rush worlds: Rush, Fly by Night, Caress of Steel, 2112, Permanent Waves, Moving Pictures, and many more! People will be able to find Geddy Lee, Alex Lifeson and Neil Peart in their different 'fashions' through this crazy worlds that we've created for everyone to enjoy. A real treat for both old & new RUSH fans.
You can watch a making of video on the FANTOONS Facebook page and order your copy on Amazon here. There are also a few limited edition Where's Geddy, Alex & Neil prints available at this location. Be sure to check out all the other officially-licensed Rush merchandise available from FANTOONS via their Etsy store.
Lost in Vegas is a popular YouTube channel (over 200K subscribers) where the 2 hosts George and Ryan play a song that they are unfamiliar with, and react to it in real time, occasionally pausing to expand on their thoughts. While generally covering hip-hop and R&B songs, over the past year they've expanded into rock and metal, and even some progressive rock. This past week they checked out Rush's YYZ for the first time and absolutely LOVED it (thanks DC). It's always great to see new fans get turned on to Rush!
That's it for this week, and also for 2017. It's been a tough couple of years for Rush fans with the band on an extended hiatus with no end in sight, and Neil Peart in full-blown retirement mode. Next year we'll likely see a Hemispheres 40th anniversary box set of some kind, a few miscellaneous Alex Lifeson side projects, and Geddy Lee's new book. Beyond that, it's anybody's guess. I hope everyone has a safe and happy New Year's celebration. Here's to 2018!