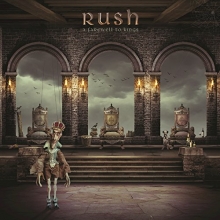 Rush's new A Farewell to Kings 40th anniversary box set edition officially released earlier this month, and fans can purchase either a 3-CD set, a 4-LP set or the Super Deluxe set. Each set includes the Abbey Road Mastering Studios 2015 remastered edition of the album, a complete Rush concert recorded in February 1978 at London's Hammersmith Odeon newly mixed by Terry Brown, and four newly-recorded cover versions of songs from the original album by Dream Theater, Big Wreck, The Trews and Alain Johannes. Rush has released streaming audio versions of all 4 covers, including Dream Theater's cover of Xanada here, Big Wreck's version of Closer to the Heart here, The Trews Cinderella Man here, and multi-instrumentalist Alain Johannes' cover of Madrigal here. The band has also made streaming audio versions of the previously unreleased 1978 live versions of Closer to the Heart, Lakeside Park, 2112, and Neil Peart's drum solo included in the box set available on YouTube and other streaming channels. You can listen to Closer to the Heart here, Lakeside Park here, 2112 here, and the drum solo here. The set also contains a Cygnus X1 sound effects outtake titled Cygnus X2 Eh which you can listen to here. Additionally, there's a 1.5-minute promotional, unboxing video highlighting the contents of the set which you can watch here, and this really cool 360-degree rendering of the album cover from FANTOONS. The Super Deluxe edition includes both the 3 CDs and 4 LPs along with an additional Blu-ray Audio disc containing a new 5.1 surround mix of the album by Steven Wilson, along with three original 1977 promo videos from a newly found 2-inch quad video master. John at Cygnus-X1.net has transcribed the liner notes (including Rob Bowman's essay) and made them available online here, along with scans of all the artwork here. Dave Everley at TeamRock.com posted a lukewarm review of the box set earlier this week but conceded towards the end of his review that ...
... This reissue isn't perfect. When it's good, it's phenomenal; when it's not, it's frustrating. But then Rush's flaws are still more interesting than most other bands' perfections.

The box set also made PopMatters' list of the The 21 Best Album Re-Issues of 2017, coming in at #20. The set is now available to order at Amazon (3-CD set, 4-LP set, Super Deluxe set) and other retailers, and is also available in stores. There's also this new, limited edition A Farewell to Kings art print from FANTOONS that you can purchase here.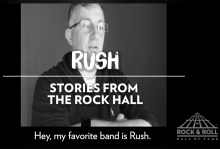 The Rock and Roll Hall of Fame Museum in Cleveland posted an article/video last week profiling their Say it Loud! story booths where visitors to the Museum talk about their favorite bands and why they are fans. The video focuses on how Rush is one of the more popular bands featured in the booths with particular attention paid to how their influence spreads between rock fans of all generations. The video features adult Rush fans with their kids who are also fans. You can check out the video online at this location. Rush was (FINALLY!) inducted into the Rock Hall back in 2013, and also helped usher in their heroes YES at the 2017 induction earlier this year. Earlier this fall the Rock Hall unveiled a new wall-to-wall guitar exhibit that features 15 guitars from a mix of music legends and modern stars, including Geddy Lee's 1972 Hybrid Fender Jazz Bass. The Rock Hall announced the inductees for next year's ceremony a couple of weeks ago; the 2018 class includes Bon Jovi, The Cars, Dire Straits, The Moody Blues, Nina Simone and Sister Rosetta Tharpe. The 2018 induction ceremony will take place on Saturday, April 14th in Cleveland.
Popular Canadian home improvement celebrity Mike Holmes recently posted another #AskMike video to his Facebook page where he answers questions from fans. For the final question in the video Mike is asked who the person he most admires is and why, and his answer is Neil Peart. You can watch Mike answer the question in this video at about the 2:15 mark (thanks Joshua K).
Rush's Roll the Bones made ILoveClassicRock.com's list of 10 Awesome Rock 'n Roll Songs That Have Bad Music Videos.

Que Sera in Long Beach, CA will be hosting a Rush Bar event on December 29th where they'll be playing Rush music all night long. From the Press Telegram:
... Dubbed "Rush Bar," the event will be hosted by nightclub promoter, DJ and lifelong Rush fan Dave Skott, who will play four Rush albums in their entirety. He will start with the 1976 release "2112," followed by "A Farewell to King" before moving on to 1978's "Hemispheres" and ending with the 1981 release "Moving Pictures." "Now that Rush isn't going to perform live anymore, or record anymore for that matter, and after coming to grips with this fact, we realized it's now up to the fans themselves, ourselves to create events for Rush fans to gather," Skott said ...
For all the details check out the website at RushBar.info, and follow them on Facebook.

Yesterday on December 21st, Rush fans across the globe participated in International Rush Day - the 21st day of the 12th month - written as 21/12 in most parts of the world, and now an unofficial Rush holiday of sorts. December 21st also happens to be the first day of Winter, which means it's about time for some celebrity winter advice from Geddy Lee!

Christmas and New Year's Day are just around the corner, and I'd like to take a moment to thank everyone who has donated to the site, purchased items through my Amazon links, or clicked on any of my sponsor ads in the past year. Every bit helps and I really appreciate it. If you'd like to make a donation yourself, you can do so at this link. Any donation of 3 bucks or more will get you a free RUSH IS A BAND bumper sticker. Also don't forget to follow RIAB on Facebook and Twitter, and keep sending in any Rush news tidbits you might come across. That's all for this week. Have a great weekend and a Merry Christmas (or Hanukkah, Kwanzaa, etc.) everyone!!!