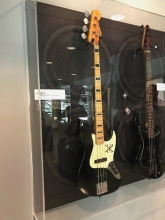 UPDATE - 9/28@7:30PM: It turns out that they finished up the guitar display earlier than expected and decided to open up the exhibit this afternoon, although it officially launches on Saturday. You can check out a photo of Geddy's guitar in the exhibit here (thanks Jason H). The placard that goes with the display reads as follows:
This bass guitar uses the neck from Geddy Lee's 1972 Fender Jazz bass which he refers to as "#1". When attached to its original body, Lee used it to record "Tom Sawyer" as well as well as many other tracks on Counterparts and Snakes and Arrows. The body is from a Fender Geddy Lee Signature model and features a one-of-a-kind custom painted and engraved pickguard. Lee was inducted into the Rock & Roll Hall of Fame in 2013 as a member of Rush.
----- snip -----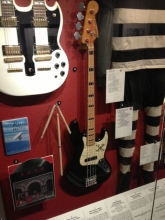 This coming Saturday, September 29 the Rock and Roll Hall of Fame in Cleveland will unveil a new wall-to-wall guitar exhibit that will feature 15 guitars from a mix of music legends and modern stars, including Rush's Geddy Lee. Geddy's 1972 Hybrid Fender Jazz Bass that he donated to the Museum prior to the band's 2013 Rock Hall induction will be one of the 15 guitars featured. This guitar had been previously displayed as part of the 2013 Rock Hall inductees exhibit back in 2013-4 as seen here. From Cleveland.com:
The Rock & Roll Hall of Fame will unveil one of the most stunning guitar exhibits in the museum's history. On Sept. 29, a wall-to-wall guitar gallery will take up space on the museum's second floor previously occupied by the Johnny Cash Music Masters display. The gallery will feature 15 guitars from a mix of music legends and modern stars ... The stories beyond each of the guitars are the stuff of music legend. For instance, Lee's instrument uses the neck from his 1972 Hybrid Fender Jazz Bass that Rush used to record "Tom Sawyer." ...
On a related note, Geddy Lee has been busily working on a bass guitar book project this past year, and the Quill and Quire is reporting that Harper Design publisher Marta Schooler has acquired world rights to the book which will be titled Geddy Lee's Big Beautiful Book Of Bass. There's no release date for the book as of yet, but they are aiming to get it out by Christmas of this year.