UPDATE - 12/2@9:19AM: Rush have also made streaming audio of the previously unreleased 1978 live version of 2112 and Neil Peart's drum solo available:
----- snip -----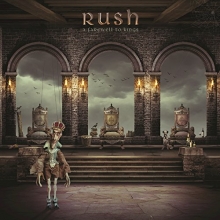 Rush's new A Farewell to Kings 40th anniversary box set edition officially releases today, and fans can purchase either a 3-CD set, a 4-LP set or the Super Deluxe set as described here:
The Super Deluxe Edition includes three CDs, one Blu-ray Audio disc and four high-quality 180-gram vinyl LPs. The set encompasses the Abbey Road Mastering Studios 2015 remastered edition of the album for the first time on CD; a complete Rush concert recorded in February 1978 at London's Hammersmith Odeon, newly mixed by longtime Rush engineer and original A Farewell to Kings producer Terry Brown from the multi-track live tapes; four newly-recorded cover versions of songs from the original album by Dream Theater, Big Wreck, The Trews and Alain Johannes; and an instrumental studio outtake of the spacey sound effects the band has creatively titled "Cygnus X-2 Eh." The Hammersmith show features, for the first-time ever, over 34 minutes of unreleased performances including a complete "2112" suite, "Lakeside Park," a drum solo and "Closer To The Heart." The Super Deluxe Edition's audio content on its CDs is duplicated on its vinyl discs. Meanwhile, the Blu-ray Audio disc contains a brand new 5.1 surround mix of the album by four-time Grammy® nominated surround sound producer Steven Wilson, along with three original 1977 promo videos from a newly found 2-inch quad video master significantly improving the video quality for "Closer To The Heart." The Super Deluxe package also includes an elaborate new 40th anniversary cover treatment by longtime Rush creative director Hugh Syme, who has also created a new piece of artwork for each of the album's six songs, and an extensive 12,000-word liner notes by Grammy®-winning rock historian Rob Bowman.

The Super Deluxe Edition of A Farewell to Kings-40th Anniversary will also include several exclusive items, including a unique King's Ring, with custom velvet pouch and neck chain; two lithographs with original artwork by Hugh Syme; a special 12-inch turntable mat featuring distinctive artwork by Hugh Syme; and a reproduction of Rush's original 1978 A Farewell To Kings tour program. ...
The band has made streaming audio versions of the previously unreleased 1978 live versions of Closer to the Heart and Lakeside Park included in the box set available on YouTube and other streaming channels. You can listen to Closer to the Heart here, and Lakeside Park here. There's also a 1.5-minute promotional video highlighting the contents of the set which you can watch here, and this really cool 360-degree rendering of the album cover from FANTOONS. The set is now available to order at Amazon (3-CD set, 4-LP set, Super Deluxe set) and other retailers, and is also available in stores.




This past week a couple of researchers at the University of British Columbia, who also happen to be Rush fans, decided to name three new species of microbe found in the guts of termites after the three members of Rush. UBC microbiologist Patrick Keeling and postdoc student Javier del Campo (pictured here wearing their Rush t-shirts) decided to name the microbes after the Holy Triumvirate due to the microbes' long hair and rhythmic wriggling under the microscope. The new species have the scientific names of Pseudotrichonympha Leei, Lifesoni, and Pearti. The announcement was accompanied by this YouTube video showing the microbes while Rush's YYZ plays along in the background. The announcement even caught the attention of Rush themselves who reacted to the news via this Twitter post saying, "Having a microbe named after each of us is a hugely tiny honour! Love it". The folks at FANTOONS used the opportunity to create this clever toon inspired by the story. The three newly-named microbes follow in the footsteps of the Toronto's High Park Zoo's recently-acquired capybara pups, who were also named after the members of Rush via an online vote this past summer.
Geddy Lee attended the November 21st Queens of the Stone Age show at London's O2 Arena last week. He took some time out to visit with frontman Josh Homme and pose for a photo which he posted to his official Instagram page Wednesday night:
One of the best shows I've seen in a long time...QOTSA seriously rocked the O2 in London last week...big fun to hang for a bit with one of my fave and funniest folks and his cool mates...what a talented bunch
#QOTSA #JoshHomme #latergram #stillrecoveringfromepicshow #tequila #rockthehouse #londonmykindoftown #the02
Speaking of Geddy, New York based wine seller Zachys will be running their annual Holiday Auction this coming weekend at Smith & Wollensky in New York City. The auction will feature the private collections of Raymond Floyd, the late Marshall Katz, and Rush's Geddy Lee. From the Zachys website:
It seems like the season just began, and yet here we are: the last live auction (in New York, at least, one more in Hong Kong) of the 2017 season on December 1st and 2nd. At Zachys, we always like to make sure "the Holiday Auction," is a big one-to make sure you're well-stocked for the long winter months (which is why we're starting at 9am each day). Let's dive in to the consignments. ... We've also got a portion of wines from the cellar of legendary Rush frontman Geddy Lee (Lots 1314-1477). The wines in Geddy's offering were bought on release and stored impeccably in Toronto until this sale. ...
You can check out Geddy's collection here (lots 1314-1477). Thanks to John Kearney for the heads up.

Reader Will C recently paid a visit to Marietta, Georgia's new brewery Ironmonger Brewing Company and noted this plaque on the wall with they lyrics to Rush's Mission on it. I'm guessing the owners are Rush fans!?
Guitarist Pete Thorn and bassist Jon Button recently got together and jammed on Rush's YYZ using Tech 21's GED 2112 SansAmp for the bass tones. They filmed their little jam session and posted it up on YouTube earlier this week (thanks Jeff C).
Just over a year ago today, Rush's Time Stand Still documentary was released. The film will be shown on Canada's Much Music tonight at 10PM EST. One of the Rush fans featured in the documentary was Ray Wawrzyniak, who has one of the most epic and complete collections of Rush memorabilia in existence. Ray was recently featured at Metal-Rules.com as part of their Heavy Metal Collectors interview series, where Ray describes his collection and how it came about in his own words, along with a bunch of great photos. You can check it out online here.
Canadian rock band Big Sugar performed at the Danforth Music Hall in Toronto this past Friday. Rush's Alex Lifeson attended the show and sat in with the band for a couple of songs including the Big Sugar classic Ride Like Hell and a cover of Led Zeppelin's Good Times Bad Times. Rush fan Steve N shot some video of both performances and posted them to Facebook as seen below. Alex Lifeson has been friends with Big Sugar's Gordie Johnson since the 1990s and once gave Johnson one of his double neck guitars as Johnson described in a Telegram interview back in 2011:
... "I didn't have to sign a single paper. He'd just met me, but he already knew about Big Sugar. And essentially he walked up to a stranger and handed it to me," Johnson said of the guitar he used to record "Fairwell to Kings," and play in the video for "Digging a Hole," its ivory white double necks jutting out like the tusks of a mastodon with every piercing note.

"I got really paranoid at one point that it would get stolen, so I gave it back to him. ... By the time we started making (the 1998 Album) "Heated," I kinda got to thinkin 'this belongs in the Rock Hall of Fame, not under my bed in Little Italy in Toronto." ...
That's all for this week. Have a great weekend!