UPDATE - 6/25@3:53PM: Here's Alex Lifeson's reaction:
... Lifeson, who is in Europe, told Billboard in an email, "Ahhh, so this is what happened when their mom and dad ran away! It is really a very cool honour to have these triplets named after us and many thanks to all who voted." ...
----- snip -----
UPDATE - 6/25@9:20AM: Here's Geddy Lee's reaction to the news:
"Thanks to all who voted to give us this special honour," he said, through his publicist. "By the way, which one is me? In the picture I saw none of them were wearing glasses."
----- snip -----
UPDATE - 6/24@5:39PM: City Pulse 24 posted some video of the announcement which you can check out below or at this location (thanks Paul D):
----- snip -----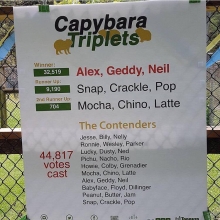 Toronto's High Park Zoo celebrated the birth of a trio of capybara pups earlier this year and several weeks ago the Friends of the High Park Zoo opened up an online poll to enlist the public's help in naming them. The poll closed this past Monday and earlier today the Zoo announced that the winning name combination was "Alex, Geddy and Neil"! From the Toronto Star (thanks Ron in TO):
The offspring of Toronto's famous fugitive capybaras have new names. The three "capybabies" are - drum roll please - Alex, Geddy and Neil. ... The High Park Zoo's elder capybaras, named Bonnie and Clyde after the infamous American bank robbers from the 1930s, became celebrities when they escaped last May and eluded zoo staff and animal detectives for weeks. Their daring escape led to dozens of sightings. One of the capybaras, which resemble oversized tail-less beavers, was eventually caught June 12 and the other remained free until June 28. The zoo has said the couple credits their "long time apart" for kindling the passion that led to the birth of the three pups in February. The zoo held a naming contest for their three pups, with the winning names attracting 32,519 votes online, the zoo announced Saturday. The zoo said 44,817 votes were cast in total. Runners-up included "Snap, Crackle and Pop", and "Mocha, Chino and Latte." The zoo received over 12,600 name suggestions for the capybabies. The shortlist, narrowed down to 10 trios, was announced at the end of May.
The zoo is also accepting donations to shore up the living conditions of the capybaras, which you can find out more about here.