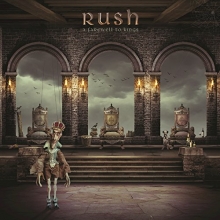 Rush's A Farewell to Kings was released 40 years ago this year, and to celebrate the anniversary Rush is releasing a 40th anniversary box set edition of the album early next month. The set is similar to the 2112 40th anniversary box set that was released last year, and fans can purchase either a 3-CD set, a 4-LP set or the Super Deluxe set as described here:
The A Farewell to Kings 40th Anniversary Super Deluxe version includes three CDs, one Blu-ray Audio disc and four high-quality 180-gram vinyl LPs.

The set encompasses the Abbey Road Mastering Studios 2015 remastered edition of the album for the first time on CD; a complete Rush concert recorded in February 1978 at London's Hammersmith Odeon, newly mixed by longtime Rush engineer and original A Farewell to Kings producer Terry Brown from the multi-track live tapes; four newly-recorded cover versions of songs from the original album by Dream Theater, Big Wreck, The Trews and Alain Johannes; and an instrumental studio outtake of the spacey sound effects the band has creatively titled "Cygnus X-2 Eh."

The Hammersmith show features, for the first-time ever, over 34 minutes of unreleased performances including a complete "2112" suite, "Lakeside Park," a drum solo and "Closer To The Heart." The Super Deluxe Edition's audio content on its CDs is duplicated on its vinyl discs. Meanwhile, the Blu-ray Audio disc contains a brand new 5.1 surround mix of the album by four-time Grammy® nominated surround sound producer Steven Wilson, along with three original 1977 promo videos from a newly found 2-inch quad video master significantly improving the video quality for "Closer To The Heart." The Super Deluxe package also includes an elaborate new 40th anniversary cover treatment by longtime Rush creative director Hugh Syme, who has also created a new piece of artwork for each of the album's six songs, and an extensive 12,000-word liner notes by Grammy®-winning rock historian Rob Bowman.

Finally, The Super Deluxe Edition includes several exclusive items, including a unique King's Ring, with custom velvet pouch and neck chain; two lithographs with original artwork by Hugh Syme; a special 12-inch turntable mat featuring distinctive artwork by Hugh Syme; and a reproduction of Rush's original 1978 A Farewell To Kings tour program. ...
Rush has also released a streaming audio version of the previously unreleased 1978 live version of Closer to the Heart that's included in the box set. It's available on most streaming channels as well as YouTube. The set is slated for release around December 1st and is now available for pre-order (3-CD set, 4-LP set, Super Deluxe set). There are also various merchandise bundles available via the Rush Backstage Club. Earlier this week Rush posted a 1.5-minute promotional video highlighting the contents of the set which you can watch below or on Rush's official Facebook page. Rush will also be celebrating the A Farewell to Kings 40th anniversary by participating in the Record Store Day Black Friday event on November 24th with the release of a 7-inch vinyl version of Closer to the Heart/Madrigal. Back in April Rush released a Cygnus X-1 12-inch 180 Gram Audiophile Vinyl EP for Record Store Day, also in celebration of the album's 40th anniversary.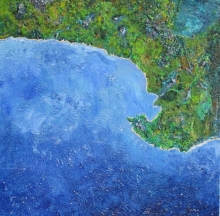 The Kidney Foundation of Canada's annual A Brush of Hope charity auction fundraiser kicked off last week and Alex Lifeson is once again one of the many Canadian celebrities participating by donating their original paintings. Alex's painting for this year is titled 20,000 Feet Over The Sea, and is listed on the auction's ebay.ca site here with a current bid of $8200 CAD. Alex has participated in the auction nearly every year since 2006, including last year with his painting Aquarium which ended up selling for nearly $8700 CAD ($6500 USD)! The Brush of Hope online charity officially ended this past Wednesday, but the bidding on Alex's painting has been extended until tomorrow AM. You can check out and place your bid on Alex's painting at this location. For all the latest news and information be sure to follow A Brush of Hope on Facebook.
Two-time Cy Young Award winning baseball pitcher Roy Halladay died in a plane crash earlier this week. Halladay spent most of his career pitching for the Toronto Blue Jays and retired from baseball four years ago. Geddy Lee - an avid baseball and Blue Jays fan - posted the following tribute to Halladay to his Instagram page earlier this week:
Roy Halladay was one of the greatest and hardest working pitchers I've ever had the good fortune to witness play the game...Truly a stand up and respectful human being... Shocking and tough loss... #ripdoc #royhalladay

The Foo Fighters' are known for performing cover songs during their live shows, and one of their regulars is Rush's Tom Sawyer. This past Wednesday night they played a show at the State Farm Center in Champaign, IL and covered the song, bringing fan Michael Carpenter onstage to sing vocals. Carpenter scored points for effort, but messed up a good portion of the lyrics. You can watch some bootleg video of the performance on YouTube here. This is not the first time the Foos have brought a fan up onstage to sing Tom Sawyer. Back in August of 2015 at a Foos show in Edmonton, they let a fan named Brian front the band as seen in this post.

That's all for this week. Happy Veterans Day to all current and former members of the US armed forces. Have a great weekend everyone!