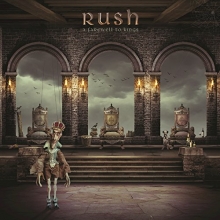 Rush's A Farewell to Kings was released 40 years ago this year, and to celebrate the anniversary Rush is releasing a 40th anniversary box set edition of the album early next month. The set is similar to the 2112 40th anniversary box set that was released last year, and fans can purchase either a 3-CD set, a 4-LP set or the Super Deluxe set as described here:
The A Farewell to Kings 40th Anniversary Super Deluxe version includes three CDs, one Blu-ray Audio disc and four high-quality 180-gram vinyl LPs.

The set encompasses the Abbey Road Mastering Studios 2015 remastered edition of the album for the first time on CD; a complete Rush concert recorded in February 1978 at London's Hammersmith Odeon, newly mixed by longtime Rush engineer and original A Farewell to Kings producer Terry Brown from the multi-track live tapes; four newly-recorded cover versions of songs from the original album by Dream Theater, Big Wreck, The Trews and Alain Johannes; and an instrumental studio outtake of the spacey sound effects the band has creatively titled "Cygnus X-2 Eh."

The Hammersmith show features, for the first-time ever, over 34 minutes of unreleased performances including a complete "2112" suite, "Lakeside Park," a drum solo and "Closer To The Heart." The Super Deluxe Edition's audio content on its CDs is duplicated on its vinyl discs. Meanwhile, the Blu-ray Audio disc contains a brand new 5.1 surround mix of the album by four-time Grammy® nominated surround sound producer Steven Wilson, along with three original 1977 promo videos from a newly found 2-inch quad video master significantly improving the video quality for "Closer To The Heart." The Super Deluxe package also includes an elaborate new 40th anniversary cover treatment by longtime Rush creative director Hugh Syme, who has also created a new piece of artwork for each of the album's six songs, and an extensive 12,000-word liner notes by Grammy®-winning rock historian Rob Bowman.

Finally, The Super Deluxe Edition includes several exclusive items, including a unique King's Ring, with custom velvet pouch and neck chain; two lithographs with original artwork by Hugh Syme; a special 12-inch turntable mat featuring distinctive artwork by Hugh Syme; and a reproduction of Rush's original 1978 A Farewell To Kings tour program. ...
Rush has also released a streaming audio version of the previously unreleased 1978 live version of Closer to the Heart that's included in the box set. It's available on most streaming channels as well as YouTube. The set is slated for release around December 1st and is now available for pre-order (3-CD set, 4-LP set, Super Deluxe set). There are also various merchandise bundles available via the Rush Backstage Club. Rush will also be celebrating the A Farewell to Kings 40th anniversary by participating in the Record Store Day Black Friday event on November 24th with the release of a 7-inch vinyl version of Closer to the Heart/Madrigal. Back in April Rush released a Cygnus X-1 12-inch 180 Gram Audiophile Vinyl EP for Record Store Day, also in celebration of the album's 40th anniversary. Speaking of Closer to the Heart, renowned harp guitarist Jamie Dupuis recently paid tribute to the song with his latest YouTube video as seen in this EmeraldGuitars.com article.
Geddy Lee was the guest on the AXS TV interview series The Big Interview with Dan Rather a couple of weeks ago. The interview was very well done, and covered a number of subjects including Geddy's upbringing and introduction to music, Rush fans and fandom, his Rush bandmates, baseball, his family life and more. In the final segment, Dan asked Geddy what he's been up to currently along with his plans for the future. Geddy spoke a little about his book project and then was asked about touring plans:
... No plans for touring right now ... at all ... I'm not sure that Rush as the 3-piece that people know will ever tour again at this point. It's highly unlikely. But I would say that ... this is the first time in my life that I've spent 6 months in my home and in my hometown without going to an airport. I've watched the garden go from being frozen solid in winter, watched the buds come up for the first time, watched all the various nuances of my home garden come to life - and it's been so good for me. It's been so edifying to see my hometown and to live as a normal person lives. I know most people take that for granted but for me it's been quite special. I'm really not in a hurry, and I know there will come a time when I will have to feed the beast - when I have to get down to the studio and write. And I still go down there and put ideas on tape and I know they're not going anywhere. So when the moment is right, and it feels right, and I'm ready to go out and do battle out there then I'll put something together and I'll go do that. ... it's a bit early to say [whether I'll record or tour], but probably a little bit of both. Invariably if I put music together that I'm proud of, I'll want to play it for someone. ...
Several clips from the interview are available in this post, and you can also purchase a digital copy for $2 at this location.
Speaking of Geddy, Chicago-based alt-rock band Wilco has a recording studio in their hometown called The Loft. Rush's Geddy Lee paid a visit to The Loft a couple of weeks ago, as seen in this Instagram photo showing Ged hanging out with Wilco's Tweedy with the following caption:
#geddylee #rush @geddyimages #thewilcoloft #theloftchicago #wilcoguitars #jefftweedy #basstalk Canadian rock legend, Rock 'n Roll Hall of Famer, monster bass player, and Rush frontman Geddy Lee visited the Loft for lunch and a chat about baseball and vintage basses. Amazing! We had a super great time with him before he had to fly by night back to YYZ.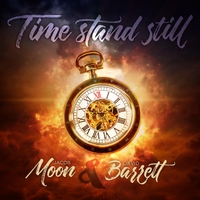 This past summer Jacob Moon and David Barrett, along with drummer Rob 'Beatdown' Brown performed a free concert of Rush and Rush-inspired music at the Lee Lifeson Art Park in Toronto's Willowdale neighborhood. The fan-funded event was such a big success and the experience so enjoyable that the pair decided to record an acoustic version of Rush's Time Stand Still as a thank you to the fans. They enlisted the help of former Rush producer Terry Brown to do the mixing and the result of all their hard work is now available for purchase on CDBaby. It will also be made available on iTunes and other streaming channels sometime next week, along with a music video. Here's a video of Jacob and David discussing the song and the recording.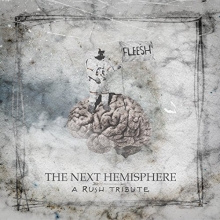 Brazilian rock project Fleesh have released several Rush cover songs via YouTube over the past year. Due to the overwhelming positive reception of these covers, the band has just released a 14-track digital album of their compiled Rush covers titled The Next Hemisphere. From the band's announcement:
After two months of hard work recording and mixing - and an year of studying - it's finally here! You have no idea how recording this album made us grow as artists. When you listen to Rush, you know how incredible their songs are but, once you try to play it, it goes to a whole new level of greatness. Playing those songs made us learn so much about music... and we're really glad we recorded this album! We really hope we made justice in this tribute. ...
The album is available for purchase via Amazon, iTunes, Spotify, or Google Play. Thanks to John at Cygnus-X1.net for the heads up.

Images from David Phillips' 2016 book From The Riser, A Drummer's Perspective II will be featured in an Icons Gallery at the London Drum Show this coming November 11-12. A selection of some of the book's best images have been enlarged to create a giant 12mx3m montage featuring many of the world's greatest drummers, including Rush's Neil Peart, who wrote the book's foreword.
Rush's rights management company Ole is featured in a recent Bloomberg article highlighting its quest for a new equity partner. The use of Rush's Tom Sawyer in the popular trailer for next year's Ready Player One movie is also mentioned:
Ole, owner of rights to songs from Timbaland to Canadian rockers Rush, aims to ramp up acquisitions and double its profit as it looks for a new equity partner. The closely held Toronto-based rights management company had been trying to sell itself for the past year but its asking price of about $600 million was too high for prospective buyers ... Music licenses can range anywhere from $100 to hundreds of thousands of dollars. ... Ole owns music from Tom and Jerry cartoons, some of which were produced in the 1940s and still air globally, and Franklin cartoon anthems, a perennial top earner in their catalog. One of Ole's recent bets is on the new Sam Smith single "Pray" and it negotiated to have Rush hit "Tom Sawyer" in the trailer for the movie "Ready Player One," after buying Rush label Anthem Entertainment Group. ...
Alter Bridge bassist Brian Marshall proudly sports a Rush t-shirt in this new publicity shot from photographer Javier Bragado.
Rush fan Jeff Hamilton has an extensive collection of old Rush videos and over the past couple of months has been uploading several old and rare vids from this collection to his YouTube channel. Here's one which shows Alex Lifeson talking hockey on TSN's Off the Record back in January, 2000. Be sure to check out the rest of Jeff's videos here.
That's all for this week. Have a great weekend!