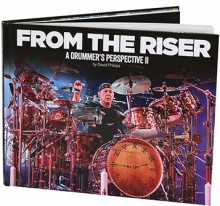 Author and photographer David Phillips recently completed the follow up to his critically acclaimed 2010 coffee table book A Drummer's Perspective. The new book is titled From The Riser, A Drummer's Perspective II and features a foreword by Neil Peart, who also appears on the book's cover. The 180-page book features 270 previously unseen photographs taken by Phillips of over 130 legendary drummers. Here's what Neil Peart has to say about it:
Not many photographers have captured that performance art as well as David. One accomplishment is simply collecting photographs, but the greater gift is delivering such iconic images.
The book is being sold exclusively through the author's website at this location. Thanks to Dustin W for the heads up.