UPDATE - 10/23@7:41PM: And ANOTHER preview. Geddy talks about the recording of A Farewell to Kings in this one:
Geddy Lee talks about @rushtheband's album "A Farewell to Kings," as the band prepares for its 40th anniversary release! #TheBigInterview pic.twitter.com/t4zoqCPsGf

- AXS TV (@AXSTV) October 23, 2017
----- snip -----
UPDATE - 10/23@2:06PM: AXS TV uploaded yet another preview clip of Geddy's upcoming interview over the weekend. In this 2-minute clip, Geddy talks about who he is as a person - outside of his professional persona as the front-man of Rush:
----- snip -----
UPDATE - 10/20@12:23PM: AXS TV has just uploaded that 5-minute preview clip of Geddy's upcoming appearance on The Big Interview that I'd mentioned below:
----- snip -----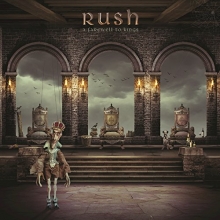 Rush's A Farewell to Kings was released 40 years ago this year, and to celebrate the anniversary Rush is releasing a 40th anniversary box set edition of the album, similar to the 2112 40th anniversary box set that was released last year. Fans can purchase either a 3-CD set, a 4-LP set or the Super Deluxe set as described here:
The A Farewell to Kings 40th Anniversary Super Deluxe version includes three CDs, one Blu-ray Audio disc and four high-quality 180-gram vinyl LPs.

The set encompasses the Abbey Road Mastering Studios 2015 remastered edition of the album for the first time on CD; a complete Rush concert recorded in February 1978 at London's Hammersmith Odeon, newly mixed by longtime Rush engineer and original A Farewell to Kings producer Terry Brown from the multi-track live tapes; four newly-recorded cover versions of songs from the original album by Dream Theater, Big Wreck, The Trews and Alain Johannes; and an instrumental studio outtake of the spacey sound effects the band has creatively titled "Cygnus X-2 Eh."

The Hammersmith show features, for the first-time ever, over 34 minutes of unreleased performances including a complete "2112" suite, "Lakeside Park," a drum solo and "Closer To The Heart." The Super Deluxe Edition's audio content on its CDs is duplicated on its vinyl discs. Meanwhile, the Blu-ray Audio disc contains a brand new 5.1 surround mix of the album by four-time Grammy® nominated surround sound producer Steven Wilson, along with three original 1977 promo videos from a newly found 2-inch quad video master significantly improving the video quality for "Closer To The Heart." The Super Deluxe package also includes an elaborate new 40th anniversary cover treatment by longtime Rush creative director Hugh Syme, who has also created a new piece of artwork for each of the album's six songs, and an extensive 12,000-word liner notes by Grammy®-winning rock historian Rob Bowman.

Finally, The Super Deluxe Edition includes several exclusive items, including a unique King's Ring, with custom velvet pouch and neck chain; two lithographs with original artwork by Hugh Syme; a special 12-inch turntable mat featuring distinctive artwork by Hugh Syme; and a reproduction of Rush's original 1978 A Farewell To Kings tour program. ...
Rush has also released YouTube audio of the previously unreleased 1978 live version of Closer to the Heart that's included in the box set. The set is slated for release around December 1st and is now available for pre-order (3-CD set, 4-LP set, Super Deluxe set). There are also various merchandise bundles available via the Rush Backstage Club. Rush will also be celebrating the A Farewell to Kings 40th anniversary by participating in the Record Store Day Black Friday event on November 24th with the release of a 7-inch vinyl version of Closer to the Heart/Madrigal. Back in April Rush released a Cygnus X-1 12-inch 180 Gram Audiophile Vinyl EP for Record Store Day, also in celebration of the album's 40th anniversary. From the Record Store Day website:
Canadian rock legends Rush have been making music for more than five decades. The songs on this RSD 7" are "Closer to the Heart" and "Madrigal," both released in 1977 on A Farewell to Kings. This single is being re-released for RSD Black Friday to celebrate the 40th anniversary of the LP. This 7" has a large center hole, and new art by longtime Rush album designer Hugh Syme. It also comes with a custom 7" adapter and is to be timed with the 40th anniversary of A Farewell to Kings box set re-issue.
It was a sad week for Canadian music with the passsing of Gord Downie of the beloved Canadian band The Tragically Hip. Downie quietly passed away earlier this week at the age of 53 after a long battle with brain cancer. Downie revealed his cancer diagnosis early last year, prompting The Hip to embark on one last tour to say farewell to their fans. The Hip played their final show on that tour to a sold-out crowd at the Rogers K-Rock arena in the band's hometown of Kingston back in August. The CBC broadcast the show live, triggering an impromptu national holiday across Canada. Rush have always been big fans of The Hip, who opened for them back in the early 1990s. Geddy Lee attended one of The Hip's shows on this final tour, calling it "an incredibly heartfelt and moving experience, one I shall never forget". Rush commented on Downie's passing earlier this week via Instagram, saying, "It's a sad sad day for Canada and Canadian music... rest in peace Gord.. and thank you..." The CBC sat down with Geddy Lee back in August for a series of short video interviews to talk about The Hip and their place in the history of Canadian music. Geddy discusses the distinct Canadian-ness of the band, when The Hip opened for Rush in the early '90s, his favorite Hip album, their cover of Rush's Limelight and more. Here's some of what Geddy had to say:
"The first time you listen to one of their records it kind of sneaks up on you," Lee says. "It sounds simpler than it is. There is a particular way the power of those guitars work together.... [They] always sound sinewy and muscular. Then you put Gord's voice and his lyrics on top of that, and after repeated listening, you really start to love it. It just gets inside you. I think that's a trademark of the Hip."
Geddy also got emotional when speaking of Downie in this National Post article:
"He's a national hero," said Rush frontman Geddy Lee. "There are lots of different ways that people handle this kind of thing and mostly, if you look at people like David Bowie, et cetera, how they handled their illnesses, they chose to handle it very quietly - and he did not. "He wanted to go out doing what he loved to do, and trying to do as much good with the time he had left, so for me that's a courageous act." ... "Quite frankly this has hit me pretty hard," added Lee, pausing for a moment so he wouldn't cry. "I think when we saw him up there (on stage) we thought he could beat the devil. To wake up to that news (of his death) just reminds us of how vulnerable we all are. "It's a terrible loss for this country and it's a terrible loss to what Canadian music is. It's a profound loss of an amazing person."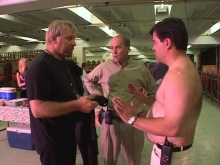 Also on a sad note, Canadian actor John Dunsworth passed away earlier this week at the age of 71 from an unexpected illness. Dunsworth was best known for his role as the frequently drunk trailer park supervisor Jim Lahey on the Netflix comedy series Trailer Park Boys. Alex Lifeson has a long history of involvement with the Trailer Park Boys, having appeared on their TV show, in their movies and at their live shows. He is also slated to make an appearance on Season 2 of the Netflix Trailer Park Boys series Out of the Park: USA this fall. Lifeson made the following comment regarding Dunsworth's passing via the official Rush Instagram page:
How heartbreaking to hear of John's passing. He was truly a great actor and sweet man--kind and considerate of all those around him. My sincere condolences to Sarah and his family. xo Alex Lifeson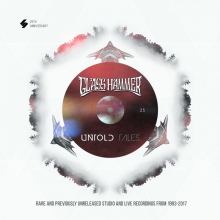 American prog-rockers Glass Hammer have released a new compilation album in celebration of their 25th anniversary titled Untold Tales. The album is a collection of previously unreleased studio and live tracks spanning the band's 25-year history, including two unreleased covers of Argent and Beatles tracks and a song featuring Neil Peart drum samples. From a Times Free Press interview with co-founder Steve Babb:
... Some years ago, Peart recorded some drum tracks as a sample library and made them available to a selected number of acts, including Glass Hammer. Nothing was done with the finished songs, so Babb says the band decided to include the song on "Untold Tales." Without having to be asked, he laughs and answers the obvious question: "It is not possible to use his drums and have it not sound like Rush."
It's not clear what sample library they are referring too, but it's likely one of Sonic Reality's Neil Peart Drums sample libraries that have been made available in recent years. According to Progarchy.com's Brad Birzer, the specific track that uses the Neil Peart drum samples is The Impulsive Type, although Birzer mistakenly thinks that Peart actually played on the recording.
Primus bassist/frontman Les Claypool recently spent some time with Geddy Lee in Sonoma wine country and posted several photos to his Claypool Cellars Instagram and Facebook pages a couple of weeks ago. Northern California's wine country has experienced historic devastation in recent weeks from wildfires, and Geddy addressed his recent visit and the wildfires in this Instagram post earlier this week:
Hard to believe that just over a week ago all was fun and games and hats with my pal Les Claypool (super cool bassist/winemaker) in his beloved Sonoma playground....my heart goes out to all that have suffered as a result of the wildfires there...
#Leshasmanyhats #bassplayers #lesclaypool #SonomaCountyStrong #ClaypoolCellars #Pachyderm #santarosafires #tubbsfire
GroovyHistory.com posted a gallery of "groovy photos" from recent history last week, including this one of Rush from the mid-1970s .
Last Friday Ultimate-Guitar.com posted their list of the 25 Greatest Guitar Solos of the '80s as voted on by the UG community, and Alex Lifeson's Limelight solo made the cut at #9. They also posted an article earlier this week on the 15 Longest Classic Rock Songs and Rush's 2112 made the list.
Mike Portnoy and Derek Sherinian of new supergroup Sons of Apollo were recently interviewed by Planet Rock to talk about their debut album Psychotic Symphony which releases today via Inside Out Music. At one point in the video interview Portnoy mentions Rush's La Villa Strangiato:
... "The first instrumental that truly blew my mind was 'La Villa Strangiato' by Rush," Portnoy explains. "To me that was the benchmark of virtuoso playing and extreme writing." ...

Geddy Lee will be the guest on the AXS TV interview series The Big Interview with Dan Rather this coming Tuesday, October 24th. AXS TV posted a 30-second video preview promoting the episode earlier this week which you can check out at this location. Geddy talks a little about Rush's Rock and Roll Hall of Fame induction in the clip. There's also this 2-minute preview clip that was uploaded by Sophie Vukovich - a promos producer/editor at AXS TV. In this clip Geddy shows Dan his baseball memorabilia collection and talks about throwing out the first pitch at the Blue Jays home opener a few years ago, and singing the Canadian National Anthem at an All-Star game back in the '90s. AXS TV has also been airing a 5-minute preview clip where Geddy talks about Rush fandom; this clip should hopefully be up on YouTube soon as well. For those who don't have access to AXS TV, the episode will be made available for digital purchase the following day for $2 at this location.
That's all for this week. Have a great weekend!