UPDATE - 5/1@2:00PM: And here's Geddy and Alex inducting YES from Saturday night's HBO broadcast of the Rock Hall induction ceremony (thanks RushFanForever):
----- snip -----
UPDATE - 4/30@9:31AM: Here's YES's performance of Roundabout featuring Geddy on bass from last night's HBO broadcast of the Rock Hall induction ceremony (thanks RushFanForever). Get it while it's hot - I'm sure it'll be taken down at some point:
----- snip -----
The annual Canadian Music & Broadcast Industry Awards Gala Dinner took place last Thursday at the Sheraton Centre in Toronto as part of Canadian Music Week. Geddy Lee and Alex Lifeson were in attendance and accepted the 2017 Allan Slaight Humanitarian Spirit Award on Rush's behalf, which was awarded to the band for their achievements and longstanding career in the music industry, social activism and support of humanitarian causes. Allan Slaight's son Gary introduced the Award and highlighted Rush's many charitable endeavors over the span of their long career. Toronto Mayor John Tory then came on stage sporting a Rush Moving Pictures t-shirt to say a few words before a tribute video highlighting the band's success and charity initiatives was shown. The pair then took the stage to accept the Award with Lifeson doing the bulk of the talking. From Billboard.com:
"Seldom in our times have we felt a greater need for the humanitarian spirit than now, with the rising voices of fear and distrust becoming more commonplace. Ager and hatred competing with love and compassion. It is more crucial than ever to champion the basic principles of human welfare," he said. "We are all capable of promoting these ideals and see it in the courageous spirit of Malala Yousafzai or the unwavering spirit of so many other human rights champions. We are all capable of doing something, grand or humble to further our moral obligation to make the world a better place for all. It should be every person's hope and intent to follow in the steps of those who lead us in a direction towards compassion, empathy and care for many in need of a helping hand and a gentle pull up. Thank you very much."

"Just what he said," Lee said. "I agree with all that. And on behalf of Neil [Peart] as well."
Recipients of the award are also given $40,000 to be donated to their charity of choice, and Rush will be donating their prize to the Gord Downie Fund for Brain Cancer Research. Samaritan Magazine sat down with Geddy and Alex after the ceremony for an exclusive interview to discuss the Award and all of their charitable endeavors. Here's what Geddy said when asked about their choice of the Gord Downie Fund for their donation:
I lost a friend to brain cancer and it's close to my heart and we've all been touched in our families by somebody that has that illness. And we're all still heartbroken over Gord. So it was an opportunity, and it's sort of in the air what Gord is doing, so it just seemed like the right timing to try to help.
You can read the entire interview online here. The Canadian Music Scene has also posted a great batch of photos from the ceremony, including several of Alex and Geddy which you can check out here.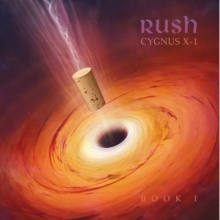 This past Saturday was Record Store Day, and Rush participated in the festivities by offering a limited edition (limited run of 5000) Cygnus X-1 12-inch 180 Gram Audiophile Vinyl EP. The EP includes Cygnus X-1 Book I: The Voyage on side A and Cygnus X-1 Book II: Hemispheres on side B, along with new artwork from Hugh Syme. John over at Cygnus-X1.net has scanned/transcribed the liner notes and made them available online here. Bradley Birzer posted over at Progarchy.com about his experience purchasing the EP at his local record store.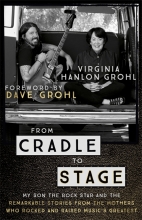 The new book from Foo Fighters frontman Dave Grohl's mother Virginia Hanlon Grohl released last week in the US, and this past week in the UK. It's titled From Cradle to Stage: Stories from the Mothers Who Rocked and Raised Rock Stars and contains a chapter on Geddy Lee's mother Mary Weinrib. The book has been very well-received so far and Virginia along with her son Dave have been hitting the interview circuit to promote the book, including appearances on The Late Show with Stephen Colbert and CBS This Morning. They also recently gave a talk at the LA Times Festival of Books, and spoke a great deal about meeting and becoming friends with Mary Weinrib as seen in this video. Back in July of 2015 when the Foo Fighters played a show in Toronto as part of their Sonic Highways tour, Mary Weinrib was in attendance as a special guest of Virginia. The pair were photographed together backstage and shown up on the big screen during the show (video here). Rushisaband.com has one FREE copy of the book to give away to one lucky UK resident! For all the details on how to enter for your chance to win, and to read a few excerpts from the book, just check out this post. You can order your copy at this location (this location for UK readers).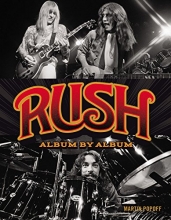 Prolific author and rock journalist Martin Popoff's latest book is titled Rush: Album by Album - a beautifully illustrated and detailed discography of all 20 of Rush's studio albums. The book had originally been slated for a May 1st release but already began shipping from Amazon and other online retailers a couple of weeks ago. From the press release:
... [Rush] may be the definition of an "album band," and this new book from prolific rock journalist and acknowledged Rush authority Martin Popoff pays tribute to the band's discography by moderating in-depth, frank, and entertaining conversations about all 20 of Rush's studio albums. Inside, the author gathers 20 rock musicians, journalists and authors who offer insights, opinions, and anecdotes about every release.

The likes of musicians Kirk Hammet (Metallica), Paul Gilbert (Mr. Big), Mike Portnoy (Dream Theater, Winery Dogs), Rush historians and uber fans such as Eddy Maxwell (founder of RushCon) and Douglas Maher along with journalists and authors such as Jeff Wagner and Robert Telleria weigh in with Popoff and the views and opinions will enlighten all Rush fans. From the self-titled debut, Rush to the band's most recent studio album Clockwork Angels, every album is covered in-depth. The conversations cover everything about every Rush album - music, lyrics, performances, cover artwork, critical and fan reception and so much more.

The thoughtful text is generously illustrated with carefully curated live and offstage photography and selected Rush memorabilia. In addition to a full discography, Popoff also includes loads of sidebars that provide complete track listings, details on album personnel, information on where and when the albums were recorded, and sidebar facts about the albums, their songs, and the band. Together, the conversations and visual presentation are a unique historical overview of this ground-breaking band. ...
Popoff was recently interviewed by SongFacts.com to discuss the book and his career as a music journalist and author. When asked about what he thinks makes Rush unique within the genre of progressive music, here's what he had to say:
... What makes them unique is the same thing I thought and knew as a stupid teenager, and it's just so clear to me, and it's always been so clear to me: They took the progressive and they took the heavy metal and stuck the two together and nobody else was so clear-eyed and intentioned as they were at doing that. So they invented progressive metal. That's the whole thing. Other prog bands have their obvious quirks, like Jethro Tull with the flute, but you have to dig deeper and go a little abstract to figure out the personalities of Yes versus Genesis. With Rush, it's a little more like Jethro Tull and the flute. Their shtick was that they played prog but that they had the distortion pedal on. ...
Rushisaband.com has one FREE copy of the book to give away! To enter for your chance to win, just follow the instructions in this post. Rush: Album by Album is the third Rush book from Popoff who also authored the 2004 Rush biography Contents Under Pressure, along with Rush: The Unauthorized Illustrated History back in 2013 (an updated edition was released last year). You can order your copy of Rush: Album by Album at this location, and preview several chapters of the book here.

There was yet another Rush reference on the popular American quiz show Jeopardy! this past Wednesday evening. The category was Rock Bands where you had to name the band that finished the given quote, and where some of the band members were listed. For the $1000 clue, the quote was "Adrenaline..." and the names Geddy Lee and Neil Peart were listed as seen here. As recently noted in this article from WRDU's Dave Besnar celebrating the show's 53rd birthday back on March 30th, Jeopardy! seems to have a love affair with Rush, and have used the band in several clues over the last decade.
Rush got a mention this past week in an article from the long-running online satirical website The Onion (thanks Chris). The article is titled Justin Trudeau Unveils Plan To Meet Healthcare Needs Of Canada's Aging Prog Rockers and I'll let it speak for itself.
OTTAWA-Saying it was only right to give back to those who had done so much for their country, Canadian prime minister Justin Trudeau unveiled a plan Thursday that would provide for the healthcare needs of the nation's aging prog rockers. "Groups from Rush to Triumph to Harmonium are valued members of our society, and it's our duty to ensure that they're healthy enough to tour throughout their golden years," said Trudeau at a press conference, explaining that a new bill slightly raising sales taxes would fully fund coverage for the increased expenses incurred by the nation's elderly prog-rock vocalists, guitarists, and mellotron players. "While prog rockers represent over 5 percent of Canada's GDP, they require an increasing amount of our healthcare funds, with The Guess Who and Voivod accounting for millions of dollars in annual medical spending alone. As band members get older and have trouble standing for the duration of 19-minute intros, remembering all the lyrics to their fantasy concept albums, or simply getting around a 40-piece drum kit, we owe it to them to do all we can." Trudeau's plan has reportedly spurred calls for similar legislation in Norway, where citizens will increasingly have to contend with significant healthcare expenditures for their large and rapidly aging black metal population.
Rush's management company SRO is auctioning off a framed, signed (by Geddy Lee and Alex Lifeson) 1976 Gold Record of Rush's debut album, along with a signed (by Geddy and Alex) limited edition Fender Jazz bass to benefit SRO legacy artist Ian Thomas' son Jake who was in an accident earlier this year that fractured his spine, leaving him a paraplegic.
Back on April 7th, Geddy Lee and Alex Lifeson had the honor of inducting YES into the Rock and Roll Hall of Fame. Geddy Lee also sat in with the band on bass guitar for Roundabout, and both Geddy and Alex took part in the Rocking in the Free World all-star jam at the end of the show. For a complete rundown of the ceremony including photos, videos and more, check out this post. HBO will be airing an abridged version of the ceremony tomorrow evening and you can check out a trailer for the broadcast below or on YouTube here.
That's all for this week. Have a great weekend everyone!