UPDATE - 4/23@8:45AM: Billboard has posted a detailed report of the presentation of the Rush's Allan Slaight Humanitarian Spirit Award, including some quotes from their acceptance speech (thanks RushFanForever):
... Calling it a "most humbling recognition," Lifeson said, "Seldom in our times have we felt a greater need for the humanitarian spirit than now, with the rising voices of fear and distrust becoming more commonplace, anger and hatred competing with love and compassion. It is more crucial than ever to champion the basic principles of human welfare. We are all capable of promoting these ideals and see it in the courageous spirit of Malala Yousafzai or the unwavering spirit of so many other human rights champions. We are all capable of doing something, grand or humble to further our moral obligation to make the world a better place for all. It should be every person's hope and intent to follow in the steps of those who lead us in a direction towards compassion, empathy and care for many in need of a helping hand and a gentle pull up. Thank you very much." "Just what he said," Lee added. "I agree with all that. And on behalf of Neil [Peart] as well."
----- snip -----
UPDATE - 4/21@7:20PM: The Canadian Music Scene has posted a great batch of photos from last night's Canadian Music and Broadcast Industry Awards, including several of Alex and Geddy receiving the Allan Slaight Humanitarian Spirit Award. You can check them all out here.
The annual Canadian Music & Broadcast Industry Awards Gala Dinner took place yesterday evening at the Sheraton Centre in Toronto as part of Canadian Music Week. Geddy Lee and Alex Lifeson were in attendance and accepted the 2017 Allan Slaight Humanitarian Spirit Award, which was awarded to Rush for their achievements and longstanding career in the music industry, social activism and support of humanitarian causes. Postmedia Network music columnist Jane Stevenson posted a photo of Geddy and Alex accepting the award to her Twitter as seen here. The Award was presented by Toronto Mayor John Tory who was sporting a Rush Moving Pictures t-shirt as seen in this tweet from Stevenson. Billboard posted an article last week highlighting the Award and Rush's many charitable endeavors over the years titled Why Rush Might Be the Most Generous Band In the World. The article includes these comments from Geddy Lee:
"They're giving us an award for doing what everyone should do," Geddy Lee tells Billboard. "It should be a part of everyone's upbringing and routine of life: You share when you've been blessed with good fortune. The world needs a lot of work, and there are not enough workers. We try to help where we can."
Recipients of the award are also given $40,000 to be donated to their charity of choice, and Rush will be donating their prize to the Gord Downie Fund for Brain Cancer Research. The article goes on to highlight some of the band's more high profile charitable actions of the past several years including their 2008 donation of $100,000 to the Make It Right Foundation to help New Orleans rebuild after Hurricane Katrina, their $100,000 contribution from a Winnipeg concert to the Canadian Museum for Human Rights, the $575,000 they raised for southern Alberta flood relief in 2013, and the estimated $2 million the band has raised since 2010 by donating $1 from every concert ticket sold to various organizations, including Doctors Without Borders.

On a related note, back in October Rush's Moving Pictures album was awarded a Polaris Heritage Prize. Also as part of Canadian Music Week, a series of commemorative, limited edition posters for all of the prize winners was released yesterday, including this one of Rush's Moving Pictures. As part of yesterday's festivities, Mayor John Tory presented Geddy Lee and Alex Lifeson a special, framed version of the print as seen in this tweet. The prints were apparently offered for purchase, but it looks like they already sold out!
Yesterday was also April 20th, aka 420 - the unofficial cannabis awareness day. In celebration of the occasion and the recent push to legalization pot in Canada, Billboard spoke with several Canadian artists about their thoughts on marijuana legalization and what they might name their own hypothetical strain of weed. Here's what Geddy Lee and Alex Lifeson had to say:
Singer/bassist Geddy Lee at first offers Lerxst Kush as their strain name. "That's him," he says of guitarist Alex Lifeson. "That's his nickname." But then Lifeson comes up with Lerxst Couch instead. "It's not my forte," says Lee, "But it is his." "It is my forte," says Lifeson. What would Lerxst Couch cure? "It would cure boredom," says Lifeson. "I was going to say it would cure ambition," says Lee, laughing. "That's more appropriate," Lifeson agrees, laughing too.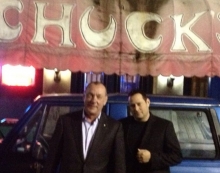 Although Neil was not on hand to accept Rush's Humanitarian Award last night, it does look as if he may have finally ended his nearly year-long hiatus from the public eye (the last we'd heard from Neil was in his May 2016 blog post). Last week Neil's friend and riding partner Michael posted a photo to Instagram of himself and Neil out at dinner in LA:
Great night at Chuck's tonight with Bubba. We do clean up okay... 😜 #bubbarulez #backstageofthebackstage #variablecrew #sabian
Now we just need to get him back behind his drum kit!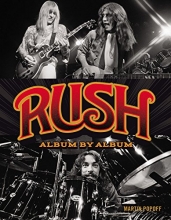 Prolific author and rock journalist Martin Popoff's latest book is titled Rush: Album by Album - a beautifully illustrated and detailed discography of all 20 of Rush's studio albums. The book had originally been slated for a May 1st release but already began shipping from Amazon and other online retailers earlier this week, and you can order your copy at this location. From the press release:
... [Rush] may be the definition of an "album band," and this new book from prolific rock journalist and acknowledged Rush authority Martin Popoff pays tribute to the band's discography by moderating in-depth, frank, and entertaining conversations about all 20 of Rush's studio albums. Inside, the author gathers 20 rock musicians, journalists and authors who offer insights, opinions, and anecdotes about every release.

The likes of musicians Kirk Hammet (Metallica), Paul Gilbert (Mr. Big), Mike Portnoy (Dream Theater, Winery Dogs), Rush historians and uber fans such as Eddy Maxwell (founder of RushCon) and Douglas Maher along with journalists and authors such as Jeff Wagner and Robert Telleria weigh in with Popoff and the views and opinions will enlighten all Rush fans. From the self-titled debut, Rush to the band's most recent studio album Clockwork Angels, every album is covered in-depth. The conversations cover everything about every Rush album - music, lyrics, performances, cover artwork, critical and fan reception and so much more.

The thoughtful text is generously illustrated with carefully curated live and offstage photography and selected Rush memorabilia. In addition to a full discography, Popoff also includes loads of sidebars that provide complete track listings, details on album personnel, information on where and when the albums were recorded, and sidebar facts about the albums, their songs, and the band. Together, the conversations and visual presentation are a unique historical overview of this ground-breaking band. ...
Rushisaband.com has one FREE copy of the book to give away! To enter for your chance to win, just follow the instructions in this post. Rush: Album by Album is the third Rush book from Popoff who also authored the 2004 Rush biography Contents Under Pressure, along with Rush: The Unauthorized Illustrated History back in 2013 (an updated edition was released last year). You can order your copy of Rush: Album by Album at this location, and preview several chapters of the book here.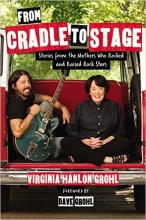 Speaking of books, the new book from Foo Fighters frontman Dave Grohl's mother Virginia Hanlon Grohl released earlier this week in the US. It's titled From Cradle to Stage: Stories from the Mothers Who Rocked and Raised Rock Stars and contains a chapter on Geddy Lee's mother Mary Weinrib, where Mary talks about what influenced Geddy to choose a musical career, and the prevalence of music in their family home. Back in July of 2015 when the Foo Fighters played a show in Toronto as part of their Sonic Highways tour, Mary Weinrib was in attendance as a special guest of Virginia. The pair were photographed together backstage and shown up on the big screen during the show (video here). You can learn more about the book at this location and order your copy at here. The book will be released in the UK next Tuesday, April 25th.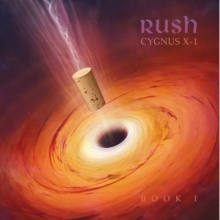 Rush will be releasing a Cygnus X-1 12-inch 180 Gram Audiophile Vinyl EP for Record Store Day tomorrow, which will include Cygnus X-1 Book I: The Voyage on side A and Cygnus X-1 Book II: Hemispheres on side B. Here are all the details as listed on the Record Store Day website:
2017 marks the 40th anniversary of A Farewell To Kings and to kickstart the celebration, Books I & II of "Cygnus X-1" are newly compiled together for the first time ever as an audiophile 180g vinyl EP with brand new artwork by longtime Rush artwork creative director Hugh Syme. ...

The release is limited to 5000 copies and will be available at select independent record store locations for Record Store Day tomorrow, April 22nd. There are already plenty of these popping up on eBay as well, so you can see some more photos of the packaging on a few of those listings (here, and here for instance). To find participating store locations and to learn more about Record Store Day, visit the website at recordstoreday.com.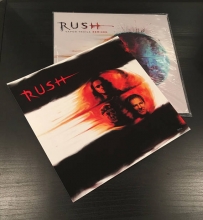 FANTOONS has been wowing us with their incredibly creative Rush fan art, prints, books, t-shirts and more for the past couple of years. Their latest offering goes beyond just fan art into the realm of Rush music. You can now purchase unique FANTOON prints of Rush album art, bundled along with a 200g vinyl copy of the album itself. So far they've made bundles for Vapor Trails and Hemispheres with plans for more in the near future. The Vapor Trails bundle includes the 2013 remixed version of the album, but with a FANTOONS print inspired by the original album cover. The Hemispheres bundle celebrates the almost-40 year anniversary of the album with a unique print bundled with the classic album on vinyl. You can check out the print/vinyl bundles along with all of the other great, officially-licensed FANTOONS merchandise via their Etsy store here.
Innovative jazz fusion guitarist Allan Holdsworth passed away earlier this week, and TeamRock.com posted an article (thanks RushFanForever) remembering the guitar legend and mention how much of an influence he was on Alex Lifeson:
"Allan Holdsworth really touched me," Rush's Alex Lifeson once said. "The playing he did with U.K. and Bill Bruford was so incredibly fluid."
Music Radar recently sat down with guitarist Richie Kotzen (Winery Dogs) to ask him to list off his 10 essential guitar albums and Rush's Moving Pictures made his cut at #6 (thanks RushFanForever):
"Here's another record from my past that really influenced me. From a guitar perspective, the solos were so musical and unique. I don't even think the guitar sounded like a guitar on some of the things Alex Lifeson did. "I can remember learning Tom Sawyer, Red Barchetta and YYZ in my covers band early on. Figuring out those songs and learning those lines really helped develop my ear and challenge me."
Bryan Kremkau of ReadJunk.com has never listened to any Rush albums. So this past week he decided it would be super funny to give his snap judgement of every Rush album based on just the album titles and covers. Here is the result. Whatever.
WhenItWasCool.com recently posted their list of the best Rush songs to suggest for people new to the band based on the person's interests. For instance, they suggest Manhattan Project for history nerds:
I don't like much about Millennials but I do like the fact that they have made the words "nerd" and "geek" socially positive instead of negative. I am a history nerd. I like reading about things that influenced or changed history, seeing things that influenced or changed history, or listening to people talk about history. In this 1980's era Rush song, my favorite band sings about the historic impact of the creation and use of the atomic bomb in World War 2. Honestly, your kid will probably learn more about the creation and use of atomic weapons from this song than he ever will remember from school - the name of the aircraft, the month of the year, where it was created, and the historic nature of it.
This past Tuesday, April 18th was the 4th anniversary of Rush FINALLY getting inducted into the Rock and Roll Hall of Fame. Relive it all in this video:
That's all for this week. Have a great weekend!