It's on. After weeks of speculation, rumors and contradictory information, we can now say with near certainty that Geddy Lee will be performing with Yes at the band's Rock and Roll Hall of Fame induction this evening at the Barclay's Center in New York. Geddy Lee and Alex Lifeson have been confirmed as the inductors for Yes since late January, but it hasn't been clear whether either would be performing in any capacity until yesterday. Photos and reports from rehearsals began leaking out yesterday afternoon, including a couple of photos of Geddy rehearsing the Yes classic Roundabout with the band. Yes will reportedly also be playing Owner of a Lonely Heart (with Steve Howe playing BASS!), but it looks like Geddy won't be involved in that performance. The members of Yes that will be inducted are Jon Anderson, Bill Bruford, Rick Wakeman, Steve Howe, Alan White, Tony Kaye, Trevor Rabin and Chris Squire - whose wife Scottie will be accepting on her late husband's behalf. In addition to the rehearsal photos, a couple of photos of Geddy backstage with members of Yes also popped up online. There was this one of Geddy and current Yes singer Jon Davison, and this one of Geddy and current bassist Billy Sherwood. There was also this photo, and this photo of Geddy and Alex rehearsing their induction speech. Steve Smith of Journey posted some photos of the seating arrangements at tonight's ceremony to his Twitter feed yesterday, and it looks like Geddy and Alex will be seated at a table with Joan Baez and Roy Wood (ELO). Most of the rehearsal photos came from a Facebook live blogging event page set up at the Notes From the Edge Facebook fan page. Be sure to keep an eye on that page for more photos as the day progresses. I'll be attending the official live simulcast party at the Rock Hall here in Cleveland tonight, which is the only other location to see the live ceremony outside of the Barclays Center. I plan on having a separate open thread post up later this afternoon where I'll be giving updates throughout the evening - mainly via Twitter. The other inductors for the 2017 class will be George Harrison's son Dhani Harrison (inducting ELO), Jackson Browne (inducting Joan Baez), Pat Monahan of Train (inducting Journey), Pharrell Williams (inducting Nile Rogers), Neil Young David Letterman (inducting Pearl Jam) and Snoop Dog (inducting Tupac Shakur). Although both the ceremony in New York and the live simulcast party in Cleveland have long since sold out, you can still catch an abridged version of the induction ceremony on HBO on Saturday, April 29th. There will also likely be some videos popping up online over the next few weeks.
Speaking of Rock Hall inductions, Radio.com posted an article earlier this week listing off 15 musicians not included in their band's rock hall induction and original Rush drummer John Rutsey is included on the list:
Many Rush fans probably don't realize that there ever was a drummer other than Neil Peart, but Rutsey was the band's original drummer and played on their 1973 self-titled debut album. At the time, he was also the guy who spoke to the audience between songs; Alex Lifeson told Radio.com that "He was comfortable talking to people, and being 'that guy,' whereas Geddy [Lee] really wasn't. John, he would tell stories and tell jokes, he would pick someone from the audience and do running jokes with that person all night. He was really great at that. It was fun: those days were really fun with him."
Cleveland.com also took a look back at the 40 most unforgettable Rock Hall induction moments earlier this week, and the Crossroads all-star jam from Rush's 2013 induction ceremony made the cut:
It certainly stands as the most diverse all-star jam in Rock Hall history. Even Chuck D and Rev Run joined in for the epic performance of "Crossroads," which also featured Rush, Heart, members of Foo Fighters, Tom Morello, Chris Cornell and more.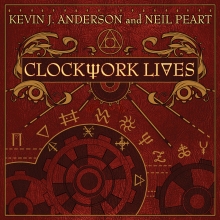 Author Kevin J. Anderson announced via his blog earlier this week that a graphic novel representation of he and Neil Peart's 2015 novel Clockwork Lives - the follow-up to Clockwork Angels - will be getting released as a graphic novel in the near future. Clockwork Angels was released as a graphic novel back in 2015. From Anderson's blog post:
... I am pleased to announce the full graphic novel adaptation of CLOCKWORK LIVES, our companion novel to CLOCKWORK ANGELS. The publisher will be Insight Editions, who have produced some exceptionally fine books-and LIVES needs to be a lavish, impressive book (and not just because Neil Peart says so).

Insight's Senior Editor Mark Irwin has always been a huge Rush fan (and in fact that's how I got to know him years ago). He sees this as the perfect opportunity for us to work together. I will be writing the full script with input from Neil. We don't have the artist(s) chosen yet.

CLOCKWORK LIVES is a very personal story to me, sort of a steampunk Canterbury Tales featuring many of the best-loved characters from CLOCKWORK ANGELS, but it has a terrific story of it's own. The book won the Colorado Book Award, but more importantly Neil told me he feels this is the best work I have ever done.

Obviously, it needed to be a graphic novel. I'll start working on the full script in the next month. Stay tuned for more information. (In the meantime, you can read the novel, or the unabridged audiobook.)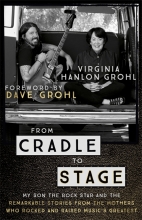 A new book written by Virginia Hanlon Grohl, mother of Foo Fighters frontman Dave Grohl, titled From Cradle to Stage: Stories from the Mothers Who Rocked and Raised Rock Stars will be released on April 18th. The book contains a chapter on Geddy Lee's mother Mary Weinrib, where Mary talks about what influenced Geddy to choose a musical career, and the prevalence of music in their family home. Back in July of 2015 when the Foo Fighters played a show in Toronto as part of their Sonic Highways tour, Mary Weinrib was in attendance as a special guest of Virginia. The pair were photographed together backstage and shown up on the big screen during the show (video here). Grohl was recently interviewed for Rolling Stone and spoke about her background as a rock mom and how she got the idea to write the book.
... [Grohl] was always surprised how rarely she ran into other moms out on the road. So she decided to track some down, and ended up interviewing 18 mothers of famous musicians for her book ... "They all said, 'Oh, there's nothing interesting about me except for my son or daughter.' And then it turned out that wasn't true at all." In Texas, Virginia met Miranda Lambert's mom, Bev, who used 
to be a private investigator (including on the Paula Jones case
 against Bill Clinton). In Toronto, she talked to Geddy Lee's mom, Mary Weinrib, a Holocaust survivor who raised a family alone after her husband died. "Mike D's mom, Hester Diamond, is a very high-powered woman in the art world," Virginia says. "When Mike wanted to be a Beastie kind of boy, she was totally accepting." ...
You can learn more about the book at this location and pre-order it here.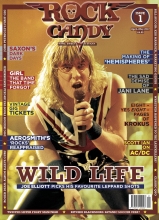 Rock Candy is a brand new, bi-monthly, 100-page rock publication produced and managed by a group of British rock journalists with decades of experience in music and mags, writing for legendary publications including Kerrang!, Metal Hammer and Raw. It's printed on real paper and celebrates the greatest era for rock - the 1970s and '80s. Their debut issue was recently released and contains a new interview with original Rush producer Terry Brown on the making of Rush's Hemispheres album. Here's Terry on some of the difficulties they encountered when recording the vocals on Hemispheres:
...[we] only needed two weeks to mix at Advision in London. We got to the last morning at Rockfield on the Hemispheres sessions, though, and we hadn't had time to do any vocals. So in the wee small hours we finally tackled one - and it wasn't a keeper. We thought, 'Okay, we've got some work to do here.' So we went to Advision with two weeks booked. Naively we thought we'd be able to record vocals and do the mix in that time. But this proved to be a much harder job than 'Farewell...' I remember that it was a real eye opener for everyone when we started doing vocals. It was like, 'Holy shit, this is really difficult.' In the end we used those entire 2 weeks to do vocals and had to take extra time to mix. The songs we'd recorded were a little high for Geddy and it was a lot of work for him. Doing the vocals was the most difficult period of the whole recording process. But Geddy rose to the occasion and worked his ass on. We ended up with some great vocals - and an album that still stands the test of time. ...
You can learn more about the magazine and via their website at rockcandymag.com. John at Cygnus-X1.net has transcribed the article and made it available online at this location.
Singer/songwriter Aimee Mann was recently interviewed by Guitar World to talk about her new album Mental Illness and the subject of her involvement with Rush's 1987 music video for Time Stand Still came up:
I'm not sure if they had heard a song of mine or someone told them about me, but they contacted my manager at the time and asked me if I wanted to sing on it. I didn't know Rush's stuff that much but I thought, why not? I liked the song and thought the part was really pretty. Originally, Geddy Lee was singing it. He's got such a powerful voice and I remember saying to him, "Dude, your falsetto is so great. You shouldn't have me." But they really wanted to have a different singer on it. I'm very proud that I had that opportunity.
TeamRock.com recently sat down with actor Michael Chiklis and had him list off his top 10 classic rock albums, one of which is Rush's Moving Pictures:
OK, I adore Rush. I love everything about them. I love every one of their albums - they can do no wrong. But to me, Moving Pictures is the culmination of all their skills and creativity coming together. Front to back, it's a masterpiece, and it kind of epitomises what a real band can do when they share a vision. It's three people becoming one. I've seen Rush play this stuff live, and they're unbelievable. Alex and Geddy playing the Taurus bass pedals and the keyboards, and at the same time Geddy's playing that maniacal bass line on Tom Sawyer - while singing. These guys just have right brain/ left brain thing like nobody else. And then there's Neil Peart. Nobody can do what he does. Nobody.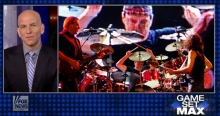 Fox News sportscaster Jared Max mentioned Rush and RushIsABand.com in a video commentary for his Game, Set, Max segment this past Monday afternoon which addressed the improper use of sports teams' names when used in a plural vs. singular context. The catalyst for his commentary was a sports headline from over the weekend which read, Will David Price enjoy being a Boston Red Sox. Max argues that the author should have instead used Boston Red Sock instead of Sox in this context. He then uses band names to help illustrate his point, beginning with Rush:
... Think about musical bands with singular names [a picture of Rush is shown]. I wouldn't say, "Rush ARE the greatest band ever". I'd say, "Rush IS the greatest band ever". Even look at the name on the fan site - Rush is a Band [screenshot of the RushIsABand.com Twitter page is shown]. ...
You can watch the video at this location. The Rush mention comes in at about the 1:45 mark.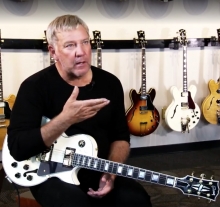 Gibson debuted their new limited edition, Alex Lifeson Signature ES Les Paul Custom guitar at the NAMM 2017 trade show in Anaheim, CA back in January, and earlier this week they posted a 1-minute video of Alex talking about and playing the guitar. You can watch the video below or at this location. You can also check out this video of Mike from Gibson Memphis giving Harmony Central a detailed video breakdown of the guitar and its construction. The guitar retails for $3,999 and you can learn more about it via its listing on the Gibson website.
That's all for this week. Watch later this afternoon for my Yes Rock Hall induction open thread. Have a great weekend!