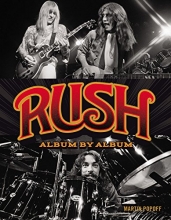 Back in September we learned that prolific author and rock journalist Martin Popoff would be releasing a new book titled Rush: Album by Album this coming May 1st via Voyageur Press. This past week the publisher revealed some more details about the book via the official press release, and also made several chapters from the book available to preview via Amazon.com. From the press release:
... [Rush] may be the definition of an "album band," and this new book from prolific rock journalist and acknowledged Rush authority Martin Popoff pays tribute to the band's discography by moderating in-depth, frank, and entertaining conversations about all 20 of Rush's studio albums. Inside, the author gathers 20 rock musicians, journalists and authors who offer insights, opinions, and anecdotes about every release.

The likes of musicians Kirk Hammet (Metallica), Paul Gilbert (Mr. Big), Mike Portnoy (Dream Theater, Winery Dogs), Rush historians and uber fans such as Eddy Maxwell (founder of RushCon) and Douglas Maher along with journalists and authors such as Jeff Wagner and Robert Telleria weigh in with Popoff and the views and opinions will enlighten all Rush fans. From the self-titled debut, Rush to the band's most recent studio album Clockwork Angels, every album is covered in-depth. The conversations cover everything about every Rush album - music, lyrics, performances, cover artwork, critical and fan reception and so much more.

The thoughtful text is generously illustrated with carefully curated live and offstage photography and selected Rush memorabilia. In addition to a full discography, Popoff also includes loads of sidebars that provide complete track listings, details on album personnel, information on where and when the albums were recorded, and sidebar facts about the albums, their songs, and the band. Together, the conversations and visual presentation are a unique historical overview of this ground-breaking band. ...
This will be the third Rush book from Popoff who also authored the 2004 Rush biography Contents Under Pressure, along with Rush: The Unauthorized Illustrated History back in 2013 (an updated edition was released last year). You can pre-order your copy of Rush: Album by Album at this location, and preview several chapters of the book here.
Geddy Lee and Alex Lifeson will have the honor of inducting Yes into the Rock and Roll Hall of Fame at this coming Friday's induction ceremony at the Barclays Center in New York. The members of Yes that will be inducted are Jon Anderson, Bill Bruford, Rick Wakeman, Steve Howe, Alan White, Tony Kaye, Trevor Rabin and Chris Squire - whose wife Scottie will be accepting on her late husband's behalf. The other inductees for 2017 are ELO, Joan Baez, Journey, Nile Rogers, Pearl Jam, and Tupac Shakur, who will be inducted by Dhani Harrison (son of George Harrison), Jackson Browne, Pat Monahan (Train), Pharrell Williams, Neil Young and Snoop Dog respectively. Yes founding member and original vocalist Jon Anderson caused a bit of confusion a few weeks ago when he stated in an interview with Billboard.com that Geddy Lee would be sitting in on bass guitar for Yes's performance of Roundabout at the induction ceremony. This garnered a great deal of excitement from Rush and Yes fans alike, but unfortunately a few hours after publishing the story Billboard posted the following update/retraction:
UPDATE: The Rock and Roll Hall of Fame Foundation sent a statement to Billboard after this story was published denying that Lee would perform at the ceremony. "Geddy Lee and Alex Lifeson were only confirmed to do the induction speech for one of their favorite bands and not perform. They, like all the other Yes fans, look forward to honoring them and watching them perform at the induction ceremony on April 7 and the HBO broadcast on April 29."
Tickets for the 32nd Annual Rock & Roll Hall of Fame Induction Ceremony went on sale last month and quickly sold out. There are still plenty of overpriced tickets available on Ticket Broker websites though.
Former Rush producer Terry Brown hosted a full-day Sound Recording Master Class Workshop at Phase One Studio in Toronto this past weekend with the David Barrett Trio (aka DB3) and Michael Sadler (Saga), whom Terry began working with last year. The workshop was a resounding success and everyone involved had a great time. There are several photos from the event on various social media including this Facebook gallery from Paul at the Canadian Music Scene, and this one from the Facebook event page. DB3 is a Toronto-based instrumental trio that had their first two albums produced by Alex Lifeson, and recently recruited Sadler to provide some vocals. Terry and the DB3 are planning a follow-up Master Class Workshop in Cleveland with details TBA.
Rush "discoverer" and unofficial big sister, Donna Halper, recently wrote in her blog about having finally found out the exact date she received Rush's debut album on Moon records; May 24, 1974:
I know something now about Rush (the rock band, not the talk show host) that I did not know before. I know the date when I received that first Rush album on Moon records, the one my friend Bob Roper (then a record promoter at A&M of Canada) kindly sent me: it was May 24, 1974, a Friday. I marked it up with a star next to the track I thought would be the most important for the deejays to play (as you may have guessed, it was "Working Man"), and having first given it to Denny Sanders (he was on the air at the time) to see if there would be an audience reaction (there was), a couple of days later, a copy was in the bin for all of the WMMS-FM announcers to use. And they did.

The reason I did not recall the exact date is simple: I had no idea at the time that championing an unknown band from Canada was about to change my life. (In fact, as I noted on the album in my Music Director's comments, they were probably going to be confused with another Canadian band of that time, Mahogany Rush.) I had no idea the band-members and I would become friends, and I had no idea that Bob Roper and I would still be in touch four decades later. So, while I figured out that I got the album in the late Spring of 1974, the day and date never stayed with me... until someone provided me with the information, 42 years later. ...
Canada is celebrating its 150th anniversary this year, and in celebration of the occasion, KamloopsBCNow posted an article this past week highlighting 15 of Canada's top musical treasures, one of which is Rush:
An Ontario rock band with one of the most unforgettable sounds, the group's superior musicianship has gained them international success and their tenacity has kept them in our musical library since the late 60's. Equipped with one of the world's best drummers and lyricist Neil Peart, and bassist, keyboardist and lead singer, Geddy Lee, Rush have all the talent needed to create the kind of extraterrestrial rock and roll that make Canadians proud to call them ours.
The popular TV quiz show Jeopardy! turned 53 years old yesterday, March 30th. To commemorate the occasion, WRDU's Dave Besnar posted an article highlighting the show's love of Rush in recent years, including all of the many Rush-related clues they've used in the past decade or so - all of which have been featured on this site as well. He also featured some video of Rush fan Jennifer Morrow's appearance on the show back in the summer of 2015, where she brought her lucky pair of Neil Peart drumsticks.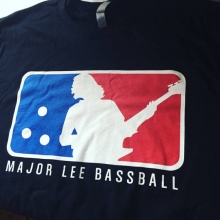 The folks at FANTOONS announced last week that they would be debuting a bunch of new official Rush merchandise at WonderCon in Anaheim this weekend (Booth 2210). For those who won't be able to attend, all the merchandise is also now available via the FANTOONS Etsy store. Headlining the batch of new merch is a baseball-themed t-shirt that plays off of Geddy Lee's well-known baseball obsession. The shirt depicts a caricature of the MLB logo with a silhouette of Geddy Lee holding a bass in lieu of a bat and the Major League Baseball caption replaced with Major Lee Bassball as seen here. There are also some new, limited-edition prints and posters available including this 16x20 retro poster and this 16x20 Early Days of Neil Peart poster. Their decorative 2112 cereal boxes are now for sale too! In addition to the new merch, the original Rush Toons book is now on its second printing and back in stock. The 170-page book is filled with comics and artwork featuring our favorite band. I had the honor of writing the book's foreword and highly recommend it; it's a definite must have for any Rush fan. Be sure to check out the Rush Toons book and all of the other great FANTOONS Rush merchandise via their Etsy store, and follow them on Facebook and Twitter for all of the latest news and updates.
That's all for this week. Have a great weekend!