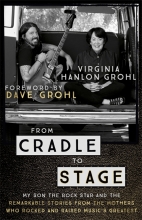 A new book written by Virginia Hanlon Grohl, mother of Foo Fighters frontman Dave Grohl, titled From Cradle to Stage: Stories from the Mothers Who Rocked and Raised Rock Stars is slated for release this coming April. According to a representative of the book's publisher it will feature a chapter on Geddy Lee and his mother Mary Weinrib, where Mary talks about what influenced Geddy to choose a musical career, and the prevalence of music in their family home. Back in July of 2015 when the Foo Fighters played a show in Toronto as part of their Sonic Highways tour, Mary Weinrib was in attendance as a special guest of Virginia. The pair were photographed together backstage and shown up on the big screen during the show (video here). Virginia revealed later that year that she planned on writing a book containing interviews with other rock moms as described in this Washingtonian article. You can learn more about the book at this location. From Cradle to Stage will release on April 25th and is now available for pre-order at this location.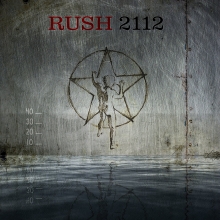 Rush's 2112 40th anniversary edition box set released back in December and is available in several different packages. The standard edition of the 2112 40th anniversary reissue is a 2CD+DVD set which includes a CD of 2112 remastered (the version from last year's 2112 vinyl reissue), another CD of some rock celebrity covers of a few of the various songs on the album along with some live outtakes, and a DVD of the newly-restored Live at Capitol Theatre 1976 show along with some other bonus videos. There's also a 3 LP version with the same content as the CDs along with a few bonus goodies. The Super Deluxe edition contains both the 2CD+DVD and 3 LP sets along with some additional bonus content. The cover songs included on the set are 2112: Overture from members of the Foo Fighters (audio here at the 46 minute mark), A Passage to Bangkok from Billy Talent (audio), The Twilight Zone by Steven Wilson (audio), Something for Nothing by Jacob Moon (audio) and Tears by Alice In Chains (audio). One of the live outtakes on the bonus CD is a 1976 Massey Hall recording of Something for Nothing which is available for streaming online here. Rob Bowman wrote the very extensive liner notes included with the set, and Eric at Power Windows has transcribed them and made them available online here, and John at Cygnus-X1.net has all the artwork/scans available on his site here. You can get all the details regarding the contents of the 2112 40th anniversary edition via the official Rush.com press release and also watch a 1-and-a-half minute promotional unboxing video which highlights the contents of the box set here. Gordon Miller reviewed the set for Blog Critics this past week and had the following to say about it:
... For those who wore out their versions of 2112 on record, cassette, or even 8-track, the 40th Anniversary edition, and the latest remaster, makes for a great replacement. Plus, all the extra goodies make this presentation a worthy double-dip. For those to who the band/album is a discovery, this edition is a great jumping in point.
Assuming you don't already have it, you can order the 2112 40th anniversary edition on Amazon (2CD+DVD, 3 LP, Super Deluxe), or pick it up at your local retailer.
Geddy Lee and Alex Lifeson will have the honor of inducting Yes into the Rock and Roll Hall of Fame at the April 7th induction ceremony at the Barclays Center in New York. The members of Yes that will be inducted are Jon Anderson, Bill Bruford, Rick Wakeman, Steve Howe, Alan White, Tony Kaye, Trevor Rabin and Chris Squire - whose wife Scottie will be accepting on her late husband's behalf. Speaking of the late bass legend, Squire actually mentioned wanting Rush to induct the band during an interview a few years ago:
I haven't given it much thought, maybe those Rush guys who got in last year! I'm pretty good friends with Dave Grohl and Taylor Hawkins (of the Foo Fighters) and they did a great speech for Rush... so probably not them, since they just did one. But if you know Geddy (Lee), let him know that that would be fine by me. I don't know how these things work, though, I don't know how much control we have, how much control the voting committee has, and of course we're still kind of wondering how many members of Yes would be inducted.
Tickets for the 32nd Annual Rock & Roll Hall of Fame Induction Ceremony went on sale earlier this month and quickly sold out. There are still plenty of overpriced tickets available on Ticket Broker websites though. The other inductees for 2017 are ELO, Joan Baez, Journey, Nile Rogers, Pearl Jam, and Tupac Shakur. Neil Young and Jackson Browne will be inducting Pearl Jam and Joan Baez respectively.

The Rush Backstage Club has made available a new, limited edition Rush R40 Los Angeles Forum poster. This 18"x24" lithograph was originally produced for the final show of the R40 Live Tour at the Los Angeles Forum on August 1, 2015. It is printed on regular weight art paper, and is hand-numbered from 1 to 500. You can order your copy for $24.99 at this location while they are still available.
Geddy Lee recently added yet another bass to his already huge collection. Netherlands-based Paul's Bass Matters posted this photo to their Facebook page yesterday (thanks Wim V) of a new bass that they just shipped off to Geddy - a '69 vintage jazz bass according to the comments. This isn't the first bass Paul's Bass Matters has made for Ged - they also made one for him a couple of years back.

Reader Greg N let me know that Andreas Forero, drummer for the Broadway play Hamilton and Sonor Artist, has been sitting in with the band on Late Nite with Seth Meyers all this past week and could be seen wearing a Clockwork Angels t-shirt on Wednesday night's show as seen here. Forero talks about being a Rush fan growing up in this interview from last summer:
... His musically happening brain was also absorbing his parents' Latin, old soul and R&B favorites: Al Green, The Commodores, Earth, Wind & Fire. Three older brothers brought in albums by Pink Floyd and Led Zeppelin. "Then Rush," Forero says. Grace bought her son a plastic portable record player at a garage sale for $3. The only playable album he had for it was Rush's Permanent Waves. He listened to it relentlessly. "That changed the whole picture," ... Rush lead singer Geddy Lee came to a performance and gushed about the drum sound. "I said that was ironic," Forero says, "because Permanent Waves made me want to write music." ...
Beau Dure wrote a profile of Rush's Witch Hunt for PopDose.com earlier this week, where he picks apart the song's lyrics in the context of today's political climate
... Geddy Lee told The Plain Dealer in a 2011 interview the song's message is even more relevant today than when it was first recorded: "It's one of those songs that means as much today, if not more, considering what's gone on in the world with racial profiling and all these different issues. The sentiment of that song is as appropriate as ever." That was six years ago. Today? Consider these lines:

"They say there are strangers who threaten us
Our immigrants and infidels"

You don't say? The rest of the second verse (the first is a scene-setter) warns of Big Brother (not literally mentioned, but the concept is there) fretting over "our theatres and bookstore shelves" and rising to "save us from ourselves." Geddy Lee's sinister, cynical delivery is perfect. The last words are so simple and yet so eloquent:

"Quick to judge, quick to anger
Slow to understand
Ignorance and prejudice
And fear walk hand in hand"

From my teen years to my 40s, I've probably heard these lines 100 times. In the last two years, they've moved to the forefront of my brain. Peart certainly had ample historical precedent from which to draw, but to me, these lines are far more resonant now in Fake News Nation. Our politicians conjure up demons and try to silence those who question their existence. They prey upon fears - terrorism, job loss - and ignorance of the complexities that drive them. And while some may certainly try to use Rush's older songs as justification for all manner of self-interested politics, 2112 and Witch Hunt are absolutely compatible. The individual in 2112 has the capacity to reason and care. The mob in Witch Hunt does not. That's the distinction. ...
Here's Rush performing Witch Hunt live from the Time Machine 2011: Live in Cleveland concert video:
The Rush is a Band Facebook page reached a significant milestone this past week, surpassing the 50,000 "likes" mark. So a big thanks to everyone who follows the page. If you are on Facebook and haven't checked out the RIAB Facebook page yet, you can do so here. You can also follow RIAB on Twitter at this location. That's all for this week. Have a great weekend!!