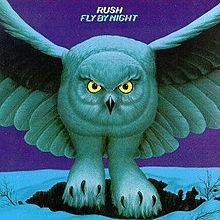 Rush announced earlier this week that they will be releasing all of the Mercury-era Rush albums on vinyl along with a few select titles on Blu-ray audio next year. They are calling it the 12 Months of Rush:
All titles will be reissued on high-quality VINYL with a download card for Digital Audio version, high resolution Digital Audio releases, while three titles will also be released on Blu-ray Pure Audio. ... In 2015 ...[Rush] will see the reissue of the remaining 14 albums in their Mercury catalog in chronological order [the debut album was released last year]. Starting on January 27 with Fly By Night, which will be available in high-quality vinyl with a download code for a 320kbps MP4 vinyl ripped Digital Audio album download; high resolution Digital Audio editions in DSD (2.8mHz), 192khz / 24-bit, 96kHz / 24-bit; and an additional Blu-Ray Pure Audio version with 96kHz / 24-bit 5.1 surround sound and stereo. A Farewell to Kings and Signals are the other two albums which will be reissued in Blu-Ray Pure Audio. The remaining 13 titles will be released one or two a month through the end of the year. ...
For all the details, check out the Rush.com press release. It should be noted that the 3 titles to be made available on Blu-ray Audio were already released as DVD Audio titles as part of the Sector box sets. As of right now most of the titles are already available for pre-order. Here are the pre-order links along with their release dates:
Fly By Night (01/27/15) - Vinyl | Blu-ray audio
Caress of Steel (02/17/15) - Vinyl
2112 (03/17/15) - Vinyl
All the World's a Stage (03/17/15) - Vinyl
A Farewell to Kings (04/21/15) - Vinyl | Blu-ray Audio
Hemispheres (05/19/15) - Vinyl
Permanent Waves (06/16/15) - Vinyl
Moving Pictures (07/21/15) - Vinyl
Exit ... Stage Left (07/21/15) - Vinyl
Signals (08/18/15) - Vinyl | Blu-ray Audio
Grace Under Pressure (09/15/15) - Vinyl
The other titles should become available closer to their release date.
The December, 2014 issue of Rock Cellar magazine contains a cover feature and new interview with Neil Peart where Neil talks primarily about his recently-released book Far and Near: On Days Like These. Neil also talks about his other writings, including the upcoming Clockwork Lives companion novel to Clockwork Angels that he's writing with Kevin J. Anderson:
... Now we're at work on another series of stories from the Clockwork Angels universe because we didn't want to leave it, and there were so many incidental characters in the story that we wanted to know and tell their stories too. So even getting into the world of fiction like that with Kevin has been a rewarding collaboration that is always positive. ...
The interview doesn't contain much in the way of news about Rush or their future plans, but he does say the following:
... Something I always say about a band of three, especially like us, is we can't be a democracy. You can't have two against one. It's never going to work it, has to be consensus. You have to keep working on something and then it goes back to something we talked about a little while earlier, you have to keep plugging away. We've had songs that the two of us like and the other one doesn't. ...
You can read the entire interview online here, and order your copy of Neil Peart's Far and Near at this location. The book is a follow-up to Peart's 2011 book Far and Away: A Prize Every Time and is another collection of his NeilPeart.net blog posts since that last book was released.
Continuing with the Neil Peart news, earlier this week Neil once again updated the news page on his website with a slightly out of order July, 2014 entry titled Bamm Bamm and the Lemon Slug. In it Neil describes driving in the 24 Hours of LeMons in Tooele, Utah this past summer; an endurance racing series, punning on the famous 24-hour race in Le Mans, France, where the mission is to give low-budget enthusiasts an opportunity to race-safely and humorously. It's a fun read but there's no news about Rush or the band's future plans unfortunately. You can read the entire update online at this location.
Speaking of Neil, drummer Chad Smith (Red Hot Chili Peppers, Chickenfoot) recently answered some reader questions via Twitter for a RollingStone.com piece, and when asked whether he'd rather jam with John Bonham, Keith Moon or Neil Peart, he says the following (thanks RushFanForever):
I would like to take a lesson from Neil Peart. I would like to jam with Bonham and party with Keith Moon. If we were playing "f**k, marry, kill," then it would be I'd probably marry Neil. [Sighs] Ah, I couldn't f**k or kill either of those guys. Plus, they're both dead. That's not fair.
Back in October Geddy Lee purchased a new bass from Netherlands-based Paul's Bass Matters as seen in this Facebook post:
Today was a good day. It doesn't happen too often that you can make an all-time basshero happy with a new instrument, but today we did just that. Canadian rocklegend Geddy Lee has just bought this extreme beauty of a bass from us. Wow. We are looking forward to hearing what this baby can do in the hands of a man that's only been playing the worlds' biggest stages for 40 years... Today was a good day.
Geddy later sent Paul a photo of himself with the new bass which Paul then posted to Facebook this past week (thanks Wim V).

This past week Eric over at Power Windows posted an exchange that one of his readers had with Scott Alexander, model maker of the street scene from the Hold Your Fire linernotes. Scott explains how the scene was set up and what it was like working with Hugh Syme. You can check out the exchange at this location.

For the second year in a row Q107's Kim Mitchell (Max Webster) has formed the Kid Mitchell Band, consisting of talented young musicians from the Greater Toronto area. The members were chosen from many online submissions, they rehearsed once and then headed to Metalworks Studios to record Joan Jetts I Love Rock N Roll as seen in this video. Bass player Jack Davies is definitely wearing the coolest t-shirt (thanks Jamie).
There's a Rush reference in today's Scary Gary comic strip as seen here (thanks Eric at Power Windows).
As part of their new So You Think You Know Classic Rock series, Ultimate Classic Rock posted a short, 3-minute video titled You Think You Know Rush this past week. The video gives a brief history of how Rush got their name, how they ended up working with producer Terry Brown and a few other tidbits.
There are only 13 shopping days left until #RushMas! Still plenty of time to stuff your favorite Rush fan's stocking with Rush swag, including this old-school tin lunchbox, this Rush playing card gift tin, and this iron on Rush logo patch. There are also plenty of very cool Rush t-shirts, Rush books, and - of course - Rush music available!
2 years ago yesterday, Rush was officially announced as a 2013 inductee into the Rock and Roll Hall of Fame. Here's the video of Flea (a huge Rush fan himself) making the announcement:

In case you didn't notice (it's hard to miss though!), this past weekend I launched a newly redesigned version of rushisaband.com. I first officially launched RIAB way back in 2005 and hadn't done any kind of major redesign since, so it was way overdue. My main goals with the redesign were to update the technology a bit (implementing the Disqus commenting system was the first step in that direction), streamline the content and make the site more mobile friendly, and - judging by all of the feedback so far - I think I've accomplished that. Most of the core elements from the old site that folks know and love (I hope!) are still there, including the Random Sample random lyric generator and the Time Stand Still Rush calendar. And the general look and feel is the same; it's just a bit less cluttered and more modern looking now. With Christmas just around the corner and RIAB's 10th year on the horizon, I'd like to take a moment to thank all of my readers for visiting the site, spreading the word and sending in Rush news tidbits over the years. I couldn't do it without your help. I'd also like to thank everyone who has donated to the site, purchased items through my Amazon links, or clicked on my sponsor ads. Every bit helps and I really appreciate it. If you'd like to make a donation yourself, you can do so at this link. Any donation of 3 bucks or more will get you a free RUSH IS A BAND bumper sticker. Also don't forget to follow RIAB on Facebook and Twitter, and keep sending in any Rush news tidbits you might come across. Thanks everybody and have a great weekend!!