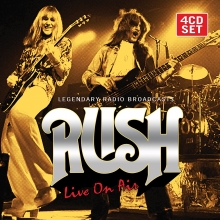 A compilation of four live recordings of Rush made for radio broadcasts between 1975 and 1980 titled Rush: Live On Air 1975-1980: Legendary Radio Broadcast was recently released in Europe and is also now available as an import in North America. Several of these radio broadcast "bootlegs" have been released in Europe over the past few years due to the less stringent copyright laws that exist there as opposed to North America, including Beneath, Between And Behind: F.M. Broadcast 1975, Lady Gone Electric, Spirit of the Airwaves and Rush ABC 1974. Judging by the trackl
ist of each CD as seen here, discs 1 and 4 are very probably repackaged from the above-mentioned Spirit of the Airwaves and Beneath, Between And Behind: F.M. Broadcast 1975 respectively, while the other two discs seem to be from some Hemispheres-era recording. Rush: Live On Air 1975-1980: Legendary Radio Broadcast is now available via Amazon and other retailers. Here's the complete tracklisting:
Disc 1: 2112 Overture, The Temples Of Syrinx, Discovery, Presentation, Soliloquy, Grand Finale, Bytor And The Snow Dog, Xanadu, The Spirit Of Radio, Natural Science, Beneath, Between, Behind, Working Man, Finding My Way, Anthem, Bastille Day, In The Mood, Drum Solo, La Villa Strangiato

Disc 2: Opening, Anthem, A Passage To Bangkok, By-Tor & The Snow Dog, Xanadu, Something For Nothing, The Trees, Cygnus X-1, Cygnus X-1 Book II: Hemispheres, Closer To The Heart

Disc 3: Circumstances, A Farewell To Kings, La Villa Strangiato, 2112, Working Man, Bastille Day, In The Mood, Drum Solo

Disc 4: Finding My Way, The Best I Can, What You're Doing, Anthem, Beneath, Between & Behind, In The End, Fly By Night, Working Man, In The Mood, Need Some Love, Bad Boy
Legendary FM rock radio station KSHE 95 out of St. Louis is celebrating its 50th anniversary this year, and to commemorate the occasion they launched an online virtual museum last month at kshe95.com as detailed in this post. The KSHE 50th Anniversary Real Rock Museum launched on January 9th and Rush is the featured artist in the Hall of Fame wing. Rush's Hall of Fame section contains a photo gallery, some history of the band's relationship with the city of St. Louis, and a 4-minute video interview with Geddy Lee and Alex Lifeson as seen here. It's not completely clear when the interview took place, but it looks like it was around 2007-8 on one of the band's tour stops in St. Louis. You can check out Rush and all the other artists in the KSHE 50th Anniversary Real Rock Museum at this location.
Former Much Music VJ Denise Donlon released her new book Fearless As Possible: Under the Circumstances back in November. The book describes her life in the Canadian music industry including many encounters involving Rush. In the following excerpt she talks about Neil Peart's 1993 Much Music interview of then Prime Minister candidate Jean Chretien (video here):
... Chretien's interview by Rush drummer and lyricist Neil Peart was a coup - both players were a serious get. Neil likes cameras and crowds as much as I like balloons, but astonishingly he agreed. He studied the "Red Book," Creating Opportunity: The Liberal Plan for Canada, and probably knew it better than most Liberal party members. Still, it was the first time he'd interviewed anyone on camera, let alone a campaign-hardened politician, so we rehearsed it a few days before, sitting at the Friar and Firlcin, with me playing Chretien. Neil was totally ready, but when the moment came to shine, we almost lost him. On the night of the event, there was big expectation. The studio was full of fans; the Liberal groupies were outside gamely chanting and waving posters. The lights were up, the opening Chretien baseball card was playing: "A Capricorn that will replace the GST . a 'switch spitter"cause he can talk from the left or right side . . ." The floor director was counting Neil in. He was supposed to walk into his position from the top of the four stairs onto the Much floor while Erica Ehm introduced him. Neil got to the top of the stairs and looked at the crowd, then the cameras, and ... Oh oh, I thought. He's going to bolt. I walked closer and caught his eye, trying to psychically reassure him. He stood there frozen for what felt to me like long minutes but was really only a few seconds, then took a breath, walked onto the floor, and nailed it. He did not let Chretien off the hook on AIDS, on helicopters, on handguns, on the GST, on anything. MuchMusic had become a player in the campaign. Even though none of it was an advertising bonanza for the sales department, our audience numbers remained steady, likely losing as many viewers as we gained during that time. ...
Donlon also describes the 2004 CBC Tsunami Benefit Concert and how Rush became involved with it:
... Kathy Cochrane, Tom's wife, is a superb organizer, and Rush's guitarist Alex Lifeson had been watching the tsunami coverage on TV with his grandchild in his lap when Tom called. A woman had just described how her child had been ripped from her arms in a torrent of water and it struck Alex to the heart. He had no reservations. Nor did Jim Cuddy. Or Murray. Or Ed Robertson. From there it steamrolled. The next call was the CBC, who threw their resources behind a televised benefit. We all agreed that the event needed to be a multi-genre, multi-starred, all-Canadian response that would include not just musicians, but hockey players and authors, dancers and comedians, TV personalities and cultural icons. CBC's talent team dove in and the show hosted more than 150 performers - more than we needed - and had to rum people down days before the event. Anne Murray performed with Bryan Adams; Rush joined musical forces with Ed Robertson and Bubbles from Trailer Park Boys; ...
Here's the video of Rush's team-up with Bubbles on Closer to the Heart.
British musician/bassist John Whetton (King Crimson, Asia) passed away a couple of weeks ago and Rush acknowledged his death in the following message posted to their official Facebook page on February 4th (thanks Tempestarcade):
So sad to hear about the passing of another terrific musician ...the great bassist John Wetton of King Crimson and Asia ...a truly talented player and a really nice person ...RIP John...
Back on February 2nd, uDiscoverMusic.com posted this profile of Rush's groundbreaking Permanent Waves album, which celebrated its 37th anniversary last month.
Rob Higgins is the bass player and frontman of Canadian band Dearly Beloved and he also happens to be Geddy Lee's nephew (his mother is Geddy's older sister). Dearly Beloved's latest album Admission will release next month, and the Financial Times touches on the band's Rush relationship in this 4-star review of the album:
... whereas Rush specialise in elaborate science fiction fantasies, Dearly Beloved deal in louder fare. Led by Higgins and co-vocalist Niva Chow, they play melodic noise-rock, a well-judged blend of heaviness and tunefulness honed over six albums. Admission gets underway with "RIP", a bristling monster of a song that signally fails to rest in peace; then comes a series of tracks that range from taut, intense numbers ("Who Wants to Know") to a glowering ballad ("Boxing Days"). Final song "Future Shock" dips a toe into Rush-style sci-fi dystopia, the music sand-blasted into a punk-rock thrash.
Last month musician Dominic Fragman's one-man-band rendition of Rush's Tom Sawyer went viral on YouTube, garnering the attention of TeamRock.com who sat down with Fragman for an interview earlier this week. In the interview Fragman talks about the song and why he chose to cover it:
... [Tom Sawyer] is a song that I enjoy and it came kind of naturally. Things just fell into place. Don't get me wrong, I spent time on it. But, it was just kind of there. I had also been pulling it out on gigs here and there for the past 6-8 months. By the time it seemed necessary to make a recording of a cover, Tom Sawyer seemed like a good choice. Also, many of the topics that I think about and write about in my own tunes intersect with the lyrical content of Tom Sawyer. For this project, I often write tunes of awareness that touch on individualism and free thinking-and maybe a little rebellion. So, I gravitate to and like the consistency of topic that came together from my own tunes/themes coupled with the themes of covers like Tom Sawyer and War Pigs, which I had already been doing. ... the tune itself is epic and is viewed as a musically difficult task. Therefore, to see one guy do it all (which is also viewed as a difficult task) was exponentially difficult! If that is the case, I sure have my work cut out for me moving forward! ...
Rolling Stone profiled Rush's goofy 1987 music video for Time Stand Still featuring Aimee Mann for their Flashback feature earlier today. The infamous video has Aimee, the band and their equipment flying and twirling their way around a film studio:
... "My daughter saw this video for the first time because they featured some of it in [Beyond the Lighted Stage]," Geddy Lee told Rolling Stone in 2013. "She just thought it was hilarious that we were flying through the air. It's such a strange video. ... It was just a bizarre day. Aimee Mann was hanging out with us all day and all night. She was such a good sport about the whole thing. ...This is my hair at its worst. It's a bad 'do. I don't even think we ever really nailed music videos. The funny thing is just watching this giant drum kit flying through the air. It's one thing to see humans. They have a form. But here's this whole drum kit floating through space. Who says we don't have a sense of humor?" ...
That's all for this week. Have a great weekend!!