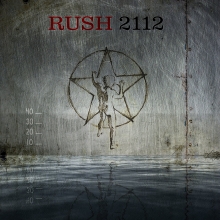 Rush's new 2112 40th anniversary edition box set officially released this past Friday and is now available to order. The standard edition is a 2CD+DVD set which includes a CD of 2112 remastered (the version from last year's 2112 vinyl reissue), another CD of some rock celebrity covers of a few of the various songs on the album along with some live outtakes, and a DVD of the newly-restored Live at Capitol Theatre 1976 show along with some other bonus videos. There's also a 3 LP version with the same content as the CDs along with a few bonus goodies. The Super Deluxe edition contains both the 2CD+DVD and 3 LP sets along with some additional bonus content. The cover songs included on the set are 2112: Overture from members of the Foo Fighters (audio here at the 46 minute mark), A Passage to Bangkok from Billy Talent (audio), The Twilight Zone by Steven Wilson (audio), Something for Nothing by Jacob Moon (audio) and Tears by Alice In Chains (audio). One of the live outtakes on the bonus CD is a 1976 Massey Hall recording of Something for Nothing which is available for streaming online here. Rob Bowman wrote the very extensive liner notes included with the set, and Eric at Power Windows has transcribed them and made them available online here. Here's a recent review of the set from Something Else Reviews. You can get all the details regarding the contents of the 2112 40th anniversary edition via the official Rush.com press release and also watch a 1-and-a-half minute promotional unboxing video which highlights the contents of the box set here. Ultimate Classic Rock has opened up voting for their annual Ultimate Classic Rock Awards and the 2112 box set is in the running in the Archival Live Album / Video of the Year category, so go vote for Rush at this location. You can order the 2112 40th anniversary edition on Amazon (2CD+DVD, 3 LP, Super Deluxe), or pick it up at your local retailer.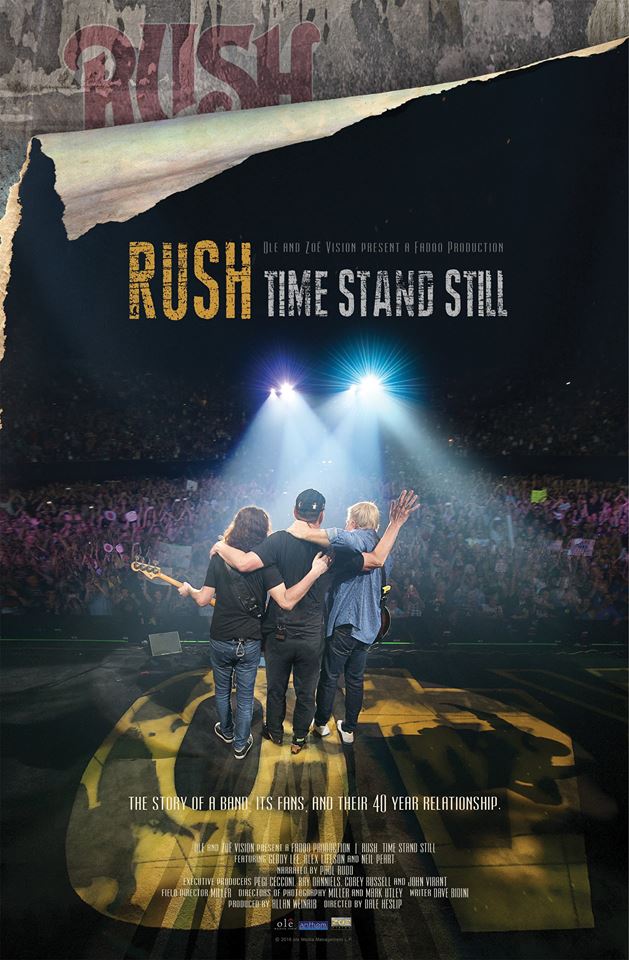 The new Rush R40 Live tour documentary Rush: Time Stand Still released last month on DVD/Blu-ray and is now available to order online (DVD, Blu-ray) or purchase in stores. The documentary ended up debuting at #2 on the Billboard Music Video chart, and has maintained that position into its 4th week on the charts, just behind The Beatles' Eight Days a Week. Several retailers are offering in-store promotions with the purchase of the DVD/Blu-ray including Best Buy, FYE and others as outlined in this promotional video. The DVD/Blu-ray includes 67 minutes of unreleased footage from the band's Presto tour, but it does not include any of the pre-film content shown during the documentary's screening in theaters last month. The film runs for just over an hour-and-a-half and is primarily a documentary about the band's R40 Live tour, with particular focus on it likely being the band's final tour, along with a good deal of attention paid to Rush's rabid and loyal fan base. Trailers and clips from the documentary are available online at the Rush YouTube channel, and you can check out several reviews of the film in this post. John over at Cygnus-X1.net has transcribed/scanned the artwork and liner notes and made them available online (liner notes, scans). Rush and FANTOONS launched an online contest/sweepstakes last week where one lucky winner got a limited edition, FANTOONS Geddy Leesa print along with some other prizes. The contest ended this past Monday after receiving over 10,000 entries from fans. As a special thank you to everyone who participated, they are offering a 10% discount on Time Stand Still exclusively via the Rush Backstage Club through tomorrow (December 24th) by using the code THEBAG2016 upon checkout.
CBC Radio broadcaster George Stroumboulopoulos (aka Strombo) has spent the past year working on a four-hour special celebrating the 30-year legacy of The Tragically Hip titled HIP30. The special will air on CBC Radio 2's The Strombo Show on New Year's Day from 8PM to midnight, and both Geddy Lee and Alex Lifeson will participate. From Now Toronto:
... Stroumboulopoulos started reaching out to artists to participate in late 2015, and recording was well underway when the Tragically Hip announced in May that frontman Gord Downie had been diagnosed with terminal brain cancer. After that, more artists signed on and the project took on a different weight. "We started way before, but the announcement certainly added a gravitas to it," Stroumboulopoulos tells NOW. "If you talk to any of the singers, a lot of them will tell you that Gord's phrasing is very unique. You can't just sit down and play three chords and do a cover. With the Hip, you have to put a lot of thought into it." The project was inspired by The Strombo Show's Neil Young 70 special, but features a much more extensive list of contributors. In all, around 50 songs were recorded. Blue Rodeo, Barenaked Ladies, the Sadies, By Divine Right, Cowboy Junkies, Sarah Harmer and Julie Doiron are among the Hip's friends and peers who participated, while Harrison, SATE, Stars, Tanika Charles, Weaves, Woodpigeon, the Dears, D-Sisive, Death from Above 1979, Born Ruffians and Greys are among the artists representing the generations of musicians that came after. ... The New Year's Day broadcast will be divided up by eras of the band's creative output, with participating artists and guests like Daniel Lanois, Geddy Lee and Alex Lifeson of Rush, filmmaker Atom Egoyan and the Hip's longtime technical director Dave 'Billy Ray' Koster offering added insight. Although Downie's illness weighed on many acts throughout the creative process, Stroumboulopoulos says the emphasis is on celebrating the Hip and their influence. "A lot of people don't realize how big an impact the Hip have had on so many bands," he says. "There's a lot of talk about Gord, but we were clear from the start that this is not a eulogy. It's a celebration. It's about hearing the songs and hearing people talk about what the band means to them." ...
The Rock and Roll Hall of Fame announced their class of inductees for 2017 earlier this week and progressive rock pioneers Yes finally made the cut, after having been eligible for induction since 1995 and nominated twice in the past. Rush was quick to send out their congratulations via social media:
YES...the Rock Hall finally got it right! Big congrats to Yes and Pearl Jam on their entry to the Rock and Roll Hall of Fame!
Rush was inducted into the Rock Hall back in 2013 and since then Geddy, Alex and Neil have been among the group of 900 or so inductees, music journalists and music industry folk to vote on the inductees each year. Both Geddy Lee and Alex Lifeson have made it known in past interviews that they have consistently voted for Yes when they've been nominated in recent years (2014 and 2106). Back in late 2015 the pair spoke with St. Louis radio station KSHE 95 and talked about who would be getting their vote for the 2016 class:
... [Geddy and Alex] were both surprised to learn that one of this year's nominees, Chicago, aren't already in. Geddy says, "Great band. We all listened to those early CTA [Chicago Transit Authority] records." And Alex adds that they were very "influential." Asked who he'll vote for, Geddy said, "Yes and Deep Purple 100 percent." ...
Both Deep Purple and Chicago ended up being voted in, but not Yes. Here was Geddy's reaction after hearing the news:
"Some justice at last! Deep Purple in the Rock Hall!! But no Yes??? Are you kidding me??" - Geddy Lee
Back in 2013 Yes was nominated for induction for the first time and Yes' late bassist Chris Squire - who passed away last year - talked about the nomination in an interview with K-Earth 101. He was asked about the Rock Hall nomination and who he'd like to have give the induction speech if they were ultimately inducted:
I haven't given it much thought, maybe those Rush guys who got in last year! I'm pretty good friends with Dave Grohl and Taylor Hawkins (of the Foo Fighters) and they did a great speech for Rush... so probably not them, since they just did one. But if you know Geddy (Lee), let him know that that would be fine by me. I don't know how these things work, though, I don't know how much control we have, how much control the voting committee has, and of course we're still kind of wondering how many members of Yes would be inducted.
Let's hope they honor Squire's wish and have Rush present Yes with their induction. You can read how some members of Yes reacted to the news via YesWorld.com. Other acts making the cut for the 2017 class of inductees are ELO, Journey, Tupac, Joan Baez, Pearl Jam and Nile Rodgers.
Many of you may have noticed the sudden demise of TeamRock.com and all of its associated properties over the past week. This includes a number of entities that we regularly cite and link to on RIAB due to their extensive coverage of Rush - Classic Rock Magazine, Prog Magazine, Metal Hammer, Team Rock Radio, Team Rock online, as well as the Prog Awards and the Classic Rock Awards. Rush posted the following message to their Facebook page late last night:
We are so saddened to hear the news of the sudden and abrupt demise of Classic Rock Magazine, Prog Magazine, Metal Hammer, Team Rock Radio, Team Rock online, as well as the Prog Awards and the Classic Rock Awards. We are thinking of the very talented and passionate staff that lived to bring the music of so many artists to their fans. We've met some amazing people through our interviews over the years with writers like Phil Wilding, Jerry Ewing, and Paul Elliott just to name a few. Props to Ben Ward who started a donation page to help the 73 staffers that are now without a job or wages just before the holidays. We're donating and we urge the rock community to do the same, whatever you can do to support:

This past Wednesday, December 21st Rush fans across the world celebrated International Rush Day (21st day of the 12th month - 21/12). That day also happened to be the first day of Winter, which means it's about time for some celebrity winter advice from Geddy Lee!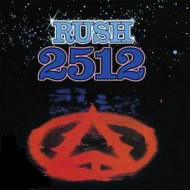 There are only 2 shopping days left until Christmas/RushMas! Make sure all the Rush fans in your life (including yourself!) have all the Rush swag they need under the Christmas tree come this Sunday. There's plenty of great stuff to choose from this year including the 2112 40th anniversary edition and the Rush: Time Stand Still video. Have a great weekend and a Merry Christmas (or Hanukkah, Kwanzaa, etc.) everyone!