UPDATE - 11/4@10:25AM: Here's the official Rush.com press release.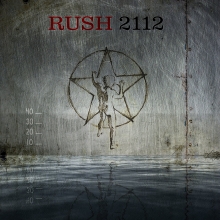 UPDATE - 11/4@7:37AM: The Rush Backstage Club now has details of the various packages available. The standard edition is a 2CD+DVD set which includes a CD of 2112 remastered (again), another CD of some rock celebrity covers of the various songs on the album and some live Massey Hall outtakes, and a DVD of the Live at Capitol Theatre 1976 show along with some other bonus videos. There's also a 3 LP version with the same content as the CDs along with a few bonus goodies. The Super Deluxe edition contains both the 2CD+DVD and 3 LP sets along with some extra bonus content:
2CD and 3LP highlights:

* Original Album Remastered at Abbey Road Studios - First Time on CD
* 5 Newly Recorded Covers from Dave Grohl, Taylor Hawkins, Nick Raskulinecz, Billy Talent, Steven Wilson, Alice In Chains, Jacob Moon
* Live Archive Outtakes from MASSEY HALL 1976

DVD Features:

* Newly Restored Video & Audio of CAPITOL THEATRE 1976 Concert
* In Studio Performances by BILLY TALENT and
* Dave Grohl, Taylor Hawkins, Nick Raskulinecz
* 25+ Minute New Interview with ALEX LIFESON and TERRY BROWN

Vinyl Extras:

* 2015 Red Star Vinyl Hologram
* Red Star + Circuit Board Vinyl Image Etching on Side Six
* Starman Turntable Mat

Super Deluxe Extras (includes 2CD/DVD and 3LP sets)

* Hugh Syme's Original Starman Pencil Sketch Litho
* Massey Hall June 1976 Ticket Stub Litho
* Massey Hall June 1976 Handbill
* Three Collector Buttons
* First 1,000 fans will get an exclusive THE TWILIGHT ZONE (b/w "Lessons") 7-inch + Custom Red Star 45 Adapter

Rush's new R40 tour documentary Rush: Time Stand Still premiered in theaters across North America this evening. Before the film a short interview with Alex Lifeson and Terry Brown was shown where the pair talk about Caress of Steel and how it was the precursor and "practice run" for 2112. After the interview snippet an ad was shown for a 2112 40th anniversary "Super Deluxe" edition that's due to release on December 9th. There weren't any other details given, but Amazon does have some listings (gives the release date as December 16th) along with photos of the packages (2CD+DVD, 3LP, Super Deluxe) and cover artwork posted on their website. The package is also available for pre-order here.