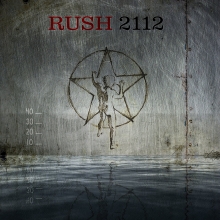 I hope all of my US readers had a happy Thanksgiving yesterday and are surviving the madness of Black Friday. Speaking of which, the Rush Backstage Club is running a Black Friday sale all this coming week, with nearly all of their merchandise on sale. Rush will be releasing a 2112 40th anniversary Super Deluxe box set this coming December 16th, just in time for the Holidays. The standard edition is a 2CD+DVD set which includes a CD of 2112 remastered (the version from last year's 2112 vinyl reissue), another CD of some rock celebrity covers of the various songs on the album along with some live Massey Hall outtakes, and a DVD of the Live at Capitol Theatre 1976 show along with some other bonus videos. There's also a 3 LP version with the same content as the CDs along with a few bonus goodies. The Super Deluxe edition contains both the 2CD+DVD and 3 LP sets along with some additional bonus content. The cover songs included on the set are 2112: Overture from members of the Foo Fighters, A Passage to Bangkok from Billy Talent, The Twilight Zone by Steven Wilson, Something for Nothing by Jacob Moon and Tears by Alice In Chains, the latter of which was made available for streaming online via YouTube and other streaming channels earlier this week. Geddy Lee and Alex Lifeson appeared on The Strombo Show on CBC Radio 2 a couple of weeks ago to discuss the new box set and spin a couple of the included cover songs. You can listen to the entire, extended, 25-minute interview at this location, and listen to the entire 3-hour Strombo episode, including the complete Foo Fighters cover of 2112: Overture and a sample of Billy Talent's take on A Passage to Bangkok, here (at the 46 and 57:30 minute marks respectively). You can get all the details regarding the contents of the 2112 40th anniversary edition via the official Rush.com press release and also watch a 1-and-a-half minute promotional unboxing video which highlights the contents of the box set here. You can pre-order the 2112 40th anniversary edtion on Amazon (2CD+DVD, 3 LP, Super Deluxe).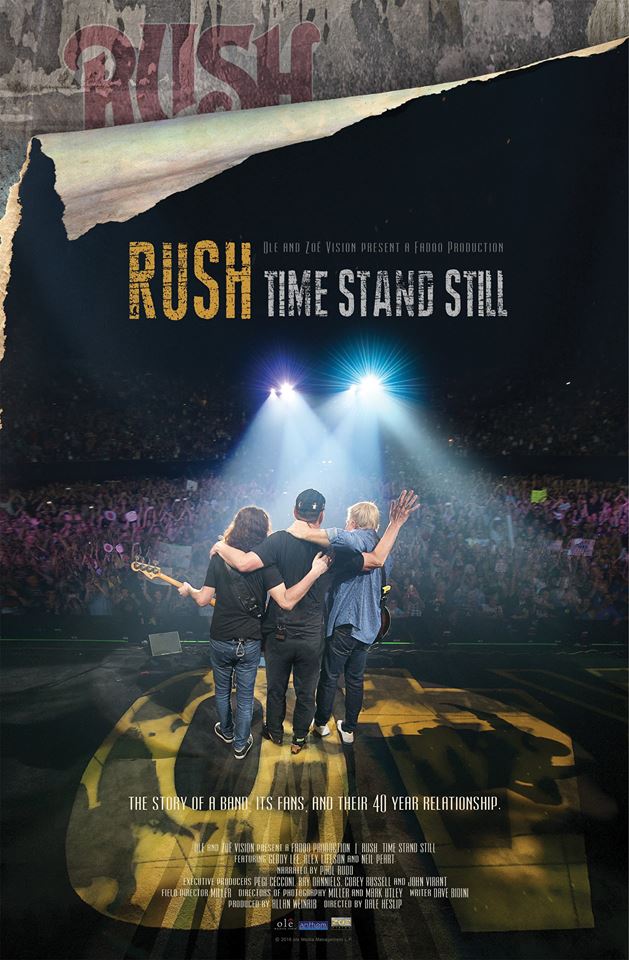 The new Rush R40 Live tour documentary Rush: Time Stand Still officially released last Friday on DVD/Blu-ray and is now available to order (DVD, Blu-ray) or purchase in stores. Several retailers are offering in-store promotions with the purchase of the DVD/Blu-ray including Best Buy, FYE and others as outlined in this promotional video. The DVD/Blu-ray includes 67 minutes of unreleased footage from the band's Presto tour, but it does not include any of the pre-film content shown during the film's screening in theaters. The theater screening was prefaced by a short animated film produced by FANTOONS called The Early Days of Neil Peart which you can preview here. They then showed a 20-minute mini-documentary titled Rush: A Salute to Kings where Gene Simmons (KISS), Chad Smith (Red Hot Chili Peppers), Taylor Hawkins (Foo Fighters), Ann & Nancy Wilson (Heart), Scott Gorham (Thin Lizzy), and the band's producer Nick Raskulinecz shared their unique stories about Rush over the last 40 years. You can watch clips from both Chad Smith's and Gene Simmons' portion of the documentary, and watch the trailer here. The film itself runs for just over an hour-and-a-half and is primarily a documentary about the band's R40 Live tour, with particular focus on it likely being the band's final tour, along with a good deal of attention paid to Rush's rabid and loyal fan base. Trailers and clips from the documentary are available online at the Rush YouTube channel, and you can check out several reviews of the film in this post. John over at Cygnus-X1.net has transcribed/scanned the artwork and liner notes and made them available online (liner notes, scans). Rounder Records launched an Ultimate Fan Package Giveaway contest via social media earlier this week where 5 lucky winners will receive a Rush: Time Stand Still prize package with the Grand Prize package including a Rush R40 commemorative guitar. You can get all the details via the Rounder Records Facebook page.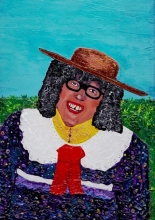 Alex Lifeson has been involved with the Kidney Foundation of Canada's A Brush of Hope charity auction for the past decade. His latest entry was titled Aquarium and ended up raising $8700 CAD in the organization's annual online auction last month. Alex's 2015 painting was titled Blind Date Picnic and the Kidney Foundation has just made this painting available as a limited-edition print signed by Alex Lifeson. From the announcement:
The Kidney Foundation of Canada, Atlantic Branch and Canadian great, Alex Lifeson, have teamed up to produce another round of exclusive limited edition prints. Only 150 prints have been made of 'Blind Date Picnic'. Each print is numbered and Alex Lifeson has personally signed each individual print. That's right, each print has Alex Lifeson's ORIGINAL signature on it. The print is on high quality, heavy stock, acid free paper. In addition, each print comes with a certificate of authenticity, signed by the Executive Director of the Atlantic Branch of The Kidney Foundation of Canada, confirming that the print you have purchased is one of only 150 for 'Blind Date Picnic'. The certificate also shows the print number (eg. Print No. 33 Limited Edition of 150). The certificate is printed on linen paper, making it ideal for framing with the art print or for displaying on its own. ...
Each print costs $250 CDN and can be purchased at this location.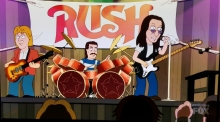 This past Sunday night's episode of the animated FOX sitcom Family Guy (Season 15, Episode 7 - High School English contained a major Rush reference. The episode has Peter Griffin in a library where he reads three classical tales, one of which is The Adventures of Huckleberry Finn. The episode then has the cast act out the novel in abbreviated form with Peter Griffin as Huck Finn and Chris Griffin playing the part of Tom Sawyer. At one point Huck asks Tom what he's doing so far from home, to which he replies, "Rush is playing here tonight. They wrote a song about me." Jim (the runaway slave) played by Cleveland then shows up. Huck asks what they should do next, and Tom rips off his shirt to reveal a Rush concert t-shirt underneath and shouts, "Rush concert!" The scene ends with the three at a Rush concert with Rush performing Tom Sawyer as seen in this video clip.
Geddy Lee and Alex Lifeson attended a Grapes for Humanity charity dinner event in early October which benefited the Amani Home for Street Kids in Moshi, Tanzania and raised $40,000 for the charity:
Joe Canavan, a great supporter of Grapes for Humanity, invited eleven of his friends to join him at Barberian's Steak House on Elm Street, Toronto, for this fund-raiser dinner. The celebrity guests were Geddy Lee and Alex Liveson of Rush who regaled the company with stories of their touring and recording. The wine flowed ... like wine and Barberian's owner, Arron Barberian pledged $2,000 to the cause: the construction of a new home for street kids in Moshi, Tanzania. ...
Grapes for Humanity is an organization that helps to raise funds to benefit humanitarian causes around the world with the assistance of the international wine community, and Geddy Lee is a member of the board of directors. In recent years he and Alex Lifeson have conducted a number of charity auctions and events to raise money for the organization as part of an initiative that they cleverly call Grapes Under Pressure.

Record Store Day's annual Black Friday event takes place today. One of the exclusive featured items is a 7-inch, red vinyl single celebrating the 35th anniversary of Bob and Doug McKenzie's 12 Days of Christmas with their classic song Take Off featuring Geddy Lee on the b-side of the record. Only three thousand of the records will be made available. For a list of participating stores and to learn more about Record Store Day check out their website at RecordStoreDay.com.
Photographer Deirdre O'Callaghan released a new book of drum photography last week titled The Drum Thing. The book contains collections of photographs and interviews with some of the drum world's biggest names - including Rush's Neil Peart. Here's an excerpt from the Neil Peart interview contained in the book:
... When I pick up the sticks and settle my feet on the pedals, I have a couple of favourite rhythmic foundations that I fall into every day - repeating patterns (ostinatos) that are both comfortable and inspiring. I nearly always begin by improvising over a 3/4 "waltz" lilt, and gradually build intensity, then modulate through a couple of Latin rhythms I like. I often try out new ideas that - if they are successful - may well appear in my solo in that night's performance ...

FANTOONS keeps adding to their inventory of officially licensed Rush swag, with their latest offering being a 52-page Rush coloring book. You can check it out and pre-order a copy at this location. Last week they launched a selection of Rush-themed Hanukkah and Christmas cards. They are also currently running a promotion where you can get 20% off items purchased at the FANTOONS Etsy store by using the code PERFEKT.
Comedy writer Rob Cohen's 2015 documentary Being Canadian was recently released on DVD and is now available to purchase here (thanks RushFanForever). The film follows Cohen as he travels across Canada interviewing several famous (and not so famous) Canadians - including Rush - along the way about what being Canadian means to them. You can check out the film's trailer at this location, and learn more about the film at the official website.
Wine expert Mark Oldman's latest wine book How to Drink Like a Billionaire was released last month via Regan Arts. At one point in the book Oldman discusses how he learned about the wine word minerality from interviewing Geddy Lee, and how that word is essential to understanding wine. Oldman interviewed both Geddy Lee and Alex Lifeson for his previous book Oldman's Brave World of Wine. Oldman is running a 2112 Wine Book Giveaway promotion (running from November 21st to December 12th) where fans who buy two copies of his new book will also get a free, signed copy of Oldman's Brave New World of Wine. You can check out all the details on his website here (thanks Eric at Power Windows).
Rush is on tap for this week's Album in Full feature on UK digital radio station Planet Rock. They'll be playing an entire Rush album this coming Monday at 11PM, and they need your help to decide which one. Go place your vote here.
TeamRock.com recently interviewed Grammy Award winning musician Beth Hart to talk about her prog-rock hero, Les Claypool of Primus, and she mentions Geddy Lee:
When I was a kid, I was a really huge classical buff and I still am. My mum turned me on to jazz and blues: Dinah Washington, Billie Holiday, stuff like that. Then the neighbourhood kids started turning me on to Black Sabbath, Iron Maiden, and when I was about nine or 10, they got me into Rush as well. At that time, Rush were pretty big in America and Moving Pictures had just come out. I fell in love with that record, although my husband [road manager Scott Guetzkow] and my guitar player Jon [Nichols] always laugh at me because they say it's the worst record of their whole career. It was Geddy Lee's bass playing that did it for me and to this day, he's probably my number one favourite bass player.
Colorado-based melodic death metal band Allegaeon released their fourth full-length album this past September via Metal Blade Records. It's titled Proponent for Sentience and includes a heavy cover version of Rush's Subdivisions, which you can check out on YouTube here. BangerTV recently interviewed Allegaeon's Greg Burgess and Riley McShane to talk about the album, the Rush cover and more. They also mention in the interview that they recorded a cover of Rush's Animate that they hope to release at some later date.
The Canadian Museum of History in Ottawa has a very extensive collection of Rush memorabilia which you can view online here (thanks John atCygnus-X1.net).
Huffington Post contributor Dave Bookbinder posted an article titled 5 Simple Lessons From 40 Years At The Same Job (thanks HoustonRushFan) which uses Rush as an example of the benefits of long term working relationships.
Here's the Alice in Chains cover of Tears:
That's all for this week. Have a great weekend!