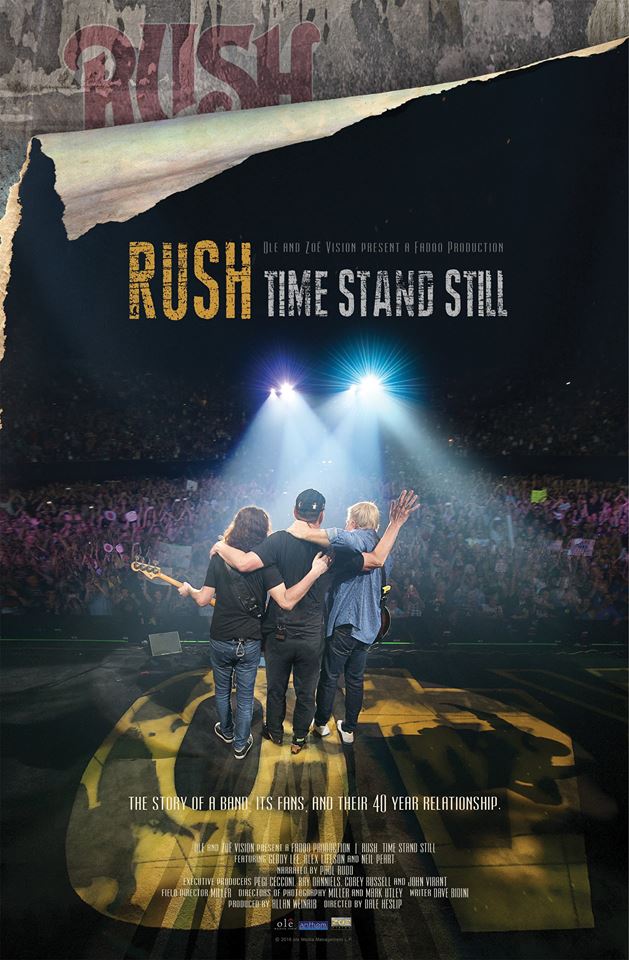 The new Rush R40 Live tour documentary Rush: Time Stand Still officially released today on DVD/Blu-ray and is now available to order (DVD, Blu-ray) or purchase in stores. Several retailers are offering in-store promotions with the purchase of the DVD/Blu-ray including Best Buy, FYE and others as outlined in this promotional video. The DVD/Blu-ray includes 67 minutes of unreleased footage from the band's Presto tour (from Rush's March 8th, 1990 show at the Palace in Auburn Hills), but it does not include any of the pre-film content shown during the film's screening in theaters last night and earlier this month. The theater screening was prefaced by a short animated film produced by FANTOONS called The Early Days of Neil Peart which you can preview here. They then showed a 20-minute mini-documentary titled Rush: A Salute to Kings where Gene Simmons (KISS), Chad Smith (Red Hot Chili Peppers), Taylor Hawkins (Foo Fighters), Ann & Nancy Wilson (Heart), Scott Gorham (Thin Lizzy), and the band's producer Nick Raskulinecz shared their unique stories about Rush over the last 40 years. You can watch clips from both Chad Smith's and Gene Simmons' portion of the documentary, and watch the trailer here. The film itself runs for just over an hour-and-a-half and is primarily a documentary about the band's R40 Live tour, with particular focus on it likely being the band's final tour, along with a good deal of attention paid to Rush's rabid and loyal fan base. Several trailers and clips from the documentary are available online at the Rush YouTube channel, and you can check out reviews of the film from the following publications:
[Huffington Post]
[GeekDad]
[Drew's Reviews]
[HMV]
[Rolling Stone]
[Toronto Sun] (4 stars)
[Now Toronto]
[Montreal Gazette] (4 stars).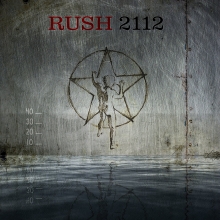 Rush will be releasing a 2112 40th anniversary Super Deluxe box set this coming December 16th, just in time for the Holidays. The standard edition is a 2CD+DVD set which includes a CD of 2112 remastered (again), another CD of some rock celebrity covers of the various songs on the album along with some live Massey Hall outtakes, and a DVD of the Live at Capitol Theatre 1976 show along with some other bonus videos. There's also a 3 LP version with the same content as the CDs along with a few bonus goodies. The Super Deluxe edition contains both the 2CD+DVD and 3 LP sets along with some additional bonus content. Yesterday Rush posted a 1-and-a-half minute promotional unboxing video which highlights the contents of the box set which you can watch below or on YouTube here. Geddy Lee and Alex Lifeson appeared on The Strombo Show on CBC Radio 2 a couple of weeks ago to discuss the new box set and spin a couple of the included cover songs. You can listen to the entire, extended, 25-minute interview at this location, and listen to the entire 3-hour Strombo episode, including the complete Foo Fighters cover of 2112: Overture and a sample of Billy Talent's take on A Passage to Bangkok, here (at the 46 and 57:30 minute marks respectively). The set will also include covers of The Twilight Zone by Steven Wilson, Tears by Alice In Chains, and Something for Nothing by Jacob Moon. The band is in the process of sending out promotional copies of the cover songs to radio stations, and decided to get creative with the packaging with some help from FANTOONS. The songs are contained on a 2112 USB stick that's packaged in a Rush TOONS cereal box as seen in this Instagram photo from Steven Wilson, and this Facebook post from Jacob Moon. You can get all the details regarding the contents of the 2112 40th anniversary edition via the official Rush.com press release and pre-order it on Amazon (2CD+DVD, 3 LP, Super Deluxe). Despite getting the chance to cover a Rush tune on the 2112 box set, Foo Fighters drummer Taylor Hawkins has no plans to replace Neil Peart in Rush. Hawkins was recently interviewed by Eddie Trunk for his SiriusXM radio program and when Trunk brought up the idea of whether he could replace Peart, here's what he had to say:
"Dude, I'd get f**king crucified, man. You know how many fucking dorks would wanna kick my ass if I tried to be in RUSH? It'd be like a nation of dorks chasing me and trying to kill me. [Screaming] You're not Neil Peart! Don't even think about it!"


In addition to helping Rush promote the 2112 40th anniversary set with their Rush toon cereal box art, FANTOONS also sells a bunch of really cool official Rush merchandise, including their latest batch of swag - a selection of Rush-themed Hanukkah and Christmas cards that you can check out and purchase via the FANTOONS Etsy store.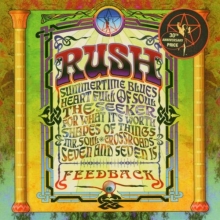 Rolling Stone posted an article earlier this week on Buffalo Springfield's classic protest song For What It's Worth. The song has been covered by many acts over the years, including Rush, who covered it on the band's 2004 Feedback EP. The article includes several interview snippets with artists talking about the song and their memories of it. Here's what Alex Lifeson had to say:
... Rush's Alex Lifeson recalls first hearing the song while driving in the family car in the Toronto suburbs. "I'm not sure if it was the first time I heard it, but I clearly remember driving with my dad and wearing blue granny glasses, which I thought were so cool," Lifeson says. "It was a sunny day, and I put the radio on and 'For What It's Worth' came on. I still recall feeling so moved by that song. It sounded so cool to me, that combination of the acoustic and electric guitars and the lyrics. Canada was a haven for objectors to the war, so we had a different view on what was happening in Vietnam."

During its early days, Rush used to jam on the song - "a 10-minute arrangement with a seven-minute guitar solo and a bass solo and then back into the chorus," Lifeson chuckles - and later recorded it on their 2004 covers set, Feedback. "I suggested it and it was an important song for all of us," he says. "Even when I hear that song now, I get goosebumps. I always think of the ride with my dad. It's one of those really special, magical songs. It may be my favorite song of all time." ...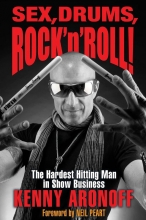 Legendary session drummer Kenny Aronoff has released a new book titled Sex, Drums, Rock 'n' Roll!: The Hardest Hitting Man in Show Business via Backbeat Books, which is now available to order online here. The book features a foreword by Neil Peart, which can be previewed online at this location. From the foreword:
... It is said that mastering any worthwhile skill, from athletics to drawing to playing a musical instrument, requires 10,000 hours of dedication. ... That takes a rare dedication, amounting to obsession, and a tremendous outpouring of energy-a gathering of words that starts to lead us toward a description of Kenny Aronoff. Energetic, dedicated, obsessed. Add in talented and well-schooled, musical and hard-rocking, and we are getting closer. ... I believe it was when Kenny was touring with Joe Cocker in the early 2000s that he rode with my longtime bus driver (from 1996 to 2015) Dave Burnette. It was Dave who told me that because Kenny was always flying somewhere on days off to do sessions with other artists, the crew called him "Can-He Earn-Enough?" But you know he was doing it for love-because he could, because he had the energy. There is a condition called "hyperthymia," humorously defined as "having so much energy, doing so many things, and getting so much done-that it annoys other people." Hold on to that thought for when you get to John Mellencamp's acid comment about Kenny and his "ambition." As if there is something wrong about wanting to play with everybody in the world-and then going out and doing it. As Dizzy Dean said, "It ain't braggin' if you can back it up." Kenny Aronoff can back it up. - NEIL PEART
Godsmack's Sully Erna was recently interviewed for iRockRadio.com to discuss the band's upcoming 20th anniversary and their future plans. At one point Erna talks about Rush and Neil Peart's influence on himself and the band. From Blabbermouth.net:
... Citing RUSH's classic 1981 live album "Exit...Stage Left" as one of the LPs that changed his life, Erna said: "Being a drummer my whole life, [RUSH drummer] Neil Peart was probably the biggest influence in my life. He's the reason why I quit school, I quit family, I quit relationships, I quit everything to practice RUSH albums."

Asked if he has had a chance to tell Neil what an influence he has been on his life, Erna said: "Oh, yeah. I've met him a few times. We've actually become friends. As a matter of fact, we've been fiming along the way, over the last couple of years, what will be, at some point, twenty years of GODSMACK, a movie, and just interviewing different people along the way, and we got Neil Peart to agree to... I think we might have the last Neil Peart interview on tape. But he actually reviewed our drum solo, and it was really very surreal to hear Neil Peart talking about me and Shannon [Larkin, GODSMACK drummer] and how well he enjoyed it and the technical aspects of it and how entertaining it was. And it was pretty cool." ...
You can listen to the entire interview online here. Godsmack plans to enter the studio at the end of next year to begin recording a new album for an early 2018 release, coinciding with the band's twentieth anniversary.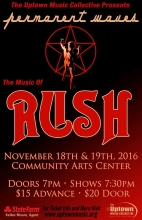 The Uptown Music Collective music school will kick off its 2016-2017 performance season with its presentation of Permanent Waves: The Music of Rush tonight and tomorrow night at the Community Arts Center in Williamsport. The performance will feature students from the school's Special Performance Group 1, who range in age from 11 to 18, performing songs from every era of Rush's long career. From NorthCentralPA.com:
... "The music of Rush has really resonated with this year's students, and they are very excited to present this performance,"said Uptown Music Collective Executive Director, Dave Brumbaugh. "The students chose Rush as the fall show's theme over several possibilities. They were into the challenge of the complex time signatures and the musical interplay, not to mention the great songs, and powerful energy," Brumbaugh said. "Great music, no matter the style or time period is always appealing and exciting to our students, which must mean we are doing something right. Everyone needs to come out and witness this performance, it's going showcase our students at their best." Permanent Waves: The Music of Rush will feature Collective students who have been diligently preparing for this event for more than two months. Along with the live music, there will be a professional grade light and sound show organized by the students themselves. As with all Uptown Music Collective performances, the students are not only the performers, but also direct the show. There is also a group of younger students, called "Tech Monkeys" who will serve as stage technicians and spot light operators. The cast for the show is drawn from the Uptown Music Collective's much heralded Special Performance Group 1. The students have set a goal to get 1500 people see the show over its two night run. ... "I've always known who Rush is, but I've always had a tendency to overlook their music," said UMC student Chloe Taylor, 16, of Montoursville Area High School. "It wasn't until hearing about this show that I really started getting into their musical style and really start to appreciate it. There are so many different components to their music, so many cool effects that they use, and Geddy Lee's unique voice adds on to the different sounds. I am extremely excited for the opportunity to perform their music and see how the work we put into this show pays off." ...
You can watch some video of the UMC performing Limelight, The Spirit of Radio and Fly By Night. For ticket information and all the details visit uptownmusic.org.
TeamRock.com posted an article earlier this week where they ask bassist Tim Commerford (Rage Against the Machine, Prophets of Rage, Audioslave) to name his 5 favorite bassists and topping his list is Rush's Geddy Lee (thanks RushFanForever):
"I think he's the greatest rock bassist ever. His technique on the bass is perfect for somebody who wants to learn how to play; if you watch him and you listen to those Rush bass lines, they're amazing and his technique is amazing. If you emulate his technique, you'll end up having great technique as a player. I was lucky, I tell people that all the time - so much of everything is luck; music, playing in a band, just the kind of music you listen to, and the type of players. There's guys who have horrible technique but they're in great bands, and you can be into that band and then as a kid emulate that player who has terrible technique, and then you're going to have terrible technique, and technique is such an important part of being an artist. So, I emulated Geddy Lee as a kid coming up, and I benefitted from that on so many levels as a professional musician. I am so thankful for that."
Here's the latest promotional video from Rush for today's release of the Rush: Time Stand Still R40 tour documentary, along with their 2112 40th anniversary Super Deluxe box set unboxing promo video:
That's all for this week. Have a great weekend and a happy Thanksgiving holiday here in the US!