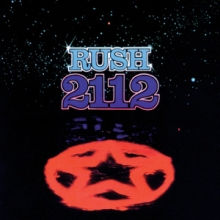 This past weekend NPR posted an extensive article on Rush's 2112 album, which recently celebrated the 40th anniversary of its 1976 release. NPR's Adrien Begrand spoke with Alex Lifeson about the album's inception, the recording process, how it was received by fans and what it means to Rush's legacy:
... "I'm very happy with [2112]. Of course, I want to re-do the whole thing, just like all our records. When I go back and listen to the original record, I feel really proud of it. I can still remember how I felt at the time we were making it, and how important it seemed, and how satisfied we all were when it came together. We felt we played really well on it, and the recording experience was fantastic. We were such a real team holed up in that studio of Terry's [producer]. "When other bands cite us as an inspiration or an influence, [the theme of 2112 is] what they're talking about, more than anything. I've often read when we're mentioned as an influence for a band they'll say, 'We're big Rush fans, because they did it on their own, they did it their own way, and that told me that I could do the same thing. If I stick with it, persevere, I can do things the way I want them to be.'"
The piece is titled All The Gifts Of Life: 40 Years Of Rush's '2112' and you can read the entire article online here. In celebration of the anniversary, early last month Rush released this video adaptation of Tom Hodges' 2112 comic (from the 2112 Limited Super Deluxe Edition) set to the music of the entire 7-part, 20-minute 2112 suite. Also in celebration of the album's anniversary, Greg Camp of the Mendocino Free Thinker blog took some time out this past week to write a piece exploring the humanistic themes in Neil Peart's lyrics, which are prominently on display in the story of 2112. The article is titled Hope is What Remains... and you can read it online here (thanks RushFanForever).
In a couple of weeks from now, Alex Lifeson will be participating as one of the panel members for an evening of discussion on the importance of popular music to the creative life of Canada, and the need to preserve the archival record of its creators and distributors. The event will take place on May 17th at Innis Town Hall, Innis College, at the University of Toronto and will run from 6-8PM with doors opening at 5:30PM, and a wine and cheese reception immediately following at the Thomas Fisher Rare Book Library. The discussion will be moderated by Denise Donlon and also included on the panel are Martin Melhuish, Tom Cochrane, Lorraine Segato, and Rob Bowman. Space is limited and you can reserve tickets by calling 416-978-3600 or sending an e-mail to events.library@utoronto.ca.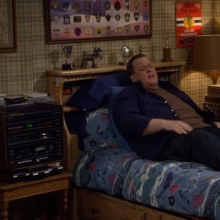 In this past week's episode of the CBS sitcom Mike and Molly (Season 6, Episode 8 - The Wreck of the Vincent Moranto), a portion of Rush's Tom Sawyer is played at around the 11-minute mark. Vince promises Mike to take him fishing on his boat, but instead ends up selling the boat. Mike feels let down and visits his mother where he proceeds to his childhood bedroom to vent his frustration by listening to Tom Sawyer and air drumming. You can watch the full episode online for a limited time here or here.


The May, 2016 issue of Rhythm magazine features the 101 Greatest Drumming Moments and #66 on the list is when Neil Peart joined Rush as seen on page 36. Rush's R40 Live also makes their list of great live albums coming in at #12 as seen here on page 73. You can download a pdf copy of the issue here (thanks RushFanForever). Speaking of Neil, Sweetwater Music's 15th annual Gearfest will take place June 17-18 in Fort Wayne, IN and consist of two days of free workshops, gear demos, deals, giveaways, and more. DW Drums and Neil Peart drum tech Lorne Wheaton will be on hand with both of Neil Peart's R40 Live drum kits, and will answer questions, give tours of the kits, and give fans opportunities to take photos with the kits. For all the details and to plan a trip, visit the Gearfest website.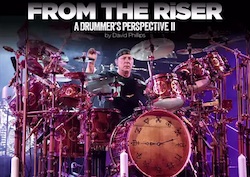 And keeping on the subject of drums, back in early 2014 we learned that author and photographer David Phillips was working on the follow up to his critically acclaimed 2010 coffee table book A Drummer's Perspective. The new book is titled From The Riser, A Drummer's Perspective II and features a foreword by Neil Peart, who also appears on the book's cover. Phillips is publishing the book himself and recently launched a crowdfunding campaign via Indiegogo to fund the project. For more information and to learn how to secure your copy of the book along with many other extra perks, just visit the Indiegogo page at this location. Thanks to Eric at Power Windows for the heads up.
Speaking of books, a new book by Tony Bacon which celebrates rock guitarists and their guitars was released last month. It's titled The Guitar Collection and also comes with a 10-inch collectible vinyl LP containing an all-star recording of Deep Purple's Smoke on the Water from 1990's The Earthquake Album which raised money for Rock Aid Armenia. The recording includes Bryan Adams, Ritchie Blackmore, Bruce Dickinson, Geoff Downes, Keith Emerson, Ian Gillan, David Gilmour, Tony Iommi, Alex Lifeson, Brian May, Paul Rodgers, Chris Squire and Roger Taylor. You can watch a video of the song here, and purchase your copy of The Guitar Collection here. There's also a review of the book by Guitar Girl Magazine.
German heavy metal band Rage will be releasing their new album The Devil Strikes Again on June 10th via Nuclear Blast Records, and included with the Deluxe edition of the album is a bonus disc which contains a cover of Rush's Bravado. Covers of Skid Row's Slave To The Grind and Y&T's Open Fire are also included on the bonus disc. You can pre-order The Devil Strikes Again at this location.
Details regarding this year's upcoming Rush Eucon were released earlier this week via the Rush Eucon Facebook page. The event will take place at The Box in Crewe the weekend of October 7-8. Proceeds from the event will go to support Jessie's Fund. The event will feature 3 different Rush tribute bands: Rushed from Stoke, Clockwork Angels from Glasgow, and Bravado from Sheffield. Other highlights for the weekend include Rush Fans Got Talent, the legendary Rush Quiz and the famous Eucon raffle and auction. Weekend tickets are available now at the special early bird price of £20 + £1 booking fee. For all the details visit the Rush Eucon Facebook page and follow them on Twitter.
Loudwire.com posted a video list of their 10 Greatest Power Trios to their YouTube channel earlier this week and Rush came out on top.

If you grew up as a Rush fan in the 1980s, then you probably owned at least a few Rush albums on cassette tape. The format fell out of favor in the 1990s and Rush albums haven't been released on cassette since 2002's Vapor Trails, so if you want Snakes & Arrows or Clockwork Angels on cassette you are out of luck. Or are you? ... One fan took matters into their own hands and decided to painstakingly recreate a copy of Rush's Clockwork Angels on cassette, right down to the booklet and tracklisting on the tape itself. You can check out a full gallery of photos of the cassette here (thanks John at Cygnus-X1.net). Perhaps they'll give Snakes & Arrows the cassette makeover treatment next. Speaking of which, this past Sunday, May 1st marked the 9th anniversary of the 2007 release of Snakes & Arrows. Here's the Far Cry video from Snakes & Arrows Live:
That's all for this week. Have a great weekend!