UPDATE - 4/6@3:30PM: Rush have also given A Passage to Bangkok the comic book treatment and posted the video to Facebook:
Celebrate 40 years of 2112.

Posted by RUSH on Thursday, March 31, 2016
----- snip -----
UPDATE - 4/6@10:24AM: The entire thing is now on YouTube as well.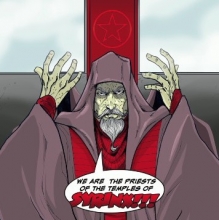 As they'd promised to do yesterday in celebration of the 40th anniversary of 2112, Rush has released a video adaptation of Tom Hodges' 2112 comic (from the 2112 Limited Super Deluxe Edition) set to the music of the entire 7-part, 20-minute 2112 suite. The video includes still frame shots (panning in and out) from the comic book, with a few additional animated transitions. You can watch the entire video online at Rush.com.