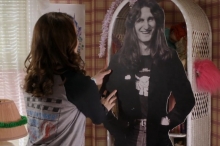 UK digital radio station Planet Rock recently had Geddy Lee in the studio to chat and answer some fan-submitted questions, and last Friday they posted some video of the interview. Some of the topics covered include tobogganing, mysterious discs, playing in cowsheds, how his kids deal with his fame, and how he manages to remember all those Rush songs. You can check out the video interview below or on YouTube at this location.

Speaking of Geddy, during his Rolling Stone interview last month, Alex Lifeson mysteriously mentioned that his bandmate Geddy was, "in the Falkland Islands or something, penguin watching". It turns out that Geddy was not only watching those penguins, but he was also taking photos, one of which was offered as a print by the Canadian Wildlife Federation earlier this week. Unfortunately all 100 of the limited-edition, signed prints has sold out.



This past week's episode of the ABC '80s sitcom The Goldbergs was titled Rush and one of the main plot's of the episode centered around Erica being turned on to Rush by the infamous, Rush-loving Johnny Atkins - a recurring character that was introduced early in the season. Atkins is a cocky band geek who goes to school with Erica and is always shown wearing various Rush t-shirts and carrying a saxophone around his neck. He first appeared in the 2nd episode of the season (A Chrous Lie) where he was Erica's potential date to homecoming. In that episode he was shown wearing three separate Rush t-shirts at different points in the show; a Moving Pictures shirt, a Fly By Night shirt and a Hold Your Fire shirt. He also made appearances in several other episodes this season, but this week's episode was by far the most Rush-reference-laden episode to date. It included Rush t-shirts, posters, Tom Sawyer being played, a Rush cover band named Speedup and even a life-size cut-out of Geddy Lee. For the entire show synopsis, photos and some video, check out this post. You can watch the episode online at the ABC website, and also check out this recap and review from the A.V. Club.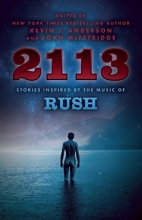 Clockwork Angels/Clockwork Lives author Kevin J. Anderson has co-edited an anthology of Rush-themed stories with John McFetridge titled 2113: Stories Inspired by the Music of Rush. The book was made available for purchase as an eBook for Kindle and as an audiobook via Audible back on April 1st, and earlier this week the paperback edition was released. From the book's editorial description:
The music of Rush, one of the most successful bands in music history, is filled with fantastic stories, evocative images, thought-provoking futures and pasts. In this anthology, notable, best-selling, and award-winning writers each chose a Rush song as the spark for a new story, drawing inspiration from the visionary trio Geddy Lee, Alex Lifeson, and Neil Peart.

Enduring stark dystopian struggles or testing the limits of the human spirit, the characters populating 2113 find strength while searching for hope in a world that is repressive, dangerous, or just debilitatingly bland. Most of these tales are science fiction, but some are fantasies, thrillers, even edgy mainstream. Many of Rush's big hits are represented, as well as deeper cuts...with wonderful results. This anthology also includes the seminal stories that inspired the Rush classics "Red Barchetta" and "Roll the Bones", as well as Kevin J. Anderson's novella sequel to the groundbreaking Rush album 2112.

2113 contains stories by New York Times best-selling authors Kevin J. Anderson, Michael Z. Williamson, David Alan Mack, David Farland, Dayton Ward, and Mercedes Lackey; award winners Fritz Leiber, John McFetridge, Steven Savile, Brad R. Torgersen, Ron Collins, David Niall Wilson, and Brian Hodge, as well as many other authors with their imaginations on fire.
You can purchase your copy of 2113 for Kindle, Audible, or get the paperback edition here. As mentioned above, the story that inspired Red Barchetta (A Nice Morning Drive by Richard M. Foster) is included in the book. Related to that, animator Sant Arellano created this storyboard video of his interpretation of Red Barchetta for a short film he is directing that is currently in production.
Porcupine Tree's Steven Wilson's playlist for this past Sunday as shown on his website lists 12 albums including Rush's Counterparts. Wilson posts a new playlist to his site every few weeks and often includes a Rush album. Wilson played Massey Hall in Toronto last month and Rush's Alex Lifeson was in attendance. Lifeson is a big fan of Wilson's work and played a solo on the song Anesthetize from Porcupine Tree's 2007 Fear of a Blank Planet album. Lifeson also had high praise for Wilson in a recent Music Aficionado interview:
Steve is a guy whose work I greatly respect. I went to see him perform recently here in Toronto, and I've always loved his work with Porcupine Tree, and played on one of their albums [on the song, " Anesthetize "]. Last night was a performance of Steve's solo work, and they were so good, and sounded so great! He has great, great musicians with him, and it was so inspiring to see. It gave me hope that there are still people that really care about how they put music together and what it means to really work hard to be the best musician you can be. A lot of that is lost today-pop music has taken over and it's often more about the presentation than about the substance of the music or being a great musician. For me, Steve is one of the strongest artists out there today.

Speaking of Alex, hand-crafted acoustic guitar maker Loucin Guitars of Oakville, ON announced back in late 2014 that they had added Rush's Alex Lifeson as their newest client and were crafting him a custom LD model made out of a beautiful Indian Rosewood set with tons of gorgeous sapwood. Yesterday they posted some beautiful photos of the finished product (named Melanija after Lifeson's mother) to their Facebook and Twitter pages.
Now that baseball season is underway, Geddy Lee has once again taken up residence behind home plate in his usual seats at Toronto Blue Jays games. He was spotted at the home opener as seen in this CBC article on the topic of the mystery fan (not Geddy) that also sits behind home plate.
This past Wednesday St. Louis radio station KSHE posted a photo gallery from an April 13th, 1975 KSHE Kite Fly concert with the Charlie Daniels Band and Rush (thanks Jeff D). John at Cygnus-X1.net also has a nice photo gallery of Rush from this concert.
Here's Geddy Lee answering some fan-submitted questions from Planet Rock:

Five years ago today, back on April 15, 2011, Rush filmed their concert at Quicken Loans Arena in Cleveland on the Time Machine Tour for their first live concert video shot entirely in the US. Several fans gathered at the Rock and Roll Hall of Fame before the show to protest Rush's exclusion from induction (this error has since been rectified) as seen in this photo. That's all for this week. Have a great weekend!