UPDATE - 9/25@9:40AM: Loucin Guitars founder Garren Dakessian was featured in an InsideHalton.com article yesterday where he talks about getting the opportunity to make a guitar for Lifeson:
... "I am a huge Rush fan. It was a dream to do something for Alex Lifeson," said Dakessian. "I heard about it last Thursday and I haven't slept since. My wife said to me, 'What are you, 12?'" ... "The band gets hundreds of offers a week. 'Use my guitar, my pedal.' I told him, I didn't want an endorsement. I just wanted to build him a guitar for his personal collection. He loved that idea." ...
----- snip -----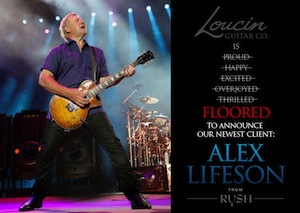 Hand-crafted acoustic guitar maker Loucin Guitars of Oakville, ON announced yesterday that they've added Rush's Alex Lifeson as their newest client. They are currently crafting him a custom LD model made out of a beautiful Indian Rosewood set with tons of gorgeous sapwood as seen here. You can follow their progress on Twitter and Facebook and learn more about Loucin Guitars by checking out their website at loucinguitars.com. Thanks to steve for the heads up.