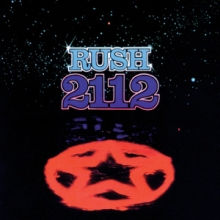 Happy 40th anniversary 2112! Forty years ago sometime in March of 1976, Rush released their groundbreaking 2112 album. The exact release date has been lost to history but is often mistakenly given as having occurred on April 1, 1976. For that reason a number of rock publications have posted tributes and other 2112-related articles today to mark the anniversary. The February edition of Prog magazine contained a huge cover feature on the album's anniversary complete with a new interview with Geddy Lee which you can read here. Earlier today Prog/Teamrock.com posted the video of that same Geddy Lee interview to YouTube which you can watch below or at this location. Rush themselves are also taking part in the celebration and are offering this new 40th anniversary 2112 t-shirt at the Rush Backstage Club, along with a one-day sale of the 2112 ‑ Limited Super Deluxe Edition - CD+Blu-ray Box Set for just $25.99 which you can purchase at this location. The 2112 Super Deluxe Edition includes a comic book adaptation of 2112 written by Tom Hodges, and tomorrow at around 9AM EST, Rush.com will post a video adaptation of the comic book set to the music of the entire 7-part, 20-minute 2112 suite. As a preview, they've released the video for Overture which you can watch online here. Earlier this week Rolling Stone posted a new interview with Alex Lifeson where he talks about the album. Here's what he had to say about the album's legacy:
I think it's one of the most important pieces of work that we've done. I think the influence that it had on a lot of listeners, just judging from the comments I read in the mail and even comments from other bands that have been influenced by us, that's really a signature record for all of them. And that's a wonderful thing. If you're going to leave something as your legacy, having something that is so influential on other people that it has improved their lives or just made them more understanding of something, I think that is the ultimate.
For complete coverage of the 2112 40th anniversary, check out this post from earlier today.
Earlier this week Guitar Connoisseur Magazine posted a new Alex Lifeson interview to their Apple News Feed which you can check out by accessing this link via the Apple News App. The interview was conducted by Toronto guitarist David Barrett of the David Barrett Trio, who Alex Lifeson has worked with as a producer in the past. Alex talks about his solo on Clockwork Angels' The Garden, his R40 Live tour rig setup, his various signature guitars, his early guitar influences and the possibility of him ever making another solo album:
... What I enjoyed most about making [Victor] was the variety of the material. It was a wonderful opportunity for me to explore and expand on certain genres of music that were not necessarily open to me within the context of Rush. The workload was relentless, and I seemed to be working on that album every day for a year, but it was enormously satisfying for me as a songwriter, producer, and musician. I don't have the same drive to jump into a project like Victor at the moment, but I do have hours of material that does inspire me to at least consider such a thing. ...
You can view the complete article on any Apple mobile device with iOS 9 using the Apple News App.
Earlier this week the A.V. Club posted an article titled Sunshine on the waste land where they list off 20 songs about nuclear annihilation. A pair of Rush songs made the cut, namely Distant Early Warning and Manhattan Project:
Rush drummer and lyricist Neil Peart has a penchant for literary references, which is especially evident in the band's 1976 offering 2112-an album Peart credited to the "genius of Ayn Rand." Although that caused the band some grief, given Rand's politics, it didn't stop Peart from finding inspiration in the written word. After reading close to a dozen books about the secret military project created in 1942 to produce the first U.S. nuclear weapon, Peart produced "Manhattan Project" on 1985's Power Windows. The song paired Geddy Lee's vocals (and some rockin' '80s synth) and Alex Lifeson's guitar to make for a somewhat somber reflection on Cold War history. This will come as no surprise to those familiar with the trio's catalog, which also includes "Distant Early Warning," a song that includes commentary on nuclear annihilation and was released a year before Power Windows on Grace Under Pressure.
New York's Q104.3 posted an article earlier this week noting the fact that Jeopardy! Loves Rush, and highlighting all the many instances where clues on the quiz show have had to do with Rush or where contestants have given a shout-out to the band (all of which have been covered on this site over the years).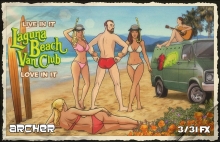 One of the recurring themes on FX's animated sitcom Archer, is how Krieger's van mural is periodically updated with with some kind of Rush album-themed design, with 5 different Rush van murals on the show to date as seen in this post. The latest season of the show premiered last night, and to help promote it, the official Archer Facebook page posted this photo of Krieger on the beach with some bikini-clad women next to his van, which is now sporting a Signals-themed mural. The van did not show up on the premiere itself, but this likely means it will make an appearance at some point in the season. Thanks to John W for the heads up.
As you likely are all aware by now, today is April Fools' Day and I was able to fool some of you with my post from earlier this morning announcing that Geddy Lee and Alex Lifeson were planning on launching a new side project titled Dirxst. I inserted some clues in the post such as misspelling Neil Peart's name, saying the story was from Rolling Stoner magazine, and including members of Spinal Tap in the list of possible guest musicians. Who knows? Maybe it will come true. Some other Rush sites ran some great April Fools gags today too. Andy Olson ran a story on his Neil Peart fansite about how Neil Peart was in talks to produce a Red Barchetta film, Eric at the Power Windows site ran a story claiming that Rush would be reissuing all 14 Mercury-era Rush albums on 8-track, and John at Cygnus-X1.net updated his Facebook group with a Big Time Rush theme. :)
Here's Geddy Lee's Prog magazine interview discussing 2112:
That's all for this week. Happy 40th anniversary 2112!! Have a great weekend everyone.