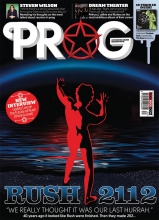 The upcoming 40th anniversary of the release of Rush's 2112 (the album was released sometime around the end of March/beginning of April in 1976) has been garnering a lot of attention recently, with several new interviews centered around the anniversary being released over the past few weeks. The latest edition of Prog magazine (Prog #63) contains a cover feature celebrating 2112 titled We Have Assumed Control where Geddy Lee talks about the album and its significance in the history of Rush. The article also includes a few old interview snippets from Alex Lifeson, Neil Peart and album artist Hugh Syme. Here's Geddy discussing how the album was mostly written on acoustic guitar:
... "Yeah, that was pretty much how we wrote it," says Lee. "It's a handy thing, the acoustic guitar - you didn't need an amp, you could do it in our Holiday Inn room, you could write in the back of the station wagon we were travelling around in. As long as you're strumming the acoustic hard, it sounds heavy, so if you write the part on it, you can imagine what it's going to sound like through electric guitars and amps. So, it's not a big stretch really to write that way. We went back and wrote [2007's] Snakes & Arrows that way too. "The strange thing with 2112, it just kind of flowed; one song came out of the other. I remember that Alex and I had some very definite ideas of the kind of music we wanted to write, even before we saw the lyrics, the overblown intro, the pacing, the movements that were involved. And then Neil had written these lyrics and it was almost magical how well they worked. We didn't really change any of them - they just inspired us to put the music together even more. It just started to happen." ...
Music Radar also posted a new interview with Geddy Lee this past week where he breaks down 2112 track-by-track in celebration of the anniversary. You can check out that interview online here. And Classic Rock posted the second part of their interview with Geddy Lee and Alex Lifeson where the pair reflect on the history of Rush. They had posted the first part where they discuss the early years of Rush up through 1975 last week, which you can check out here. In the 2nd installment they discuss the period from 2112 through Hemispheres. The second part of the Prog magazine feature mentioned above is a new interview with Geddy Lee titled New World Man where he looks back on the band's R40 Live tour and looks ahead to the future, including the possibility of a solo album or recording with Alex sans Neil:
... I think I would do another solo record. I have some ideas I've been working on. I love to play, and at this point, if there's going to be less of my time devoted to playing in Rush then I'm going to have to find a hobby. ... We've never talked about not recording. That's something we could very well do next year. I don't know. All those things are on the table. The only thing that's been taken off the table is the idea of these big tours. ... I'm going to [write new music] anyway. Alex and I have already talked about it. The only thing we haven't talked about is whether Neil's going to come along for that ride. ...
Speaking of Geddy Lee solo projects, Canadian indie rock band Wintersleep will be releasing their next album The Great Detachment on March 4th via Dine Alone Records, and Geddy Lee makes a guest bass appearance on the track Territory. Here's Wintersleep's Paul Murphy explaining how they managed to enlist Geddy:
... the band ran into trouble while fine-tuning the bass line on one of the tracks, "Territory." "It was cool but the song didn't feel as lively as it should in the end," Murphy explains. "Someone was like, 'What would Geddy Lee do?' jokingly, and Tony [Doogan, producer] was like, 'Oh, the best bass player in the world? He'd make it incredible. Why don't we just ask him?'"...
And so they did.
..."Wintersleep contacted me a while ago and asked me to play bass on this track," Lee told RS. "I had a listen and loved the song and the vibe of the band. I had a blast laying down a bunch of takes and sent them off to them. I'm happy to support a fellow Canadian band and wish them all the best with their new album." ... "Geddy's part was perfect because it had this great groove and locked into the vocal melody in the song from time to time, bringing more weight to the melody in important spots. It added a certain playful dimension to the equation because it's so dynamic. Also, Tony was able to strip the song down more in the mix in sections because the bass had such a neat character and fuller sound, which was huge for the song dynamically." ...
You can listen to the track below or at RollingStone.com, and learn more about Wintersleep at their website here.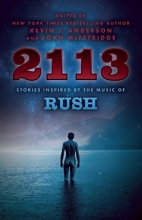 Clockwork Angels/Clockwork Lives author Kevin J. Anderson will be releasing an anthology of Rush-based stories co-edited with John McFetridge later this spring titled 2113: Stories Inspired by the Music of Rush. The book is due to release on April 12th via ECW Press and earlier this week Anderson announced via Twitter that he'll be giving out FREE 2113 sneak preview booklets at Pensacon this weekend. The booklet includes the short story Random Access Memory by John McFetridge, inspired by Rush's Lakeside Park. For 2113 Anderson lined up a team of award-winning and bestselling authors to contribute short stories based on Rush songs, with Anderson himself contributing a novella titled 2113. From the book's description:
The music of Rush, one of the most successful bands in music history, is filled with fantastic stories, evocative images, thought-provoking futures and pasts. In this anthology, notable, bestselling, and award-winning writers each chose a Rush song as the spark for a new story, drawing inspiration from the visionary trio Geddy Lee, Alex Lifeson, and Neil Peart.

From stark dystopian struggles to uplifting triumphs of the human spirit, the characters populating 2113 find strength while searching for hope in a world that is repressive, dangerous, or just debilitatingly bland. Most of these tales are science fiction, but some are fantasies, thrillers, even edgy mainstream. Many of Rush's big hits are represented, as well as deeper cuts . . . with wonderful results. This anthology also includes the seminal stories that inspired the Rush classics "Red Barchetta" and "Roll the Bones," as well as Kevin J. Anderson's novella sequel to the groundbreaking Rush album 2112.

2113 contains stories by New York Times bestselling authors Kevin J. Anderson, Michael Z. Williamson, David Alan Mack, David Farland, Dayton Ward, and Mercedes Lackey; award winners Fritz Leiber, John McFetridge, Steven Savile, Brad R. Torgersen, Ron Collins, David Niall Wilson, and Brian Hodge, as well as many other authors with their imaginations on fire.
You can pre-order your copy of 2113 here, and get your FREE preview booklet at Pensacon this weekend or online here (you just have to pay for shipping).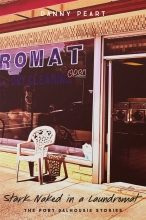 Neil Peart's younger brother Danny Peart is a self-published author of several books and has just released a new book of poems and stories titled Stark Naked in a Laundromat which includes an introduction by his older brother (thanks AJ211w):
... The new book includes 10 stories and 10 poems inspired by Danny's youth in Port Dalhousie, Ontario.

The book has been skillfully edited by short story master, Zsuzsi Gartner. She writes, "I enjoyed this book so much - for its charm, candour, and the simple elegance of the prose - and the gentle humour."

Introduction by Neil Peart ...
You can purchase a copy online via Danny's website for $26.
The winners of the 4th Annual Long & McQuade Music Express Awards were announced earlier this week and Rush took home the prize for Top Canadian Group, barely edging out Blue Rodeo by a margin of only 27 votes. Rush was also nominated in the Best Live Act category but lost to Bryan Adams. Nominees for each of the 13 categories were selected by Music Express with the ultimate winners being determined by fan voting. All winners will receive a special microphone award, courtesy of Long & McQuade.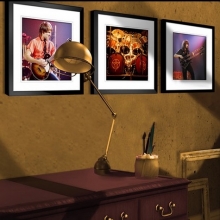 To celebrate last week's 35th anniversary of the release of Rush's Moving Pictures, Rush sent out a newsletter announcing a new signed and framed limited edition Rush Moving Pictures photo set. From the Rush Backstage Club:
This item is now available for pre-order and will ship on April 15TH, 2016. If you purchase other items along with this product, your entire order will ship on April 15TH, 2016.

Limited to 100 sets, the Moving Pictures Photo Set contains three iconic photographs taken during the Moving Pictures Tour by renowned rock photographer Philip Kamen.

Printed on high-quality photographic paper, each photo has been hand numbered and then signed by the respective band member, and every frame comes with a designated Certificate of Authenticity indicating both the photo and its number in the collection.

Note that each piece will have a matching number (e.g. 3/50) to the other two in the set.

Frames are approximately 17" x 17" (43 cm x 43 cm) and are made of molded plastic with glass.
Each Moving Pictures photo set is priced at $899.99 USD and you can pre-order yours at this location.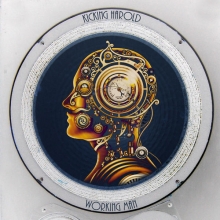 LA alt-rockers Kicking Harold have been touring with the Winery Dogs and closing out their sets with a cover of Rush's Working Man. As a Valentine's Day gift to their fans, they released a streaming version of the song via their website here and also offered up this explanation via their Facebook page as to why they chose it:
... We chose [Working Man] for a few reasons...
* Rush's music is important to each of us - we know it well & love it.
* Us opening for Winery Dogs was a trio opening for a trio - so we brought in music from another trio to showcase & celebrate the musical power & creativity that can come from a group of only 3 people.
* We knew that many folks in the audiences would be hearing us for the first time - so we wanted a song that would help us connect with them - a song that would say "we're like you....we 'get' you....we're fans, too". ...
The Portland Press Herald featured an article last week profiling legendary mastering engineer Bob Ludwig in the lead up to this past Monday's Grammy Awards. Rush is one of the many artists Ludwig has worked with over the years and the article includes this humorous story involving the band:
... When a local construction company was doing some work on the studio a few years ago, the subject of Rush came up in conversation. Ludwig heard Rush mentioned, so he told the workers that Geddy Lee, the lead singer of Rush, had just been in the studio.

This information made no impression on them whatever. The construction guys, it turns out, weren't talking about Rush, the Canadian rock band known for a string of big songs in the '70s and '80s, including "Tom Sawyer" and "New World Man."

They were big fans of conservative talk radio host Rush Limbaugh. ...

This year's Rushfest Scotland will take place at the Dreadnought Rock Club in Bathgate, central Scotland on Saturday April 23rd. You can get all the details on their website and by checking out the flyer. Legendary Rush producer Terry Brown is the confirmed guest speaker, Italian Rush tribute band La Villa Strangiato will perform, and all profits from the event will go to the Teenage Cancer Trust. They are also running on online raffle via JustGiving.com to win a signed Sabian Neil Peart 10" Paragon Splash cymbal. For all the details visit the Rushfest Scotland website and follow them on Facebook.
Here's Wintersleep's Territory with Geddy Lee on bass:
That's all for this week. Have a great weekend!!