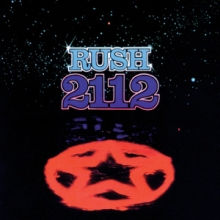 Music Radar has posted a new interview with Geddy Lee where he breaks down Rush's 2112 album track-by-track in celebration of its upcoming 40th anniversary (the album was released sometime around the end of March/beginning of April in 1976):
... "Our fanbase is intense in their curiosity over what we're about," says singer/bassist Geddy Lee. "Maybe it's something they sense in us, the fact that we are who we are. Nobody's pretending to be something; we're generally trying to play as hard as we can and make it as interesting as possible. And maybe that engenders a response to the authenticity of our work... it's an honest statement of where we are musically and lyrically."

With their future remaining shrouded in mystery, Lee telling us that they're "not sure how many tours, if any, are left in us" back in December, now feels like a good a time as any to look at what they have achieved in 48 years as a band.

And even twenty albums in, 2112 remains a firm fan-favourite for its brain-tickling ambitiousness and meticulously crafted sonic majesty. Lee walks us through the various chapters of its conceptual sublimity... "if I can remember what they all are, that is!" ...
You can read the entire interview online at this location (thanks John at Cygnus-X1.net).