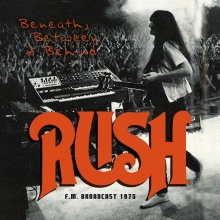 A live recording of Rush made for a radio broadcast in 1975 titled Beneath, Between And Behind: F.M. Broadcast 1975 was released today as an import in North America and is now available for purchase at this location. Although this is not an official Rush release, it's similar to the Lady Gone Electric, Spirit of the Airwaves and Rush ABC 1974 live releases from recent years, in that it is essentially a packaged release of a radio broadcast bootleg recording that's been around for many years. The particular bootlegs for this show are typically incorrectly labeled as being recorded on May 15, 1975 when the show actually took place on April 7th at the Cleveland Agora and was aired live on WMMS. Also, there's yet another company/label in Europe releasing this same show as Rush: Ohio 1975 due to release as an import on April 8th. Here's the tracklisting:
1. Finding My Way
2. The Best I Can
3. What You're Doing
4. Anthem
5. Beneath, Between & Behind
6. In The End
7. Fly By Night
8. Working Man
9. In The Mood
10. Need Some Love
11. Bad Boy
You can purchase your copy of Beneath, Between And Behind here.