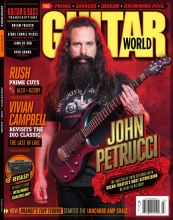 Rush is featured in the March, 2016 issue of Guitar World magazine for a feature titled Farewell to Kings in which Guitar World's Joe Bosso sits down with Geddy Lee and Alex Lifeson to discuss the band's R40 Live tour, specifically the setlist selection. They go through select songs from the setlist and give their opinions on each one. The article also briefly touches on the band's future:
... Owing to a few nagging health concerns, not the least of which has been drummer Neil Peart's chronic tendonitis, speculation has hung in the air recently that the R40 tour signaled Rush's unofficial retirement from the road, or at least major hauls. Asked to predict whether fans can expect to see an R50 tour a decade from now, Lee shakes his head and says, "Not at this point But you never know. As of right now, it's a little unpredictable." ...
You can read the entire article online here.

The latest edition of Prog magazine (Prog #63) hit newsstands a couple of weeks ago and contains a cover feature celebrating the upcoming 40th anniversary of Rush's 2112 album (the album was released sometime around the end of March/beginning of April in 1976). The cover displays the iconic Starman with a tagline that reads, "RUSH 2112: 'We really thought it was our last Hurrah.' 40 years ago it looked like Rush was finished. Then they made 2112 ...". The cover also includes a call-out saying, "New interview: Geddy Lee on the future of Rush (there is one)". John at Cygnus-X1.net got his hands on a copy and is in the midst of transcribing it. The feature is titled We Have Assumed Control and John posted this excerpt to Facebook earlier today:
... A few years later, Alex Lifeson shared his thoughts on why he thought the Starman logo had endured so well, and what the secret to its longevity and association with Rush might have been. "The naked bum and the fist, I think," he said without blinking. "That's it, the bum and the fist."

And while the cover and inner artwork were heavy on symbolism, the back sleeve was given over to a rather po-faced Rush dressed in what could only be described as kimonos.

"Ah, the kimonos, that's what they were," says Lee with a laugh. "Didn't you think they were swish?

"You know, people and our management kept saying to us, 'You need a new image.' And it's true - we weren't very image-orientated. So I remember we were in San Francisco and we're staying at the Miyako Hotel, which is in the Japanese part of town, and we said, 'Okay, let's go buy some stage clothes and get an image happening.' We just walked around the Chinese area and we found these kinds of colourful robes and said, 'Okay, let's try this,' and that's what we did. I mean, some people liked it..."

He regards Prog evenly over his round glasses. "But that straw fedora Al's wearing on the inside sleeve, nobody told Alex to bring that hat with him. That was all his idea."

And then he's laughing again. ...
Prog also posted an old Rush buyer's guide article this morning that originally appeared in an issue of Clasic Rock Magazine back in 2008. It gives an overview of the band's catalog and you can read it online here (thanks Cheryl T).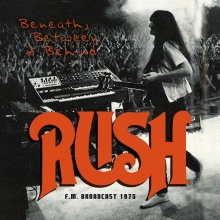 A live recording of Rush made for a radio broadcast in 1975 titled Beneath, Between And Behind: F.M. Broadcast 1975 was released today as an import in North America and is now available for purchase at this location. Although this is not an official Rush release, it's similar to the Lady Gone Electric, Spirit of the Airwaves and Rush ABC 1974 live releases from recent years, in that it is essentially a packaged release of a radio broadcast bootleg recording that's been around for many years. The particular bootlegs for this show are typically incorrectly labeled as being recorded on May 15, 1975 when the show actually took place on April 7th at the Cleveland Agora and was aired live on WMMS. Also, there's yet another company/label in Europe releasing this same show as Rush: Ohio 1975 due to release as an import on April 8th. Here's the tracklisting:
1. Finding My Way
2. The Best I Can
3. What You're Doing
4. Anthem
5. Beneath, Between & Behind
6. In The End
7. Fly By Night
8. Working Man
9. In The Mood
10. Need Some Love
11. Bad Boy
You can purchase your copy of Beneath, Between And Behind here.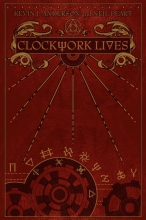 Kevin J. Anderson and Neil Peart's follow-up to their best-selling Clockwork Angels novel, Clockwork Lives, officially released via ECW Press back on September 15th. It is described as a steampunk Canterbury Tales and further explores some of the people and places from the Clockwork Angels universe. Earlier this week the audiobook version of the book was announced as one of the finalists for an Audie Award in the Multi-voiced Performance category. The Audie Awards recognizes distinction in audiobooks and spoken word entertainment and is sponsored by the Audio Publishers Association (APA). In addition to Peart and Anderson, others involved with the audiobook include Morgan Hallet, George Guidall, Richard Poe, Jim Jenner, Tandy Cronyn, Pete Bradbury, Barbara Rosenblat, Brian Hutchinson, Luis Moreno, Lynne McCullough, and Jonathan Todd Ross. You can check out all of the other nominees and listen to a 3-minute snippet from the audiobook at this location. Winners will be announced at the Audie Awards Gala in Chicago on May 11 hosted by award winning comedian and author, Paula Poundstone. You can order the audiobook version of Clockwork Lives here.

Christian Ace of American Songwriter posted a gear review of the PRS SE Alex Lifeson Acoustic/Electric Guitar yesterday which you can check out online here (thanks Eric at Power Windows):
... While the Private Stock Lifeson model is in reach for some, this SE variant is likely going to be the more accessible instrument to the majority of guitar players. But it is not to be knocked as the guitar to just 'settle for.' This guitar is a bonafide player. PRS knocked it out of the park in terms of quality, playability and a street price under $1000 with the Alex Lifeson SE Thinline acoustic guitar.
Speaking of Alex Lifeson, prominent Naples lawyer Mike McDonnell, in practice for more than four decades, died of a stroke last Thursday at the age of 75. Rush fans might recognize McDonnell as the lawyer who defended Alex Lifeson and his son in the wake of their New Year's Day 2004 arrest after a scuffle with Collier County sheriff's deputies at The Ritz-Carlton in Naples. The Naples Daily News profiled MdDonnell's life and career in this article over the past weekend and his defense of Lifeson is mentioned:
... Mike considered it his good fortune to be part of the defense of Alex Lifeson, the Rush guitarist, and his son, both accused of accosting deputies at the Ritz-Carlton on New Year's Eve in 2003. In a masterful trial defense, he made hash of the prosecution's case against Lifeson's son, resulting in the felony charges being reduced to misdemeanors in exchange for pleas and a quick end to the matter.

What he really loved about the case was the opportunity it gave him to meet, and even play guitar with Lifeson, who he described as one of the best guitar players in the world and one of the nicest people he'd ever met. ...
Carlos Cuevas of ppcorn.us posted an article last week where he shares his thoughts and memories surrounding Rush's Power Windows album, which celebrated the 30th anniversary of its release back on October 29th.
Stereophile magazine's special annual collector's issue for 2016 recently hit newwstands and celebrates 10 years of the magazine's Records to Die For feature. One of the records profiled is Rush's Caress of Steel, which appears on page 53 (thanks RushFanForever) of the magazine and can be read online at this location.
On this day back in 1981 Rush released their 8th and most commercially successful studio album, Moving Pictures. The album was recorded and mixed at Le Studio in Morin Heights, Quebec and was certified quadruple-platinum on January 27, 1995. It peaked at #3 on the US Billboard charts and produced some of Rush's best-known singles including their signature track Tom Sawyer. This track along with Limelight, Red Barchetta and the Grammy-nominated instrumental YYZ are a regular staple of rock radio to this day. Five years ago Rush released a special 5.1 surround sound 30th anniversary deluxe edition of the album, and earlier this year the album was reissued on vinyl. The In The Studio with Redbeard rockumentary radio show aired a special last week in celebration of the album's anniversary which you can listen to online at this location. The program consists of interview segments with all three members of Rush from past In the Studio interviews and runs about 25 minutes. Here's a video excerpt from the Moving Pictures Classic Albums documentary where Rush along with producer Terry Brown talk about the recording of Tom Sawyer:
That's all for this week. Have a great weekend everybody!