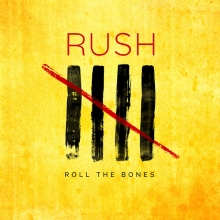 Rush's R40 Live tour ended in Los Angeles last month and the band filmed their back-to-back shows in their hometown of Toronto for a future live DVD release. Last week we learned that Zoe/Rounder Records/Concord Music Group will be releasing the as-yet-unnamed live CD/DVD on November 20th, just in time for the holiday season. As a preview they released a digital version of Roll the Bones (Live) from the CD today which you can download via Amazon, iTunes, and other services. You can also listen to the track on YouTube, and read the official Rush.com press release here. Other than the release date, no further details about the CD/DVD itself have been revealed.

Earlier this week Neil Peart once again updated the news page on his website with a story titled BubbaGram #1, where he introduces a new format for his upcoming news updates and hints at a new book:
In recent months it became apparent that my experiences on the R40 tour in 2015 were much too vast and deep to fit into a couple of website stories. Plus I had far too many scenic and narrative photographs to fit in my usual format here. It would have to be a book. Yet I did not want to neglect this forum and its audience-just "go dark" on everybody for the year or so it might take to put together a book. A fun solution to that conundrum might be . . . this! During the tour I had been sending occasional images of the day's travels to my circle of friends under the BubbaGram title, so I will continue that theme here. At semi-regular intervals I will post a photograph or two and an anecdote, to represent the work in progress. ...
There's no real mention of the R40 Live tour itself, or his and/or the band's future plans (or lack thereof) unfortunately. You can read the whole thing online at this location.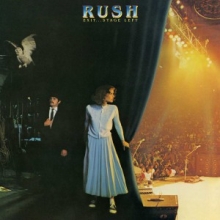 Throughout 2015 Rush has been releasing all of its Mercury-era albums on vinyl as part of their 12 Months of Rush reissue campaign. Last month we learned that the band had similar plans for their Atlantic-era albums as well when several listings for these vinyl reissues appeared on the Rush Backstage Club site. We now have some more details and updated release dates for all of the reissues via a Rush.com press release that was posted earlier this week:
The Rush vinyl reissues continue! We are happy to announce that the following titles now have release dates and are ready for pre-order. These include the remaining Rush titles from the band's Mercury catalogue on Anthem/UMe, as well as the six albums during their Atlantic recording years from 1989-2007 on Anthem/Rhino. All of the albums will be pressed on audiophile-quality, 200-gram vinyl and each come with a high-definition digital download. As a bonus, Counterparts and Test For Echo both feature etchings on side D of the album. ...

September 25: Exit...Stage Left
October 9: Signals
October 23: Presto, Roll The Bones
November 6: Counterparts, Test For Echo
December 4: Grace Under Pressure, Power Windows
December 11: Hold Your Fire, A Show Of Hands
January 15: Feedback, Snakes & Arrows
The 12 Months of Rush Mercury-era re-issue campaign continues today with the release of Exit ... Stage Left. You can order/pre-order the various titles using the links below:
AVAILABLE FOR PURCHASE

Fly By Night (01/27/15) - Vinyl | Blu-ray Audio
Caress of Steel (02/17/15) - Vinyl
2112: Hologram Edition (03/17/15) - Vinyl
All the World's a Stage (03/17/15) - Vinyl
A Farewell to Kings (04/21/15) - Vinyl | Blu-ray Audio
Hemispheres (05/19/15) - Vinyl
Permanent Waves (06/16/15) - Vinyl
Moving Pictures (07/24/15) - Vinyl | Vinyl + Large t-shirt | Vinyl + XL t-shirt
Signals (08/14/15) - Blu-ray Audio
Exit ... Stage Left (09/25/15) - Vinyl

AVAILABLE FOR PRE-ORDER

Signals (10/09/15) - Vinyl
Grace Under Pressure (12/4/15) - Vinyl
Power Windows (12/4/15) - Vinyl
Hold Your Fire (12/11/15) - Vinyl
A Show of Hands (12/11/15) - Vinyl
David Barrett of the Alex Lifeson-produced David Barrett Trio announced via his Facebook page last week that he would be interviewing Alex Lifeson and Steve Howe for Guitar Connoisseur Magazine. Alex's interview happened yesterday, and Howe's happens today. The interviews should be appearing in the Fall issue of the magazine which will be available online at the Guitar Connoisseur website.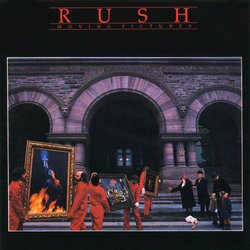 Back in May Rush released a 272 page coffee table book titled Art of Rush, which celebrates the 40 year relationship of Rush and their longtime artist and illustrator Hugh Syme. Syme recently spoke with Classic Rock Magazine and revealed what he thinks are the best eleven Rush album covers. Not surprisingly Moving Pictures came out on the top of his list. And speaking of Moving Pictures, this Rush masterpiece is one of the 21 Canadian albums from the '60s and '70s through the first half of the '00s to have been nominated for the inaugural Slaight Family Polaris Heritage Prize. From Billboard.com:
... Twenty-five Canadian music media and Canadian music historians picked the short-listed albums with the same Polaris criteria -- records of the highest artistic quality without regards to sales or affiliations ... The jury selected a five title shortlist for each of the following periods: '60s and '70s, '80s (a tie resulted in six titles being chosen), '90s and '00s (2000-2005). The public will now have the chance to pick the winner from each short list. Voting will be open from Sept. 18 until Oct. 5 at Slaight Family Polaris Heritage Prize. The winners will be announced on Oct. 9t. The programming team at Roy Thomson / Massey Hall will produce a tribute concert to the four winning albums in early 2016. Each winner will receive a trophy at the tribute show. Commemorative prints of each winning album will also be made available for purchase to the public. ...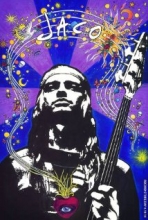 Jaco is a documentary film on legendary bassist Jaco Pastorius produced by Metallica bassist Robert Trujillo and directed by Paul Marchand and Stephan Kijak. Geddy Lee is one of the many musicians interviewed for the film and a short snippet of Geddy discussing fusion music from the documentary can be seen on YouTube here. The film was first screened last year at the Mill Valley Film Festival on October 6th and at the Grammy Museum on December 8th. It also headlined the first annual Asbury Park Music in Film Festival this past April where it was awarded the Foundation Award (Presented to the Asbury Park Music Foundation's selection for the APMFF premier film). Earlier this week we learned that the film will be released in association with Passion Pictures via Video on Demand, streaming services and digital download on Friday, November 27th. It will also be made available on DVD and Blu-Ray as part of Record Store Day's Black Friday promotion. An associated soundtrack will also be released that day via Sony/Legacy and can be pre-ordered here. You can follow the film on Facebook and on Twitter for all the latest news.

Mos Generator's Tony Reed recently released a free online album of cover songs titled The Lost Chronicles of Heavy Rock, Vol.1. One of the songs he covers is the unreleased 1974 Rush track Garden Road - a song that his band Mos Generator also covered for the 2007 compilation Sucking the 70s: Back in the Saddle Again. Here's what Reed had to say about the track to Classic Rock Magazine (thanks Will C):
This one's just a rocker. Mos Generator covered it on a Small Stone records compilation back in 2007 and I redid it for this just because I really like the song. Of course my vocals aren't as high, so I went for a more raspy kind of thing. If I didn't do this one, I might have gone with Anthem or Bastille Day. The interesting thing is that the only version of this song that exists is from a live recording from Cleveland in 1974. There's no studio version. They're doing it as an encore, and they had obviously never played it before because Neil stops twice during the song because he thinks a change is coming, so he fucks up a couple times.
Rush played a few bars of the Garden Road riff to close out their R40 Live tour this past summer. You can listen to the track on BandCamp at this location.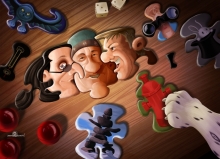 FANTOONS is an on-going comic strip based on Rush and some other great bands that was created by David Calcano back in 2012. If you follow rushisaband on Facebook and/or Twitter, you've likely run across some of the amazing Rush-themed comic art from FANTOONS that I've shared over the last couple of years. You can check out some samples of their work on Facebook and at fantoons.tv. Their latest book project is a 170-page Rush Toons book all about our favorite band Rush that released last month and can be purchased via Amazon at this location. I had the honor of writing the book's foreword and highly recommend it; it's a definite must have for any Rush fan. FANTOONS creator David Calcano was a guest on the latest episode of the Rushcast podcast and he chats with host Jay Mantis about Rush, FANTOONS, the book and more. You can listen to the show and all the other (now weekly) Rushcast podcasts here.
WhatCulture.com posted an article this past week where they come up with a chronological list of 10 songs that define the career of Rush, including some commentary on each one. The most recent track on their list is The Garden from the Clockwork Angels album:
... 2012's Clockwork Angels, Rush's first concept work since 2112, met nearly universal praise. Its final track, "The Garden," serves as a statement of Peart's personal philosophy: "The measure of a life is a measure of love and respect/The way you live, the gifts that you give/In the fullness of time, it's the only return that you expect." Backed by a beautiful string ensemble, Lee's voice quavers with age and wisdom but accordingly gains a sublime quality. Lifeson breaks out a stunning solo, and Peart as usual holds down an impeccable rhythm. After forty years together, the trio's chemistry comes as automatically as breathing. ...
The Foo Fighters' have been occasionally covering Rush's Tom Sawyer as part of their Sonic Highways Tour throughout 2015. Last weekend they played a show at the Honda Center in Anaheim and Taylor Hawkins' childhood friend and current singer of legendary prog-rock band Yes - Jon Davison - was in attendance. Taylor brought Jon up on stage to sing Tom Sawyer with the band. Before breaking into the song Davison says, "I have to say that Taylor and I were the biggest Rush nerds in highschool - mullets and everything." Being the singer of Yes, Davison is no stranger to high-pitched vocals and does an amazing job on the song (despite messing up the lyrics a bit) as demonstrated in this YouTube video. The Foos then played a couple of back-to-back shows at the LA Forum earlier this week, and for Monday night's show they enlisted some help from Jack Black, who put on a very animated vocal performance for their cover of Tom Sawyer as seen in this YouTube video:
Sometime in the month of September back in 1975 (the exact date has been lost to history), Rush released their Caress of Steel album. Ultimate Classic Rock posted a nice 40th anniversary tribute article to the album yesterday which you can check out here. That's all for this week. Have a great weekend!