UPDATE - 8/6@9:32AM: Here's a review (analysis?) from Shelly Cone of the Santa Maria Sun.
UPDATE - 8/3@8:28AM: Here's an article from Alternative Nation that highlights several photos of all the famous drummers that were in attendance at the band's LA show:
A legendary group of drummers including Jethro Tull's Doane Perry, Red Hot Chili Peppers' Chad Smith, Foo Fighters' Taylor Hawkins, The Police's Stewart Copeland, and Tool's Danny Carey all gathered to watch the legendary Neil Peart and Rush perform the final show of their last major tour at the Forum in Los Angeles over the weekend. ...
----- snip -----
UPDATE - 8/3@8:21AM: Here's a review from Classic Rock Magazine (thanks RushFanForever), and another one from the Hollywood Reporter that mentions some VIPs that were in attendance:
... It is that kind of across-the-board fandom that represents Rush and its legion of dedicated and intensely loyal fans, among them: a slew of artists and celebs who turned out for the Forum show including the Red Hot Chili Peppers' Chad Smith, Tool's Danny Carey, Foo Fighters' Taylor Hawkins, (all there to honor legendary Rush drummer Neil Peart), Robby Krieger and South Park creator Trey Parker. At one point during "Red Barchetta," Jack Black -- who was surprisingly left alone on the floor -- danced around playing air guitar. Indeed, if there's one concert where air playing is encouraged -- air guitar, air bass, air drums -- its a Rush show. ...
----- snip -----
UPDATE - 8/2@8:31PM: Here's a review from JamBase.
UPDATE - 8/2@10:00AM: Here's Losing It:
----- snip -----
UPDATE - 8/2@9:20AM: Here's a video of Working Man from last night's show including the goodbyes at the end. Neil snapped a few photos from behind his kit before the band broke into the Garden Road riff. Geddy starts talking and then Neil sneaks out onto the stage and hugs his bandmates. Here's what Geddy says:
Thank you so much Los Angeles! On behalf of the greatest crew and organization in the world ... *pauses to pose with his bandmates* ... On behalf of our whole organization - thank you United States of America for 40 awesome years. And I do hope we'll meet again sometime. Bye bye!
----- snip -----
UPDATE - 8/2@9:10AM: The Canadian Consulate in LA had a little pre-show reception for Rush before the Irvine show and posted a short video to Twitter of the guys saying a few words (thanks Cheese Pavilion):
.@rushtheband say a few words at last night's celebration. pic.twitter.com/sSVApzKZ5G

- Canada in L.A. (@CanCGLA) July 30, 2015
----- snip -----
UPDATE - 8/2@9:02AM: Other than Losing It, there were no other special surprises last night. Although Neil Peart did join Geddy and Alex to wave goodbye to the crowd at the end of the show rather than doing his usual sprint to the door as seen in this photo. Thanks for a great tour Rush!
UPDATE - 8/2@12:29AM: They went from Tom Sawyer into Red Barchetta to start the second set, so it does indeed look like setlist F.
UPDATE - 8/2@12:09AM: The band should be returning from intermission for the 2nd set soon. John over at Cygnus-X1.net already has a growing gallery of photos posted. As I'd mentioned already, it looks like they are playing setlist F - we should have a better idea after the 2nd song of set 2.
UPDATE - 8/1@11:44PM: ... and next up is Losing It with Jonny Dinklage on electric violin!! They should play Subdivisions next to close out the 1st set.
UPDATE - 8/1@11:42PM: The Anarchist, Headlong Flight, Far Cry, The Main Monkey Business, One Little Victory, Animate, Roll the Bones, Distant Early Warning so far ... looks like setlist "F" ("A" variant) probably ...
UPDATE - 8/1@10:59PM: They went right from opening with The Anarchist into Headlong Flight, which pretty much confirms that we'll get one of the D-E-F-G sets as expected.
UPDATE - 8/1@9:55PM: Bubbles (aka Mike Smith) from The Trailer Park Boys was at the show and posed with some fans outside the venue. Hmm... could he possibly be making a guest appearance at some point for a certain song?
UPDATE - 8/1@2:53PM: The LA Times just posted a short interview with Geddy Lee where he talks about fitness and his training routine:
I have to say I don't enjoy training. For me it's a necessary evil because I'm an active person whether I'm preparing for a tour or not. My wife and I do a lot of travel and walking and biking, and I refuse to give into the ravages of time. ... It's been night and day for the stage performances. Working out has been such a benefit to my life in general, but on stage I have much more energy and flexibility to do the activity I like to do on stage. And, more importantly, at the end of a show I'm not completely done in like I used to be.
----- snip -----

UPDATE - 8/1@2:50PM: As promised, Kevin J. Anderson just unveiled the cover for his new Rush-themed short story anthology 2113 at his RushCon appearance. Thanks Kelly D for the photo/report.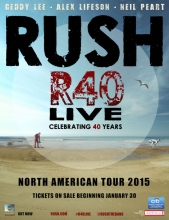 Date/Time: Saturday, August 1st @ 7:30PM
Show Number: 35
Venue: The Forum
Place: Los Angeles, CA
Twitter: #R40LA | #R40Live
Instagram: #R40LA
YouTube: Los Angeles Rush R40 Live Tour
Setlist: Version F
Photos: Cygnus-X1.net
Reviews: JamBase | Classic Rock Magazine | Hollywood Reporter | Alternative Nation | Santa Maria Sun
After 35 shows, 34 cities and 3 unforgettable months, Rush's North American R40 Live tour will unfortunately come to a close tonight at The Forum in Los Angeles. After this point, it's anybody's guess as to what the future holds for the band, but I have a feeling we will see Rush perform again in some shape or form somewhere down the road. Here's what Alex Lifeson had to say about the tour and the band's future in his recent interview with Eddie Trunk:
... I think in my gut that this is probably the last major tour that we'll do. I'd like to think that we'll do specialty gigs, maybe a week in New York or something like that. But we haven't even discussed that. We just want to get through this tour and see where we're at. We want to discuss whether we want to make another record anytime soon. ... Whatever this tour is, it's not the end of the band. It's just kind of reviewing where we're at in terms of major tours. ... Whatever it is - if it is the end of touring - I feel good that we're at least playing as well as we are, that we've developed a show that's really quite something in terms of our historical story and it's nice to go out on a note like that. ...
Rather than dwell on the future too much, let's focus on tonight's show, which should be something very special. From what I've heard, the LA crowd will get treated to one of the non-standard D-E-F-G setlists, including that extra song and a guest musician (same one as in Newark/NYC) - my guess is E (variation of B) or possibly F (A variation). That said, since it's the last show I'm betting Rush will have some other unforeseen surprises in store for the crowd as well. The RushCon Rush fan convention kicked off last night in LA with an opening party at the Club Nokia VIP Lounge, and the main convention takes place all day today at the Belasco Theatre starting shortly at 9:30AM PST, and you can still register at the door. The Rush Backstage Club, Kevin J. Anderson and Fantoons will all have booths onsite, and there will be plenty of games and prizes along with the charity auction. Author Kevin J. Anderson along with Vertical Horizon's Matt Scannell will talk about their collaborations with Neil Peart and spin tales from their own personal creative ventures. Anderson will also be unveiling the cover of his upcoming Rush-themed short story anthology 2113, and Scannell will give a live performance. The festivities will be capped off with tonight's show and then continue into Sunday. In addition to all the festivities, the Rush fan documentary crew will be on hand for some filming. For those not attending RushCon, there will also be a pre-show Rush Rat gathering at Rock Bottom in Long Beach - details here. The show has a 7:30PM start time so the band will probably get going at 7:45PM. For everyone going tonight, have fun, stay safe and make sure to share your reports, reviews, photos and video with us. Thanks for an epic tour Rush!!!!!
Photos from Instagram using hashtag #R40LA: