The October, 2015 issue of the UK's Classic Rock magazine contains a six-page feature on Rush titled Exit Stage Left? which was made available online at the Classic Rock website earlier this week. The feature follows the band during the last few days of the R40 Live tour, and interviewer Philip Wilding speaks with all three members, along with manager Ray Danniels, Chad Smith, Matt Stone and Geddy Lee's wife Nancy. It's clear that the members of Rush have different feelings regarding the band's future:
... Asked recently whether this would be Rush's swansong tour, guitarist Alex Lifeson replied: "I don't think we'd have much difficulty thinking about it as possibly the last." Remind Geddy Lee of this today and he laughs. "That's not true," says the bassist and singer. "I'm having great difficulty thinking like that. Alex is not speaking for me, and I don't think he's really speaking for himself either. I think he has mixed feelings. I don't want to speak for him. You can ask him. He can tell you his own lies." ... Of the three members of Rush, [Neil Peart]'s the one who seems most relieved that this journey might be coming to an end. Later in the evening, he'll tell Jack Black that it's over for him, as Black's eyes get wider and his jaw slackens with disbelief. ...
Yesterday Classic Rock posted a sidebar piece from the feature that was written by Neil Peart to their website titled Neil Peart: Marching to the Beat of a Different Drum, and in it Neil breaks down the inspiration behind his R40 Live drum solo:
... My vague design for that solo was deceptively simple. I would approach it as if I was just sitting down at the drums to start playing -- to exercise the improvisational skills I have been working on for, oh, about ten years now. Technically, I was determined to exemplify everything I thought I knew about drumming, and everything I love about the drums -- almost 50 years of experience and passion had to go in there somehow. ...
There was also another small sidebar piece where Geddy Lee comments on all his various stage appliances including the Sausage Maker from the Clockwork Angels tour:
That's when we were slowly morphing into a steampunk world and I built the very elaborate machine that spewed out those horrible-looking sausages that really wasn't very successful. They looked wrong, they looked like poo. IN the end I made a shit machine.
You can read a transcription of that sidebar article here.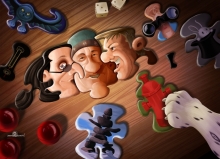 FANTOONS is an on-going comic strip based on Rush and some other great bands that was created by David Calcano back in 2012. If you follow rushisaband on Facebook and/or Twitter, you've likely run across some of the amazing Rush-themed comic art from FANTOONS that I've shared over the last couple of years. You can check out some samples of their work on Facebook and at fantoons.tv. Over the past year they've been working on their most ambitious book project to date; a 170-page Rush Toons book all about our favorite band Rush. The book was partially funded by a highly successful Kickstarter project, and began shipping out to supporters last month. I'm happy to say that Rush Toons can now also be purchased via Amazon at this location. I had the honor of writing the book's foreword and highly recommend it; it's a definite must have for any Rush fan.
Kevin J. Anderson and Neil Peart's follow-up to their best-selling Clockwork Angels novel is titled Clockwork Lives and is due to release via ECW Press this coming Tuesday, September 15th. It is described as a steampunk Canterbury Tales and will further explore some of the people and places from the Clockwork Angels universe. You can pre-order Clockwork Lives at this location. The complete graphic novel version of Clockwork Angels is also due to release on September 15th and can be pre-ordered here.
TBI Vision published an article earlier this week on the recent surge in OTT and direct-to-consumer services designed to reach customers who are leaving the traditional TV space. According to the article, a new direct-to-consumer company out of Canada called TableRock Media plans on launching a new guitar show next year with Rush's Alex Lifeson. No further details are available at this time, but you can read the article online here.
Kim Thore of the Camel City Dipatch wrote a piece earlier this week on her recent conversion to Rush fandom after seeing a show on the band's R40 Live tour this summer. It's titled Fools Rush In and you can read it online here.
Bassist Billy Sheehan was on That Metal Show earlier this year and tells a humorous story involving Neil Peart in this web exclusive clip from That After Show at about the 3:20 mark (thanks Stergios2112). Sheehan's band Mr. Big opened for Rush back in the early '90s.
Reader Scott U let me know about a discussion involving Rush on a recent episode of the Dan Patrick show. The discussion was related to nerd quarterbacks vs. bro quarterbacks. This then evolved into which bands were nerd vs. bro, which brought Rush into the discussion and arguments on both sides were made. You can listen to the discussion online here.
The latest episode of the Rushcast podcast is a two-parter where host Jay Mantis discusses the Moving Pictures album with his guest Jason Von, among other topics. You can listen to both parts online here.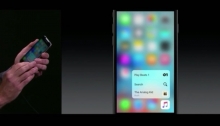 Apple unveiled their new iPhone 6s at their big fall event earlier this week. In the keynote presentation Apple introduced a number of new features of the new iPhone, including 3D Touch technology where the screen can sense multiple levels of pressure. When demonstrating this new feature, Apple senior vice president of Software Engineering Craig Federighi clicked on his music icon and Rush's The Analog Kid was shown in his list of favorite songs as seen here. You can watch the Rush reference in this video of the event at about the 2:40 mark and check out a screenshot here. Federighi is a big Rush fan and also used Rush as an example during an Apple special event two years ago when demonstrating to the audience how to make an iTunes radio station, and also at WWDC last summer when demonstrating a new Safari search feature.
Neil Peart will be celebrating his 63rd birthday tomorrow. Happy early birthday Neil!! Have a great weekend everyone!