It's been two long weeks since Rush played to a sold out crowd at the LA Forum and closed out what may very well be the band's final major tour. Since then the band has updated the homepage on Rush.com with the now famous group hug photo from the final show along with the following message:
Thanks for coming out and celebrating the R40 tour with us and for supporting us for the last 40 years!
- Love, Geddy, Alex & Neil
This gesture, along with the general vibe that's been put out by members of the road crew and others close to the Rush camp, make it seem very unlikely that Rush plans to extend the R40 Live tour in any way. The band will likely spend at least the rest of the summer relaxing with their families, so we shouldn't expect any kind of news regarding their future until this fall at the earliest. Hopefully they'll do some interviews at that point, and fans can start to get an idea of what we can expect from Rush in 2016 and beyond. The band does have an R40 Live DVD to put together that might be released as early as the 2015 holiday season. So they'll probably do some promotional interviews in the lead up to that release. For the time being, Rush fans will just have to wait and see what happens.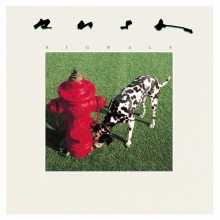 Rush's 12 Months of Rush reissue campaign continues today with the release of the Signals reissue on Blu-ray Audio; the vinyl reissue of Signals has been delayed until October 9th for unknown reasons. A DVD Audio version of Signals was included in the Sectors box set release. Rush is releasing all of the Mercury-era Rush albums on vinyl along with a few select titles on Blu-ray audio throughout 2015. All vinyl titles are reissued on high-quality vinyl with a 320kbps MP4 Digital Audio download code. All the titles up through Moving Pictures are already available, with Exit ... Stage Left through A Show of Hands becoming available over the next few months. You can order/pre-order the various titles using the links below:
AVAILABLE FOR PURCHASE

Fly By Night (01/27/15) - Vinyl | Blu-ray Audio
Caress of Steel (02/17/15) - Vinyl
2112: Hologram Edition (03/17/15) - Vinyl
All the World's a Stage (03/17/15) - Vinyl
A Farewell to Kings (04/21/15) - Vinyl | Blu-ray Audio
Hemispheres (05/19/15) - Vinyl
Permanent Waves (06/16/15) - Vinyl
Moving Pictures (07/24/15) - Vinyl | Vinyl + Large t-shirt | Vinyl + XL t-shirt
Signals (08/14/15) - Blu-ray Audio

AVAILABLE FOR PRE-ORDER

Exit ... Stage Left (09/25/15) - Vinyl
Signals (10/09/15) - Vinyl
Grace Under Pressure (09/18/15) - Vinyl
Power Windows (10/20/15) - Vinyl
Hold Your Fire (11/17/15) - Vinyl
A Show of Hands (12/1/15) - Vinyl
Jed Gottleib of the Boston Herald wrote an article today where he claims that the 2112, Moving Pictures and Signals reissues converted him from a Rush hater into a fan, although he still takes several backhanded jabs at the band in the article. You can check it out online here.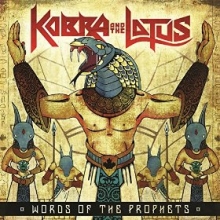 Canadian heavy metal band Kobra and The Lotus will be releasing a new covers EP titled Words of the Prophets on August 28th. The EP contains covers of a number of hard rock songs by fellow Canadian artists, including their take on Rush's The Spirit of Radio, with the title of the EP being a direct lyrical reference to that song. Here's what Kobra and The Lotus frontwoman Kobra Paige told Ultimate Classic Rock:
... "There's no prouder moment than to take on the challenge of covering one of the greatest bands of all time," she says. "Few bands have accomplished what Rush has accomplished, and there will never be another band like them. They opened the door and shaped the way for all musicians to be more creative and brave with their music - and they did it with unrelenting confidence and skill. It is with great honor and respect that we reinforce the message of these virtuosic music monsters and the importance of 'The Spirit of Radio.'" ...
You can listen to the cover on SoundCloud at this location.
And speaking of The Spirit of Radio, a short, 22-minute documentary directed by Karim Mosna on Toronto's CFNY FM 102.1 radio station titled CFNY FM: ain't your average radio clone was posted to YouTube last week. Rush's The Spirit of Radio was written specifically about this iconic, late '70s alternative rock station. Rush and the song get mentioned towards the beginning of the documentary which you can view online here (thanks Linda V).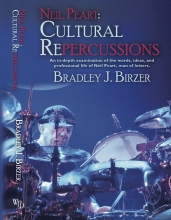 Back in June we learned about a new book by author Bradley J. Birzer titled Neil Peart: Cultural Repercussions that will release via Wordfire Press on September 15th. The book is a biographical, in-depth examination of the words, ideas and professional life of Neil Peart. You can check out a high-res scan of the book's cover here. Birzer recently posted a 2-part essay at Progarchy.com on why he chose to write about Neil Peart (part 1, part 2).
Over the past several weeks Kevin Hale of the SHOOTING FromThe LIP podcast has been running a Rush 40 for 40 Super Fan Series where he plans on talking to 40 Rush superfans. There are now 6 episodes in the books, including the inaugural episode featuring myself and Donna Halper. In the 5th episode, Kevin talks to Chicago-based superfan Dan Bell, and episode 6 features San Diego Rush fan Teresa Marillo. You can listen to those interviews and all the others at the SHOOTING FromThe LIP Soundcloud page
Back in June CBC News featured a story on the iconic Le Studio in Morin Heights, Quebec where Rush recorded several albums including Permanent Waves and Moving Pictures. The story centered on some misinformation regarding the property supposedly being for sale, and efforts to eventually purchase and renovate the studio as described in this Le Studio Channel video. The Le Studio Channel has been putting together a multi-part documentary on the studio over the past few years. In the time since the CBC story, the studio was unfortunately attacked and severely damaged by vandalism as described in this video and seen in this photo gallery. Very sad.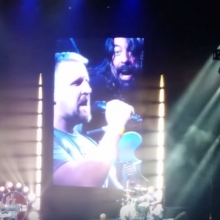 The Foo Fighters' have been occasionally covering Rush's Tom Sawyer as part of their Sonic Highways Tour tour over the past several months. Earlier this week they played a show in Edmonton and Dave Grohl asked the crowd if anyone knew the lyrics to the classic song and could actually sing them too. One fan named Brian took up the challenge and was brought up onstage to front the band. True to his word, Brian was able to hit some of Geddy Lee's high notes and did a fairly decent job. You can watch some bootleg video of the performance on YouTube here, here and here. Go Brian!
Chicago Rush fan Ron H put together a very elaborate mini Rush stage set utilizing the Rush bobblehead dolls over the past couple of years. The set features working light trusses and a rotating drum kit as seen in this video.
Nathan Carson wrote an op-ed piece for Noisy this past week where the title says it all - You're An Idiot If You Don't Think Rush Is the Best Live Band in the World. In it Carson lists off 7 reasons why Rush is such a great live band.
After a 2-month, tour-spoiler-free hiatus, the Rushcast podcast is back up and running and host Jay Mantis posted a few new shows over the past several weeks. Jay hid himself away until his first show of the R40 Live tour at Madison Square Garden in New York City, and in his July 9th podcast he talks with fellow fan Chad about the show and the tour in general. In his July 20th broadcast Jay goes over the results of his setlist guessing contest, and he brought the winner Dylan Banow on as his guest in his August 2nd podcast. And just this past week Jay asks listeners to list their 3 favorite Rush albums and also chats with Brian Jacob about the Newark show, the '90s tours, rabbits, and the amazing music on Power Windows.
Doug Kallberg's long-running webstrip Pandora's Box contained a Rush reference in this past Tuesday's strip as seen here
The Arizona Diamondbacks retired Hall of Fame pitcher Randy Johnson's No. 51 jersey during a ceremony at Chase Field in Phoenix this past weekend. As part of the ceremony Johnson - a huge Rush fan and good friend of Geddy Lee - was given an exact replica of Neil Peart's R30 drum kit as seen in this official MLB video of the event at about the 5-minute mark. Johnson even sat down at the kit and broke into a couple of drum fills.
Today marks the 41st anniversary of Neil Peart's first show as a member of Rush, which took place a couple of weeks after he joined the band on August 14, 1974 at the Pittsburgh Civic Center Arena opening for Uriah Heep and Manfred Mann. Here's a bootleg audio recording of Finding My Way, the song they opened their set with. That's all for this week. Have a great weekend everybody!