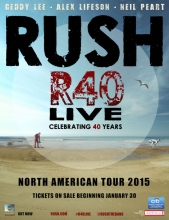 Rush's R40 Live tour is now 4 shows into its 3rd and final (?) leg. The band played Kansas City, Denver, Salt Lake City, and Calgary over the past week and will head to the Rogers Arena in Vancouver tonight for the last Canadian date of the tour. From there they'll make their way to the US Pacific Northwest, then back down through the American Southwest before finishing things up with a couple of shows in SoCal. The band settled back into their A-B-C 3-setlist rotation for the first 4 shows of the 3rd leg, but I'm hearing that tonight in Vancouver we may see that extra special song with a guest musician. For more on that song and the possible guest musician, check out the SPOILERS in the Calgary thread, and for complete tour coverage for each show, visit the tour page. A few weeks ago Rush in partnership with Qello Concerts launched a Qello Concerts Rush channel, providing full-length Rush concerts and documentaries streamed on demand to any device. The channel also includes exclusive behind-the-scenes webisodes from the R40 Live tour, with a new webisode airing each week through the end of the tour. As of right now, there are two R40 Live backstage webisodes; the first featuring Alex Lifeson's guitar tech Scott Appleton can be seen here and the 2nd episode featuring violinist Jonathan Dinklage can be seen here. The third webisode should be posted sometime today.
The eBay charity auction sponsored by DW Drums and Rush that was first mentioned last month will kick off tomorrow and run through July 27th. Rush will be auctioning off an autographed snare drum and cymbal to raise funds for the Princess Margaret Cancer Foundation. The snare drum is a limited edition replica of Neil Peart's R40 drumkit snare, and the cymbal is a 17-inch Paragon crash from Sabain autographed by all three members of the band. The auction will run via eBay.ca.
DJ, author and host of VH1 Classic's That Metal Show Eddie Trunk attended Rush's show in Denver last weekend and posted his review of the show to his website earlier this week. Trunk was a guest of the band and spent some time hanging out with Geddy and Alex before the show. He attended soundcheck and also sat down with Alex Lifeson for an interview that will air this evening on Trunk's radio show:
... I had the very special opportunity to watch the band soundcheck and also hung with Geddy and Alex (Neil does his usual run out right when the show ends) after the show. Geddy told me changes to his diet has really helped his voice as well as 36 hours of rest (as in not talking at all) before show days. It shows big time! I also interviewed Alex for about 20 minutes before the show. I think you guys will enjoy this and Alex does address the potential future of the band. This will premiere in my syndicated FM show this weekend (starting on Q104.3 NYC and WAAF Boston 11PM ET this Friday, both stations stream) and on all affiliates over the weekend. The complete audio will then be in my podcast posting 7/23, free to all as usual on Itunes or at www.podcastone.com ...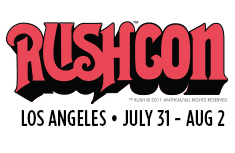 The folks at RushCon sent out a newsletter last week announcing some exciting news regarding this year's RushCon 15 Rush fan convention, specifically in regards to the planned Rush fan documentary to accompany the live DVD that was filmed in Toronto last month:
You have probably heard that Rush, in conjunction with Fadoo Productions, is creating a feature-length documentary about the lives of Rush fans to be released with the upcoming R40 DVD. RushCon is a by-the-fans, for-the-fans event, so it is no surprise that the crew will be documenting RushCon. Come live in the limelight with us as we celebrate Rush together. You might be captured playing a game, in the crowd, or hanging out with your Rush friends. Do you have a unique Rush fan story? Has the band and music influenced your life in a significant way? The filmmakers want to hear from you! You could be chosen for a feature interview by the documentary crew during RushCon! Share your story here.
You can share your Rush story online using this form. Keep in mind that you will need to attend RushCon to participate and be filmed by the crew during the convention (obviously!). All participants will also need to sign a release form, and not all interviews will make the final cut of the documentary. The 15th annual convention will take place July 31st to August 2nd in Los Angeles - the first time it's ever been held outside of Rush's hometown of Toronto. For all the details and to register for the convention, check out the RushCon website, and be sure to follow RushCon on Facebook and on Twitter for all the latest news and info.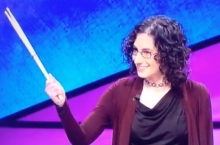 Rush fan Jennifer Morrow - a volunteer for Operation Backpack in New York City - was on last night's episode of the American quiz show Jeopardy! and she brought along a pair of Neil Peart drumsticks with her for good luck. When host Alex Trebek introduced the contestants at the mid point of the show, she describes her good luck token and how she got them:
I'm a huge fan of the Canadian prog-rock trio Rush. And so I went to one of their concerts a while back and from the front row I held up a banner that said, May be on Jeopardy! Request token of favor to carry in thy honor. And well, apparently Neil Peart (pronounced correctly!) - the greatest drummer in the world - is a fan of the greatest show in the world.
She then pulls out a pair of of Neil Peart drumsticks, and waves them proudly high in hand. Later on in the show she got the Daily Double and bet $2112 as seen here. She went on to end up winning, so she will be on again tonight. You can check out some video of her with the drumsticks on YouTube here.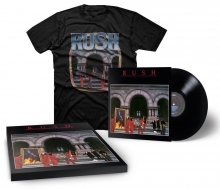 Rush's 12 Months of Rush vinyl reissue campaign is scheduled to continue next Friday, July 24th with the release of the band's most commercially successful album, Moving Pictures. The Moving Pictures reissue will include an LP plus vintage t-shirt combo option, where you'll get the vinyl reissue along with a vintage t-shirt as seen here. The LP plus vintage t-shirt combo will be made available with either a Large or Extra-Large t-shirt, and you can also just get the LP itself here. Amazon is still listing the release date as July 24th, but it's showing as currently unavailable right now, so it may or may not actually release on that day. Rush is releasing all of the Mercury-era Rush albums on vinyl along with a few select titles on Blu-ray audio throughout 2015. The 12 Months of Rush will see the band releasing one or two titles a month throughout the year. They started with Fly By Night in January up through last month with the release of Permanent Waves. All titles are reissued on high-quality vinyl with a 320kbps MP4 Digital Audio download code, with Fly By Night, A Farewell to Kings and Signals also having a Blu-ray Audio release. The rest of the reissue titles will be released throughout the remainder of the year and can be ordered/pre-ordered at the links below:
AVAILABLE FOR PURCHASE

Fly By Night (01/27/15) - Vinyl | Blu-ray Audio
Caress of Steel (02/17/15) - Vinyl
2112: Hologram Edition (03/17/15) - Vinyl
All the World's a Stage (03/17/15) - Vinyl
A Farewell to Kings (04/21/15) - Vinyl | Blu-ray Audio
Hemispheres (05/19/15) - Vinyl
Permanent Waves (06/16/15) - Vinyl

AVAILABLE FOR PRE-ORDER

Moving Pictures (07/24/15) - Vinyl | Vinyl + Large t-shirt | Vinyl + XL t-shirt
Exit ... Stage Left (08/14/15) - Vinyl
Signals (08/14/15) - Vinyl | Blu-ray Audio
Grace Under Pressure (09/15/15) - Vinyl
Power Windows (10/20/15) - Vinyl
Hold Your Fire (11/17/15) - Vinyl
A Show of Hands (12/1/15) - Vinyl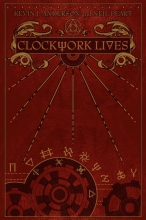 Kevin J. Anderson and Neil Peart's follow-up to their best-selling Clockwork Angels novel is titled Clockwork Lives and is due to release via ECW Press on September 15th. It is described as a steampunk Canterbury Tales and will further explore some of the people and places from the Clockwork Angels universe. Anderson was recently interviewed by DeathScream.net (*R40 Tour SPOILERS*) to discuss the novel, Rush's R40 Live tour and his friendship with Peart. You can pre-order Clockwork Lives at this location.
In celebrations of former MLB pitcher Randy Johnson's upcoming induction into the Baseball Hall of Fame on July 26th, MLB Network aired a special documentary on Johnson's career yesterday as part of its MLB Network Presents series. Johnson's good friend Geddy Lee along with several former teammates, players and coaches were interviewed for the program. The Geddy Lee interview segments where taken from an earlier MLB interview from back in May where Johnson and Lee discussed their friendship and mutual admiration. Johnson has been photographing several of Rush's tour stops and the interview was conducted before the band's show in Austin.
This past Monday, July 13th marked the 30th anniversary of Live Aid - a huge charity concert that aimed to raise money for a disastrous African famine. VH1 posted an article commemorating the event earlier this week and - although they didn't perform and weren't invited - Rush gets the following mention:
... Rush, bane of the mainstream rock press, also received no invite, despite singer Geddy Lee's activity with the Canadian charity group, Northern Lights and their fund-raising single, "Tears Are Not Enough." Drummer Neal Peart eloquently summed up his feelings by saying, "We didn't refuse to take part because of any principles. Mind you, I wouldn't have been happy being part of this scenario. Those stars should have shut up and just given over their money if they were genuine." ...
SethM at ZTP Mag wrote an article this past week about his Rush obsession, where he laments the fact that the R40 Live tour might be Rush's last hurrah. The article is titled Rush - Is this the End??? and you can check it out online here.
The Prog Report posted their list of the Top 50 Prog Albums from 1990-2015 and 2 Rush albums made the cut; Test for Echo at #40 and Clockwork Angels at #31.
Last Thursday I had the honor of once again appearing on the SHOOTING FromThe LIP podcast with the one and only Donna Halper - we also appeared on the show together back in March. This was the first episode in the podcast's Rush 40 for 40 Super Fan Series, where host Kevin Hale plans on talking to 40 Rush superfans. Donna and I talk about 41 years of Rush, our thoughts on what defines a superfan, the R40 Live tour and what the future may hold for Rush. You can listen to the podcast online at this location.
PRS Guitars shared a series of three new video interviews with Alex Lifeson yesterday, including a 9-minute interview where Alex talks about his history with PRS Guitars, how he's using them on the current R40 Live tour, along with some discussion of the the R40 Live setlist and stage show. There are also 2 shorter interviews where Alex talks about his Signature SE Acoustic Guitar and his Private Stock Signature Model Acoustic.
That's all for this week. Rush rocks Vancouver tonight! Have a great weekend everyone!!