UPDATE - 6/26@12:49PM: It looks like the entire, 2-minute Qello backstage interview with Alex Lifeson guitar tech Scott Appleton is available to watch for free here.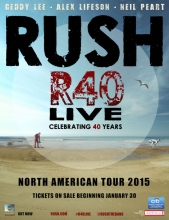 We are nearly two-thirds of the way into Rush's R40 Live tour, and only 2 more shows remain until the band takes another well-deserved break. They'll then pick things back up again on July 9th in Kansas City for the home stretch to the final show in Los Angeles on August 1st. The band spent most of last week back in their hometown of Toronto to film back-to-back shows for a later DVD release. Last Wednesday night's YYZ show saw the band pull out it's standard A setlist, but on Friday night fans were treated to a historic performance which saw them playing a mix of their B and C sets along with a song they had never played live before, complete with a guest musician. For all the details on that, check out the SPOILERS in the Toronto show #2 thread. The DVD filming was once again handled by Fadoo Productions, who are also putting together a feature-length documentary about the lives of Rush fans to accompany the DVD. They've been interviewing fans on the last several tour stops (you may have spotted a few guys with cameras talking to fans) and will continue to do so throughout the remainder of the tour. The documentary crew was also at the RushCon mini-con which took place this past weekend in Toronto to coincide with the band's Friday night show. The main RushCon convention will take place in Los Angeles to coincide with Rush's final R40 Live tour stop, and registration is still open. For all the details visit RushCon.org. The band returned to their standard 3-setlist rotation this past week for the 3 shows following their stint in Toronto, and tomorrow night's performance in Newark should see the band pull out its A setlist. However, I'm hearing that the New York City show may be getting that special D setlist once again. For more on that, check out the SPOILERS in the Philadelphia thread, and for complete tour coverage for each show, visit the tour page. Ultimate Classic Rock has teamed up with Vivid Seats for a contest where they are sending one lucky winner and a guest to see Rush's July 25th show at the MGM Grand Garden Arena in Las Vegas, complete with airfare, a two-night stay at the MGM Grand Hotel and Casino, and a dinner voucher for one night. For all the details and to enter visit the Ultimate Classic Rock website here. And while on the subject of Rush's R40 Live tour, Music Radar is conducting a poll to determine the best live act in the world in 2015, and Rush is one of the 40 options given. So go vote for Rush! Rush announced earlier this week that they have teamed up with Qello Concerts for the launch of a Qello Concerts Rush channel, providing full-length Rush concerts and documentaries streamed on demand to any device. The channel will also include exclusive behind-the-scenes webisodes from the R40 Live tour, with a new webisode airing each week through the end of the tour. The first R40 Live backstage webisode was posted this morning and is now available to Qello subscribers. It follows Alex Lifeson's guitar tech Scott Appleton backstage at Rush's tour stop last month in Bristow. You can watch a 24-second preview here.
The fourth annual Prog magazine Progressive Music Awards were announced earlier this week and will take place at London's Underglobe venue beneath Shakepseare's Globe Theatre on Thursday September 3rd. For the 3rd year in a row, Rush is nominated in the Storm Thorgerson Grand Design Award category; the band's R40 Box Set is up for the award. To place your vote for Rush, register at the Progressive Music Awards website, and vote here. For a complete list of categories and nominees along with all the other details, check out the Prog magazine website here.

The Andrew MacNaughtan Photographic Arts site recently sent out a newsletter announcing 2 new autographed R40 celebration prints that they have recently made available. Visit AndrewMacnaughtan.net for all the details and to purchase the prints.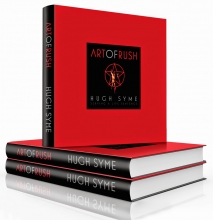 Last month Rush released a 272 page coffee table book titled Art of Rush, which celebrates the 40 year relationship of Rush and their longtime artist and illustrator Hugh Syme. Progarchy.com's Brad Birzer wrote a glowing review of the book earlier this week which you can check out here. Syme recently sat down with The Daily Tribune to talk about the book and his relationship with Rush which you can read online here. You can purchase the Art of Rush at the Rush Backstage Club at
this location.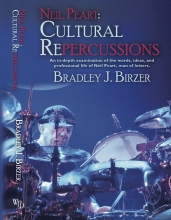 Speaking of Progarchy.com's Brad Birzer, he has written a new book titled Neil Peart: Cultural Repercussions which will release via Wordfire Press this coming August. The book is a biographical, in-depth examination of the words, ideas and professional life of Neil Peart. You can check out a high-res scan of the book's cover here. From the book's back cover:
... Never satisfied with second best or any form of defeat, Peart challenges himself time and time again to live up to his own philosophy. And he has succeeded through great personal adversity and, at times, irrational professional jealousy of and hatred toward him, and he has always succeeded through grace. This book carefully examines the influence his life, his witness, and his words have had on others. Neil Peart has lived life to the fullest, and he has made us each better for it.
I should also mention that longtime RIAB reader Kelly D supplied the book's cover photo.
The Toronto Globe and Mail featured Live Nation Global Touring CEO Gerry Barad in their 24/7 Executives column last week, and at one point Barad talks about golfing with Alex Lifeson (thanks RushFanForever):
... his playing partners have included ... Rush guitarist, and avid golfer, Alex Lifeson. The trouble is, Mr. Barad says, when you play golf with someone famous, it is hard to remain anonymous. And besides, the last thing Mr. Barad or his playing partners want to discuss is the nuances of the music business. "Alex and I don't talk about how the tour is going - we talk about golf," he says. "The last thing we want to talk about is music. We're on a great tour, everything is going well, so let's not talk about it. And when I bring someone like Alex, you want people to leave him alone. That day he's just a golfer." ...
The Daily Telegraph recently posted a photo gallery depicting album cover locations from around the world, including the cover of Rush's Moving Pictures which is set outside the Ontario Legislature Building in Toronto (thanks David F):
The "triple entendre" cover, which features movers moving moving pictures, while on the back cover a film crew takes a moving picture of the scene, was shot outside the Ontario Legislature Building in Queen's Park in Downtown Toronto, Canada.
Gene Simmons had some nice words to say about Rush on his BBC Radio 2 show last week. He introduces Finding My Way by saying, "Rush- one of my favorite bands", and then goes on to describe hearing the song for the first time when Rush opened for them back in the early '70s. You can listen to the segment online at this location at about the 13:40 mark (thanks Will C).
Ultimate Classic Rock posted a story last week about an apparent feud between Rush and Van Halen that happened 35 years ago. The article overstates the severity of the feud, but otherwise describes it adequately - at least as best as anyone can remember. Here's what Geddy Lee had to say about it in a Rolling Stone Q&A last year (thanks RushFanForever):
"Oh, that's an interesting memory," he mused. "We were at a hotel bar in Leicester and one of the guys in our road crew had his beat box playing. And the guys in Van Halen were a little inebriated and we were on our way to getting inebriated. So I think some beer was spilt, yes."
Yesterday marked the 5th anniversary of Rush receiving a star on the Hollywood Walk of Fame. The ceremony took place on June 25, 2010 and the ceremony included an induction speech from Donna Halper and an introductory speech from Billy Corgan. For complete coverage of the events of that day, check out this post, and here's some video of Rush unveiling the star:

It's been a crazy-busy couple of months for Rush and their fans since the tour kicked off last month in Tulsa, so I'd like to take a moment to thank everyone who has donated to the site over the past several weeks, purchased items through my Amazon links, or clicked on my sponsor ads. Every bit helps and I really appreciate it. If you'd like to make a donation yourself, you can do so at this link. Any donation of 3 bucks or more will get you a free RUSH IS A BAND bumper sticker. Also don't forget to follow RIAB on Facebook and Twitter, and keep sending in any Rush news tidbits you might come across. Thanks everybody and have a great weekend!!